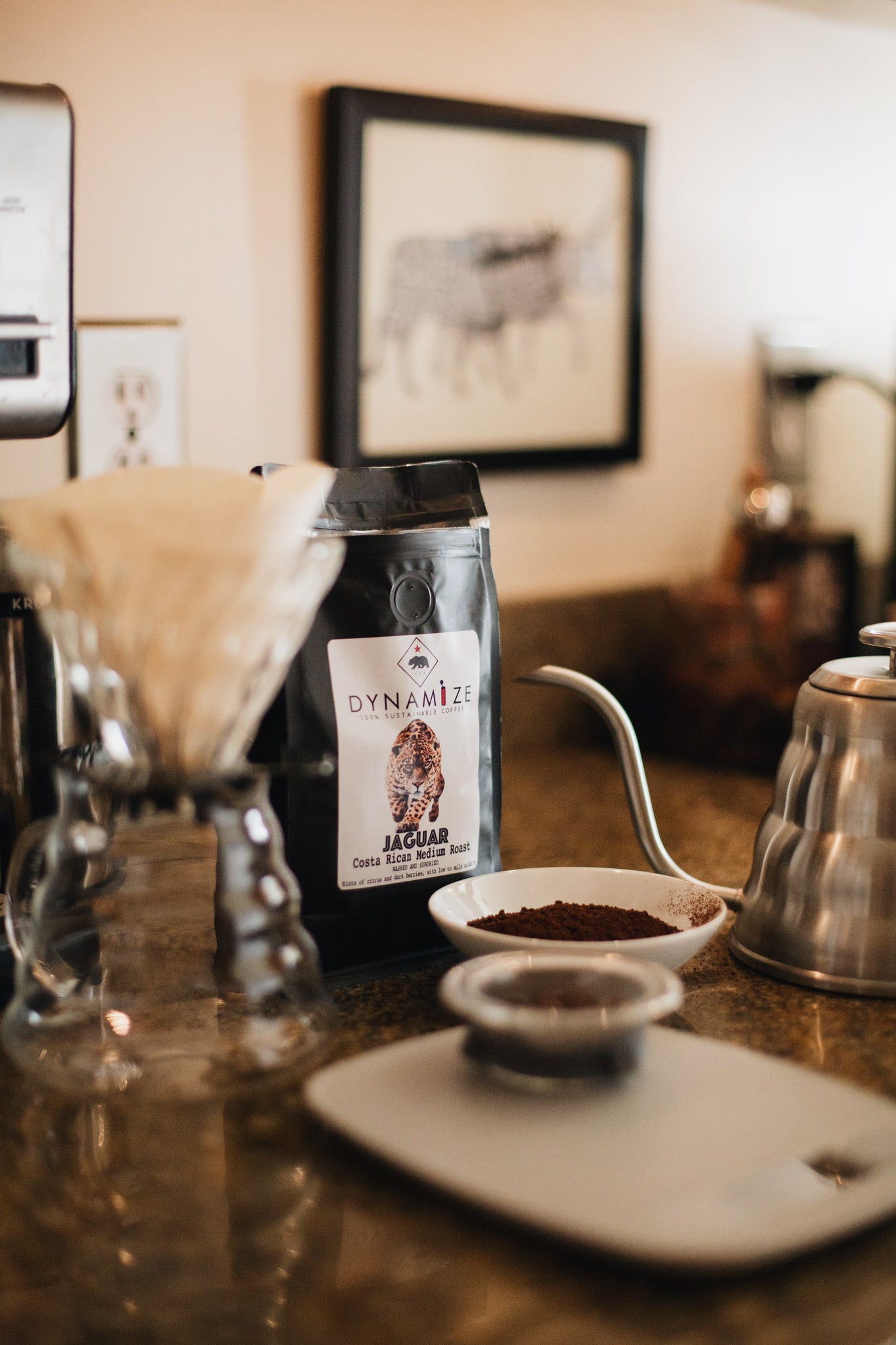 Dynamize Coffee
Born from action, Dynamize Coffee is an effort to set the new standard in the coffee trade.  Like many other high-demand products, the coffee distribution industry is controlled by a handful of companies with misaligned priorities, often leaving whole communities in their wake.  Dynamize Coffee believes that a high quality cup of coffee should be affordable and give you satisfying flavor and energy with no remorse.
Using a similar farm-to-customer concept used by Buy Ranch Direct, the Dynamize Coffee team has sourced their green coffee beans from a sustainable farm, deep in the La Amistad International Jungle of Costa Rica.  More than a typical buyer-seller connection, Dynamize has developed an honest relationship with the farmers & harvesters, simply by putting in the effort to meet and talk to them face to face.
Dynamize Coffee co-founder Brandon Miller says that aside from delivering the highest quality of freshly roasted coffee beans, building a brand based on honesty and trust is his top priority.  "We have traveled all over looking for a farm that was the right fit for what we want to accomplish," said Miller.  "This farm is at 6000 ft and covers 880 acres, 10 miles north of the Panamanian border. They grow remarkable coffee beans and they're doing it right."
The 100% Arabica beans roasted by Dynamize are grown without the use of synthetic pesticides and use an ancient growing practice  using banana, plantain and native cedars trees for important shade coverage.  The produce from the shade trees are harvested and sold to supplement the costs of coffee bean production.
Each coffee cherry — the fruit that holds the coffee bean — is hand-harvested by indigenous Costa Ricans.  Harvesters like these are the most valuable asset to the coffee bean industry.  In some parts of the world though, they are mistreated and underpaid. Fortunately, the seasonal harvesters employed by Dynamize's source are empowered by their own volition.  If a farmer mistreats, underpays or abuses the harvesters one season, by the time the next harvest season comes around, any reports of mistreatment will have spread across the region and harvesters will have opted to find another, more reputable farm in the area to do their work. This mutually respectful, checks-and-balances style system is the first step in honestly and responsibly harvesting quality coffee beans.
After the cherries are hand-picked, they are manually inspected for quality and debris.  Then they are washed and hulled, with the husks and pulp being composted back into the soil.  Once the beans are freed, they are dried under dehumidifiers to mitigate mold development, a tough task in the humid jungle.  Close attention is paid to this step to ensure that all of the time and effort invested to this point is not wasted on a spoiled bean.
After months of test batches to dial in the perfect time and temperature, Dynamize's roasting practices honors the passionate and conscientious care put into harvesting and delivering the green coffee beans.  Each 10 pound batch is closely monitored and sampled to ensure quality and consistency.  Currently offering medium and dark roasts, Dynamize's goal is that each cup of coffee is as good as the last.  All while knowing that the process is as honest and pure as the ground it came from.
Dynamize Coffee is available for purchase here.