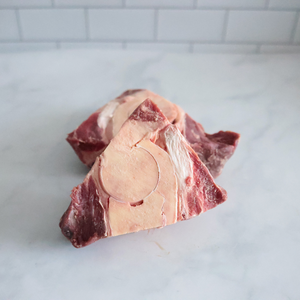 Beef Knuckle Bones, Split Once Down the Middle. A single pack for at about 2.0 - 2.5 lbs.
These Knuckle Bones Are Loosely Trimmed, Meaning They Still Have A Good Amount Of Meat, Cartilage, Fat, etc. Attached To The Bone. This Will Give A Richer, More Meaty Broth That's Incredible For Soups, Stocks, Demi Glace, and More.
Please Note: We don't recommend this cut for Bone Broth (clear, mild drinking broth) due to the higher meat content (will be cloudy & soupy); most customers prefer our Marrow Bones or 5# Mixed Bones to make Bone Broth.