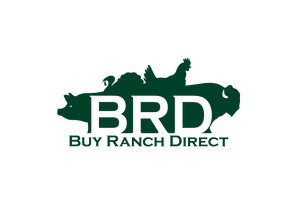 These phenomenal Dry-Aged Beef Prime Rib Roasts are absolute showstoppers! One of the most flavorful roasts around, with a deep rich color and lots of tasty fat, this is hands-down one of the finest cuts we have to offer! This version comes boneless and ready to cook, perfect for those who prefer boneless ribeyes. This batch is a little extra aged, which will add a rich flavor to the roast. Cooks a little quicker than our standard bone-in roasts, so we'd recommend keeping a close eye on these while cooking and checking regularly with your meat thermometer. Very easy to slice & serve as you don't have to deal with any bones! 
If you've ever had one of our crowd-favorite Beef Cowboy Steaks, this roast is essentially the same cut, just twice as big and without the bone.
Don't see what you're looking for? Please email info@buyranchdirect.com with custom order requests, if we can do it we're happy to make it happen to make your holiday special!!!
-------------------------
Please email us with any questions or concerns, or give us a call at (714) 514-4797.
Happy Holidays from the BRD team!