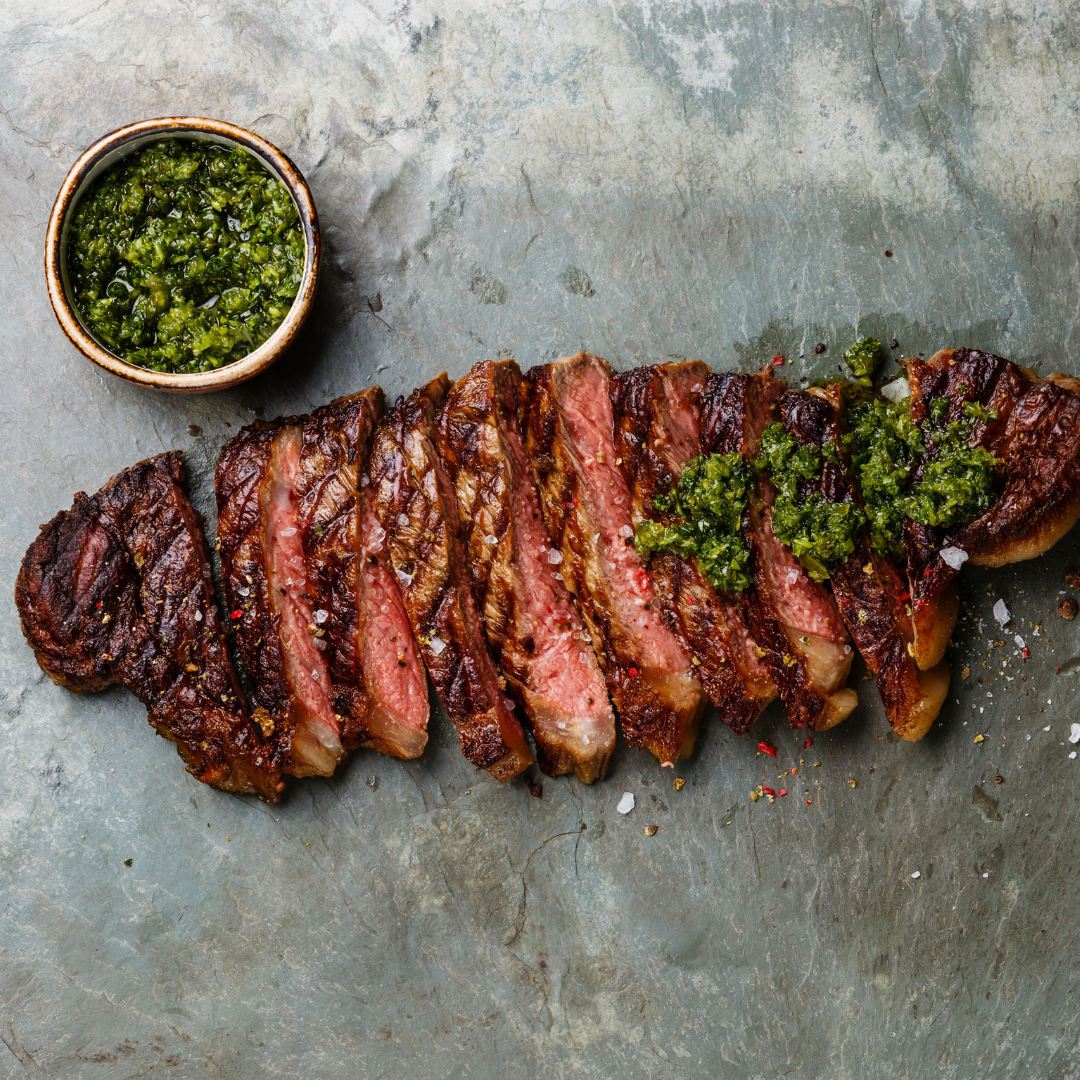 3 Simple Sauces in 10 Minutes or Less
 Spice up your weekly cooking with a homemade chimichurri, teriyaki sauce or creamy garlic mushroom sauce that will not only add flavor but are made with simple ingredients. These sauces pair well with our Beef Sirloin Cap, Beef New York Steak, Chicken Breast, Pork Chops or any of our grass fed meat. Make these sauces ahead of time so you can choose from a variety of flavors all week long. Check out some ways to use these sauces to transform any meal into a flavorful dish.
Chimichurri 
Makes: About 1 cup
Ingredients 
⅓ cup olive oil or avocado oil 
½ tsp crushed red peppers 
Salt & ground pepper to taste
Instructions
In a food processor or immersion blender, blend parsley, cilantro, shallot, garlic and red wine vinegar while slowly pouring in olive oil. You want to add enough oil until you reach your desired sauce consistency! Taste and season as needed with salt and pepper.
How to use: This sauce not only pairs well with our grass fed beef roasts and steaks but adds flavor to sandwiches, burgers, eggs, tacos, burritos or keep it simple with grilled protein and vegetables. Chimichurri is a great sauce to make ahead of time and keeps well in the fridge for up to 4 days. 
Teriyaki Sauce
Makes: 1 ½ cups
Ingredients
1/3 cup soy sauce or coconut aminos
1 cup water, plus another 2 tbsp water (cold water)
1 Tbsp toasted sesame oil
1 tsp toasted sesame seeds
Instructions 
In a small saucepan on medium-high heat, combine garlic, soy sauce, rice vinegar and 1 cup water. Bring to a boil. 
Add 2 tbsp of cold water and arrowroot powder in a small bowl. Mix until combined. 
Reduce heat to medium and pour arrowroot mixture into the saucepan. Bring to a simmer until the sauce has thickened. 
Remove the saucepan from the heat and add in toasted sesame oil and sesame seeds. 
Store leftover sauce in an airtight container in the fridge for up to 4 days. 
How to use: What does teriyaki sauce not pair well with? Use this sauce on beef, chicken, pork, duck or better yet turn this sauce into a dipping sauce with our chicken wings. It will add just the right amount of sweet and salty to any dish. This sauce goes well on burgers, stir fry, noodles, roasted veggies or make it a dressing on your salad.
Creamy Garlic Mushroom Sauce
Makes: About 1 cup
Ingredients
½ lb button or shiitake mushrooms, thinly sliced
¼ cup dry white wine or chicken bone broth
⅓ cup parmesan, finely grated
Salt & ground pepper to taste
Instructions
In a medium skillet, melt the butter over medium-high heat. 

In a single layer, add the mushrooms and cook until golden brown. Flip the mushrooms and continue to cook until most sides are golden brown. 

Add in the garlic and cook until soft and fragrant. 

Add the white wine to deglaze the skillet, scraping any brown bits in the skillet. When the wine has reduced by half, stir in the cream and let simmer until you get your desired thickness (stirring occasionally). 

Remove skillet from the heat and stir in the parmesan. Taste and adjust seasoning with salt and ground pepper.
How to use: This sauce tastes great on pretty much everything and you'll probably want more than just one serving! The sauce pairs well with any of our classic beef roasts, steak or chicken but better yet, toss this sauce over your favorite pasta. This sauce can be made ahead of time and reheated on the stove. To get even more flavor built into this sauce, use the same pan the beef or chicken was cooked in or add the pan drippings into the sauce!
**Photo Credit: Canva