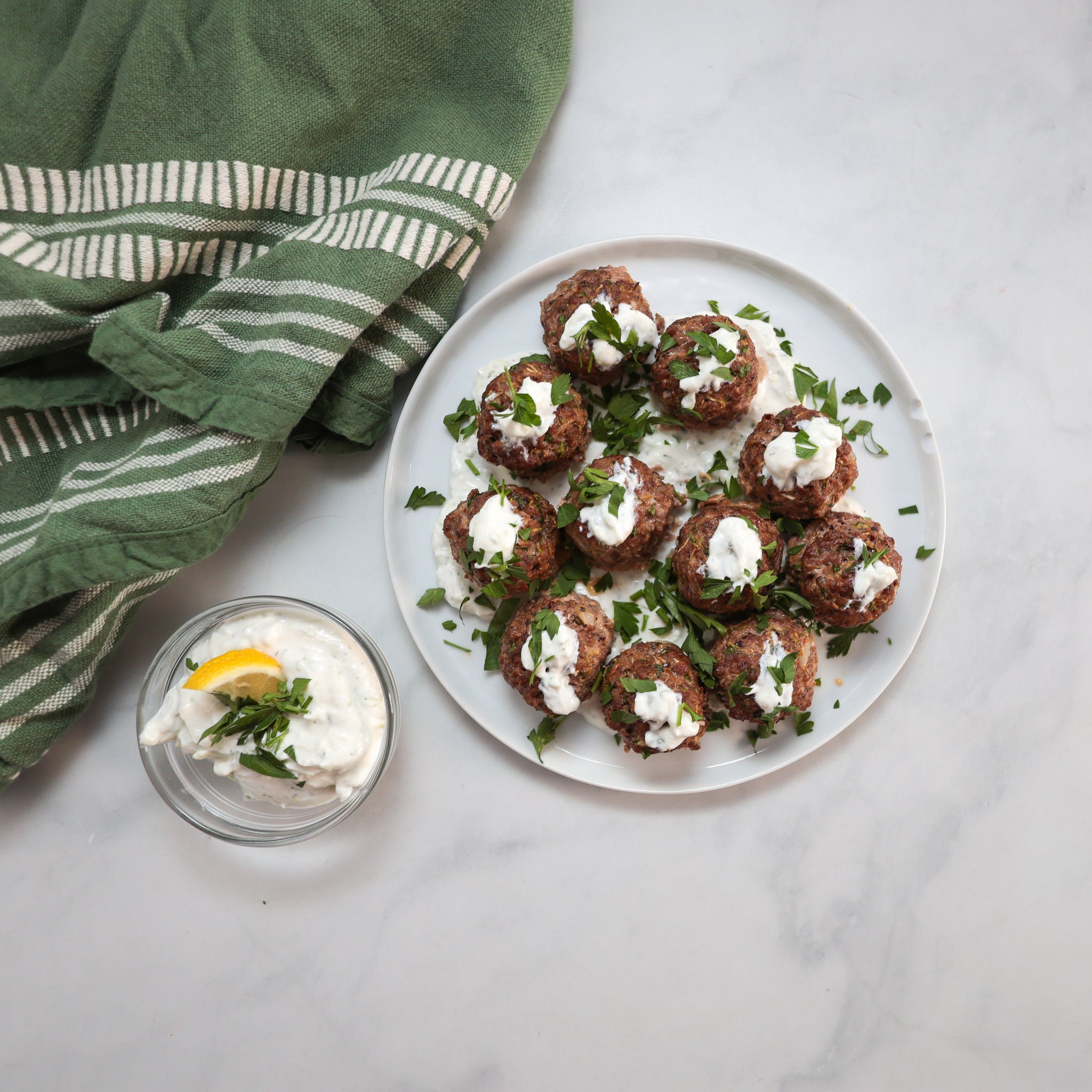 30 Minute Sheet Tray Greek Meatballs with Tzatziki Sauce
These easy sheet tray baked Greek meatballs come together in 30 minutes! They are flavorful, juicy and tender, plus freezer friendly. Oven baked meatballs are the perfect weeknight meal when you're short on time and require little clean up. This recipe adds a twist on classic beef meatballs but it can be modified using whatever spices and herbs you have in your pantry. These delicious meatballs are paleo-friendly, gluten and dairy free that will surely be a crowd pleaser!


Shop 100% Pasture-Raised, Grass Fed & Finished Ground Beef Calf 

Sheet Pan Greek Meatballs with Tzatziki Sauce
Prep time:10 minutes
Cook time: 20 minutes
Total time: 30 minutes
Makes: 16 meatballs and 1 cup sauce

Ingredients
Meatballs
1 pound Ground Beef Calf or Ground Beef (or use your favorite ground meat)
2-3 garlic cloves, minced
1 small zucchini, finely grated (about ½ cup)
1 small onion, finely grated (about ¼ cup)
1 egg
2 tbsp fresh parsley, diced
½ tsp dried dill
1 tbsp fresh lemon juice
1 tsp sumac
½ tsp ground cumin
1 tsp dried oregano
1 tsp kosher salt
½ tsp black pepper

Tzatziki Sauce
1 cup Greek yogurt or your favorite plain yogurt
¼ cup cucumber, finely grated with water squeezed out
1 tbsp lemon juice
1 tbsp extra-virgin olive oil
1 garlic clove, grated
1 tsp onion powder
¼ tsp dried dill
1/2 tsp sea salt


Instructions
Greek Meatballs
Preheat the oven to 350 degrees F.
In a large bowl, add the ground beef, garlic, zucchini, onion, egg, parsley, dill, lemon juice, sumac, cumin, oregano, salt and pepper. Using a wooden spoon mix well and then set aside for about 5 minutes. Using a cookie scoop or your hands form into 1 inch balls. This should make about 16 (1 ounce) meatballs.
Line a sheet pan with parchment paper and transfer meatballs evenly on the pan.
Bake for about 15 to 18 minutes or until fully cooked.
Serve meatballs with a side of tzatziki sauce, extra parsley sprinkled on top, and a side of pita bread or rice.
Store meatballs in an airtight container in the fridge for up to 4 days or freezer for up to 3 months.

Tzatziki Sauce
In a small bowl combine Greek yogurt, cucumber, lemon juice, olive oil, garlic, onion powder, sea salt and dill. Mix well and set in the fridge until ready to serve.
Store in an airtight container in the fridge for up to 4 days.