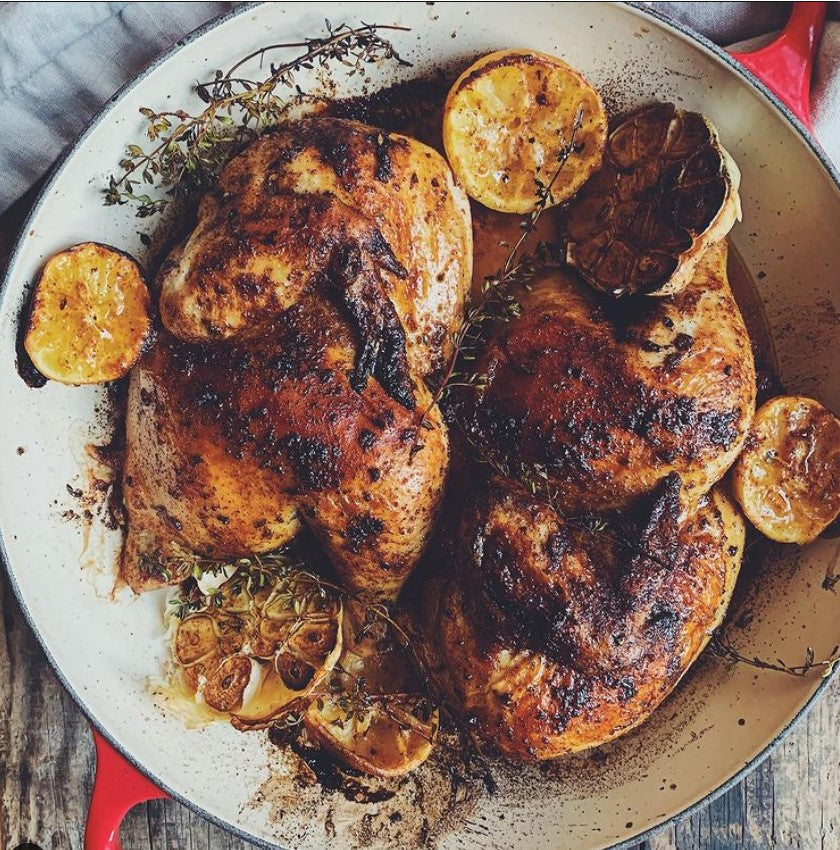 48 Hour Brined Roasted Chicken
Recipe Submitted by Katherine Knowlton 
Serves 2, plus leftovers 
Ingredients:
1 whole chicken, split in half, backbone removed

 

kosher salt

 

2 tsp. pimentón (smoked paprika)

 

2 tablespoons olive oil, plus more if needed

 

freshly ground black pepper

 

Thyme

 

2 lemons, cut in half

 

1 head of garlic, cut in half

 

1 shallot, minced

 

1 cup chicken stock for deglazing pan

 
Directions:
Dry brine the chicken 1 to 2 days day before serving .Dry the chicken very well.

Season the chicken liberally all over with salt. (use ~3/4 teaspoon sea salt per pound

of chicken). Cover loosely and refrigerate.

 

Remove chicken from refrigerator 1 hour before roasting.

Preheat oven to 450°F. Season the chicken all over with the pimentón and olive oil set

aside. (Use your hands to massage the smoked paprika and olive oil into all parts of

the chicken; use more if needed). Season with freshly cracked black pepper.

Transfer chicken breast side up to a large oven-safe skillet. Arrange thyme, lemon and

garlic (cut sides down) in skillet around chicken. Transfer to oven. Roast until chicken is

nicely browned and cooked through, checking for doneness after ~45 or so minutes.

(I like to check at the halfway mark and baste the chicken if needed (brush with olive

 

oil from the bottom of the pan and place back in oven). To check, carefully remove

 

skillet from oven (the handle is hot!), poke a knife into leg joints, and pierce the meat.

 

If juices run clear, the chicken is done. If you see a rosy pink color, it needs more time.

 

Continue to roast, checking every 5 minutes, until juices run clear (165 degrees

 

internal temp on a meat thermometer).

  
5.
Carefully remove chicken, garlic, lemon and thyme from the pan, leaving behind any
pan juices. While the chicken rests and cools, make your pan sauce. Using the same
pan, sauté shallot over medium heat until translucent. Deglaze with chicken stock and
continue to cook until reduced and the sauce is thickened slightly. Carve the chicken
into 8 pieces and transfer to a platter. Pour the pan sauce over the chicken and serve
with roasted lemon and garlic alongside.