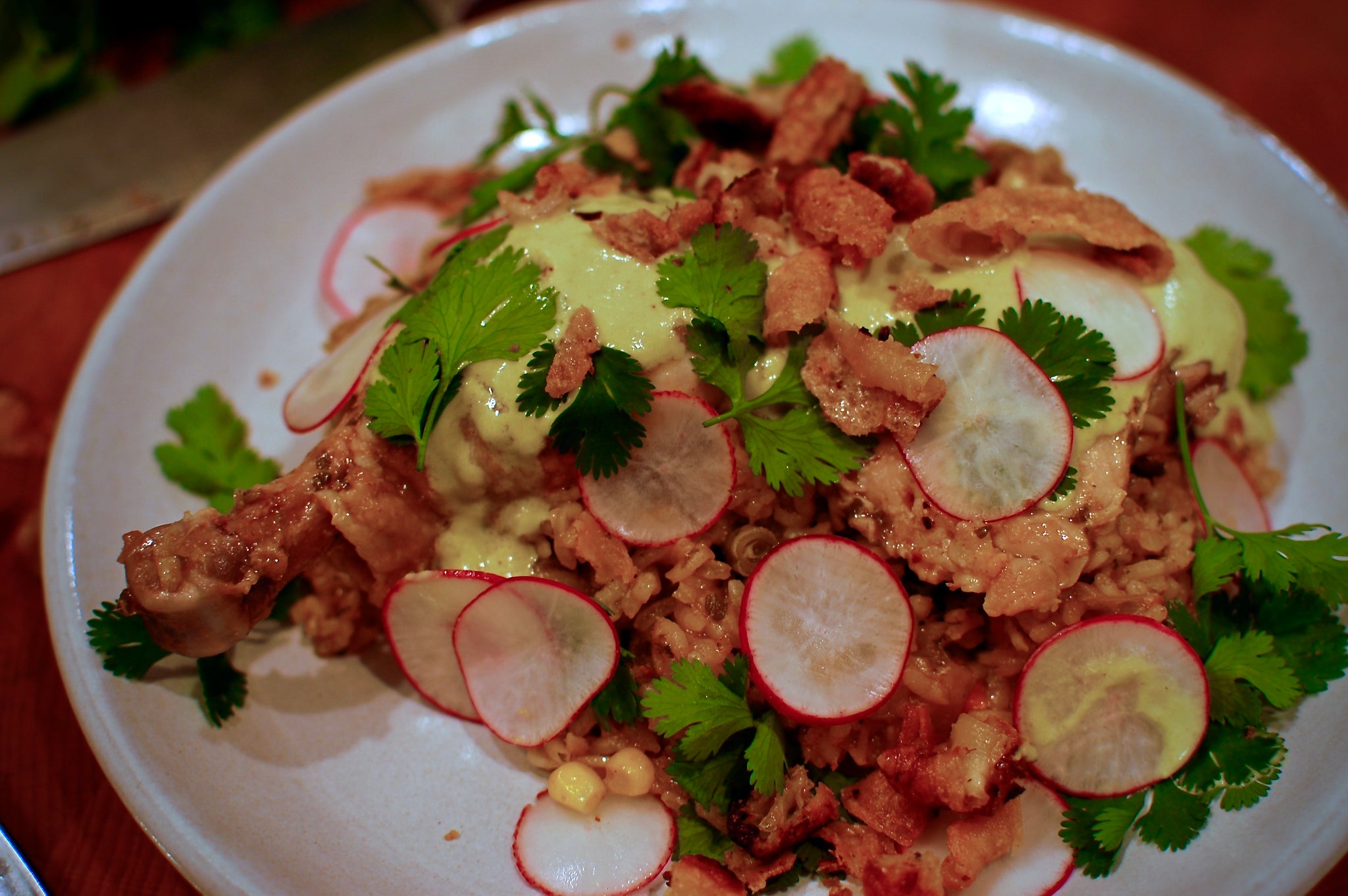 Arroz con Pollo with Chicharrones
Arroz con Pollo
w Chicharrones, Radish con Crema

 
Serves: 2-4
Prep: 30 min
Cook: 45 min
T = Tablespoon
t = teaspoon 
2 T High Temp cooking fat; avocado oil, tallow.
2 BRD Chicken Quarters; left whole or cut into drum and thigh pieces
Kosher Salt
1 small onion; diced
3 cloves garlic, thin sliced
1 T ground cumin
1 T dried mexican oregano; 2 T if using fresh
2 cups medium grain rice
16 oz salsa of choice; thin, not chunky. We used Zubiate's Cocina Mild Salsa
16 oz BRD chicken stock; or homemade
2 bay leaves
1 cup frozen peas or veggie medley (peas, carrots, corn)
1 lime; juiced
2-3 radish; sliced paper thin
1 cilantro bunch
1/4 cup crema, sour cream or creme fraiche; we used Zubiate's Cocina Jalapeno de Crema
Pairing knife
Chef's Knife
Cutting Board
Dutch Oven, with lid; or other large oven safe vessel with lid
Rimmed baking sheet with parchment or other liner
1 Plate
Tongs

 
Prep to cook
Rinse rice well, until the rinsing water runs clear. You are trying to remove as much surface starch as possible so that your final product is not sticky-mush rice with chicken in it. Once rinsed, spread out on a plate or other large surface to allow to dry as much as possible. I have also found that letting it sit in a wire mesh strainer and tossing it a few times every few minutes also works well.

Remove chicken quarters and dab dry with paper towels. Salt generously on both sides and set aside.

Preheat oven to 350℉ and preheat the dutch oven over medium heat. Line baking sheet with parchment. Set aside.

 

Dice onion and thinly slice garlic. Measure out oregano and cumin. Set aside.

Open salsa container and measure out chicken broth and set aside.
Cook
Set burner to med-high and put high temp oil in the preheated dutch oven and allow to heat. You'll know the oil is hot enough when you see faint wavy lines when you swirl it around. Place salted chicken quarters in, skin side down and gently press down to ensure even contact. Allow to brown for 5-7 mins, or until a rich brown color develops. Flip quarters and repeat on the bottom side, 5-7 mins. Remove from heat and set aside to cool slightly.

 

In the same dutch, lower the heat to medium and add in chopped onions and cook until they become transparent. Depending on your stove top, you will be better off removing from heat entirely using the residual heat from the dutch oven to start cooking the onions, returning it to heat once the hard sizzle starts to fade away.
While onions cook, remove browned skin from chicken pieces and lay flat on the parchment lined baking sheet, browned side down. You want the underside of the skin to start to dry out and become crispy. If you have a baking rack, use it to elevate the skins. Place in preheated oven. Now is a good time to split the quarters into pieces if desired. Articulate the quarter and look for the joint where the drum and thigh meet. Cut straight down and wiggle if needed to find the joint, the knife will easily cut through when you find it.
Once the onions become translucent, add garlic slices and cook until you can smell it, 1-2 mins. Add oregano and cumin and stir until everything is coated. Cook for 2-3 mins until it becomes very fragrant.

 

Add rice and cook until it becomes translucent and smells of toasted rice. 3-5 mins. Stir often.

Add lime juice, salsa, broth, bay leaves and peas or veggie medley and stir well.

Place chicken quarters or pieces into the mixture, nestling them down into the pot, covering them with liquid if possible.

Put on the lid and place in the oven, cooking for 25-30 mins, or until the liquid is absorbed into the rice.

 

Check the chicken skins. They should be dark brown and very crispy, not black and burnt. If they are still pliable with some moist spots, continue cooking. Once crispy, remove from oven and taste one for salt. I salted the skins well enough before searing the quarters that I didn't need to add additional salt to the chicharrones. Set aside and allow to cool to room temp.

     
Garnishes and serving
Wash and slice radishes as thinly as possible. A mandolin was made for this task. Think about purchasing one if you want perfectly paper thin slices on anything, it really makes a dish look finished and thoughtful.
Tear off cilantro and pick out any large stems and set the nice leaves aside.

 

Once the 25-30 mins is up, remove from oven and let rest covered for 10 mins so the rice can absorb any remaining liquid.

Chop the crispy chicken skins (chicharrones) into pieces.

Serve a scoop or two of rice on a plate or wide bowl with a piece of chicken in the middle. Place a spoonful of crema on top and a sprinkling of chopped chicharrones all over. Dress the plate with the thin radish slices and cilantro leaves.

 

If you had a crispy rice layer at the bottom of the dutch oven and it released, make sure each person get some because it's the best part. Or… don't give any to anyone and save it all for yourself because it's the best part.