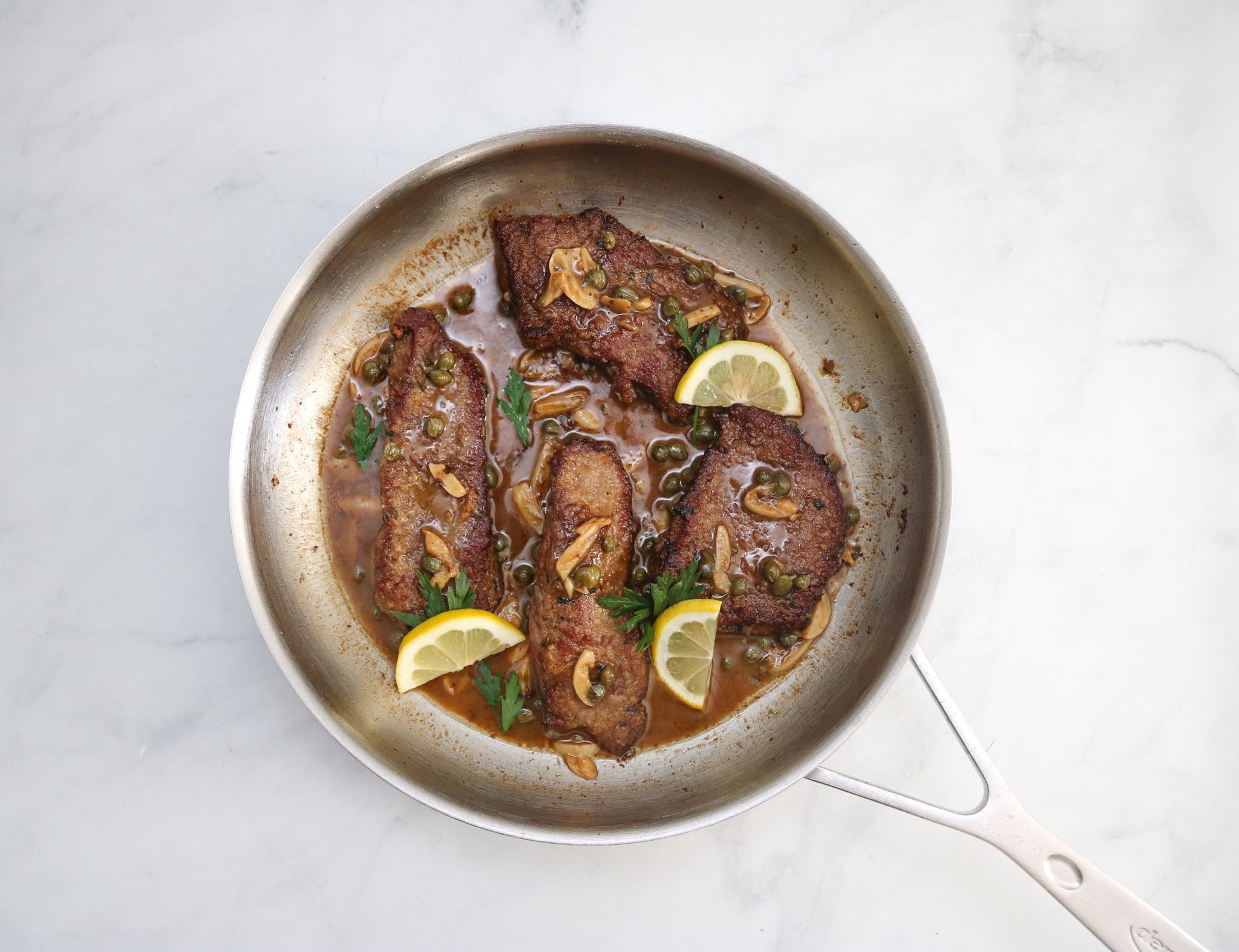 Beef Piccata with a Lemon Caper Sauce
This piccata recipe is made with beef calf cutlets coated in a flavorful and tangy lemon caper sauce made from the pan drippings. It's a simple one pan dish you can make during the week or batch cook for meal prep. This recipe uses white wine and bone broth, which helps create a flavorful and creamy sauce. Turn this easy dish into a complete meal by serving it with angel hair pasta or roasted cauliflower!
Shop 100% Pasture-Raised Grass Fed & Finished Beef Calf Cutlets

What is Beef Calf?
New for 2022, we're offering a select cutting of young beef (approximately 10-14 months old) that can be used similarly to a traditional veal product, but with a little more texture, much more flavor and without the animal welfare concerns.

In Europe, it goes by 'Rose Veal'; these are young, pasture raised animals that have been recently weaned off milk over the past few months, giving the meat a unique flavor and texture compared to our standard beef (approximately 24-48 months old).

A leaner, more flavorful, tender cutlet with a little less time in the dry aging room. If you're not sure what to make with it, try making this Beef Piccata recipe.

Please note: The beef calf cutlets come packaged as several small pieces. We recommend pounding the cutlets to help tenderize. In this recipe we hammered the beef cutlets. Once cooked these cutlets were flavorful, juicy and tender enough with some bite. However, you can always skip this step depending on the preparation.

Beef Piccata with a Lemon Caper Sauce
Prep time: 10 minutes
Cook time: 30 minutes
Total time: 40 minutes
Serves: 2 - 4
Ingredients

Beef Cutlets
1-1 ½ pounds beef calf cutlets (about 4 to 5 pieces)
1/2 cup all-purpose flour, cassava flour, arrowroot powder or rice flour
¼ cup Parmesan cheese, finely grated
1 tsp salt
½ tsp pepper
1 tsp garlic powder
1 tsp onion powder
1 tsp dried parsley
1 large egg, beaten
2 tbsp extra virgin olive oil
1 tbsp unsalted butter

Lemon-Caper Sauce
2 tbsp unsalted butter, plus an additional 1 tbsp unsalted butter
6 garlic cloves, thinly sliced
½ cup dry white wine (Sauvignon Blanc, Pinot Grigio, Pinot Blanc)
1/4 cup beef or chicken bone broth
2 tbsp lemon juice
2 tbsp capers, drained
1 tbsp fresh parsley for serving

Instructions

Beef Cutlets
Pound Beef: This step is optional to flatten the beef cutlets; however, we highly recommend to help tenderize. The beef cutlets will come in several small pieces. Place the beef cutlet between parchment paper or saran wrap. Pound each piece until the cutlets are about a ¼ inch thin by either using a rolling pin or meat mallet.
Coat Beef: Mix flour, parmesan, garlic powder, onion powder, dried parsley, salt and pepper in a shallow bowl. In a separate bowl, add an egg and lightly whisk. Dipped the beef cutlet in the egg wash and then coat the beef in the flour mixture. Press down on both sides and shake off any excess flour coating.
Pan Fry: In a large skillet over medium-high heat, add olive oil and butter. When the mixture is hot but not smoking, add beef cutlets (may have to cook in pairs). Cook for about 3 to 4 minutes or until golden brown, then flip and cook the other side for about a minute. Remove and transfer onto a plate. Repeat this process with the remaining beef. Set beef aside until sauce is ready.
Lemon Caper Sauce
Prep Sauce: Carefully remove any burned pieces from the skillet, but leave a few brown bits for extra flavor.
Add Butter and Garlic: In the same skillet on medium heat, melt 2 tablespoons of butter and then add the sliced garlic. Cook for about 2-3 minutes or until the garlic begins to brown.
Deglaze Skillet: Add white wine and bone broth to the skillet. Let it simmer for 4 to 5 minutes until it reduces by half. Use a spatula to remove any remaining brown bits on the pan while the wine continues to reduce down. This will add flavor to the final sauce.
Add Some Flavor: On medium heat add the lemon juice and capers. Let simmer for about 4 to 5 minutes, stirring often. Taste the sauce and adjust the seasoning adding more salt, pepper or lemon juice.
Add Beef Cutlets: Add the browned beef cutlets back into the pan along with any juices from the plate.
Spoon Sauce: Drizzle the sauce over the beef cutlets. Simmer, uncovered, for about 3 to 5 minutes (depending on the thickness) or until the desired doneness is reached. The sauce will slightly thicken.
Create a Creamy Sauce: Reduce the heat to low and add 1 tablespoon butter. Let the butter fully melt into the sauce before spooning it over the beef cutlets. Remove from heat.
Serve: Top beef cutlets with fresh parsley, lemon caper sauce and serve with pasta, roasted vegetables or rice pilaf. Store beef piccata in an airtight container in the fridge for up to 4 days or freeze into portions for up to 3 months.