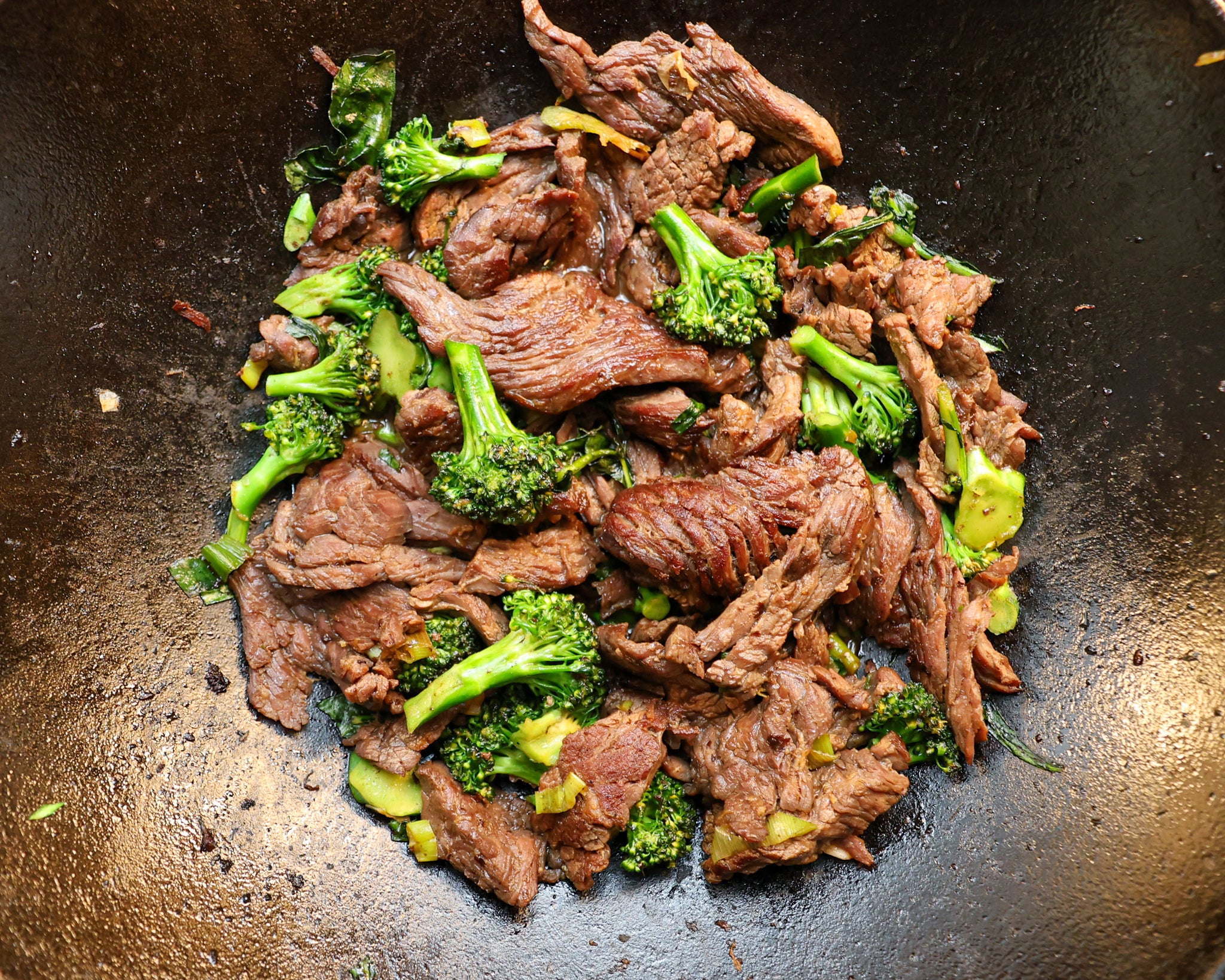 Better Than Take Out Broccoli Beef
This better than take out broccoli beef is flavorful, tender and is made in under 60 minutes! Thin strips of our grass fed beef sirloin flap is coated in a sweet and tangy sauce. This is the perfect weeknight meal that's gluten free, dairy free and paleo friendly. Just pair this broccoli beef with white rice and the leftovers are just as good the next day. It's so easy to prepare with just a little prep, you'll never want to get take out again.

What is Beef Sirloin Flap?
Beef flap meat is a hidden gem. Located in the bottom sirloin, where the sirloin and flank subprimals meet. Incredibly rich flavor, with a medium texture and a little fat, that's very similar to a skirt or flank steak. This cut can be sliced thin for carne asada or cut into steaks. Also makes a tender and flavorful stir fry!

Shop 100% Pasture-Raised, Grass Fed and Finished Beef Sirloin Flap

Recipe Tips & Tricks
Cut into smaller steaks: Instead of leaving the steak in one large piece, cut into 3 to 4 smaller steaks by slicing with the grain. This will make it easier to cut against the grain when slicing into thin strips.
Make sure to cut against the grain for the thin broccoli beef strips: This is easy to figure out on the flap meat. Look at the grain and then cut across. By cutting against the grain this helps make the meat more tender and less chewy.
Add baking soda: By adding baking soda this helps to tenderize, keep moisture and brown the meat quicker! A very small amount is needed but this helps create the most tender broccoli beef.
Use a hot pan: This is essential to get golden brown edges and a tender inside. Heat your pan, then add the oil. When the oil gets hot add the beef strips, as it will cook quickly.
Work in batches: Depending on the pan (wok, frying pan, skillet) cook the flap strips in batches and don't over crowd. This will help get each strip extra crispy. Sear the beef on both sides but it's okay if the beef is not fully cooked through. Once the beef is added into the sauce it will cook more.
Better than take out broccoli beef
Prep time: 25 minutes
Cook time: 30 minutes
Total time: 55 minutes
Serves: 6-8
Ingredients 
Beef
1.5 - 2lbs beef sirloin flap (silver skin trimmed & cut in 1/4 inch thick strips, against the grain)
½ tsp baking soda
1 tbsp tamari or soy sauce

Sauce and Stir Fry
3-4 tbsp avocado oil (use about 1 tbsp per batch of meat)
1/2 cup coco aminos
2 tbsp tamari or soy sauce
2 tbsp rice wine vinegar
2 tsp toasted sesame oil (optional)
1 tbsp garlic, grated
1 tsp ginger, grated
2 tbsp of water
1 bunch green onions, diced
1 medium broccoli head, cut into florets
Instructions
Open and remove the beef flap from the packaging. Place on a cutting board and pat dry with paper towels. Cut flap meat into ¼ inch strips against the grain.
In a bowl add the sliced flap meat, tamari and baking soda. Use hands to fully coat meat. Let sit for 20 to 30 minutes. Set aside.
In a small mixing bowl whisk together coco aminos, tamari, rice wine vinegar, sesame oil, garlic and ginger. Set sauce aside.
Heat the wok or skillet and add 1 tbsp of avocado over medium heat. When the oil gets hot add the flap meat strips (working in batches) and sear for about 1-2 minutes per side. it's okay if the beef is not fully cooked through. Once golden brown remove the cooked beef and set aside in a bowl. Repeat this process with the remaining flap meat and add more oil for each batch. There will be some residue leftover in the bottom but this will help season the sauce and veggies.
In the wok or skillet add about 2 tbsp of water, scraping the bottom of the wok as the water simmers and helps to deglaze the pan.
Add in the diced green onions and broccoli florets. Let these cook for a couple of minutes and then push the veggies off to the side. Add the sauce and bring to a simmer over medium high heat. Then add in the beef strips and any juices left in the bowl. Toss the meat in the sauce mixture and cook for another 4 to 5 minutes or until the sauce starts to thicken.
Serve this broccoli beef alongside white rice and garnish with green onions.
Store leftover broccoli beef in an airtight container in the fridge for up to 4 days.