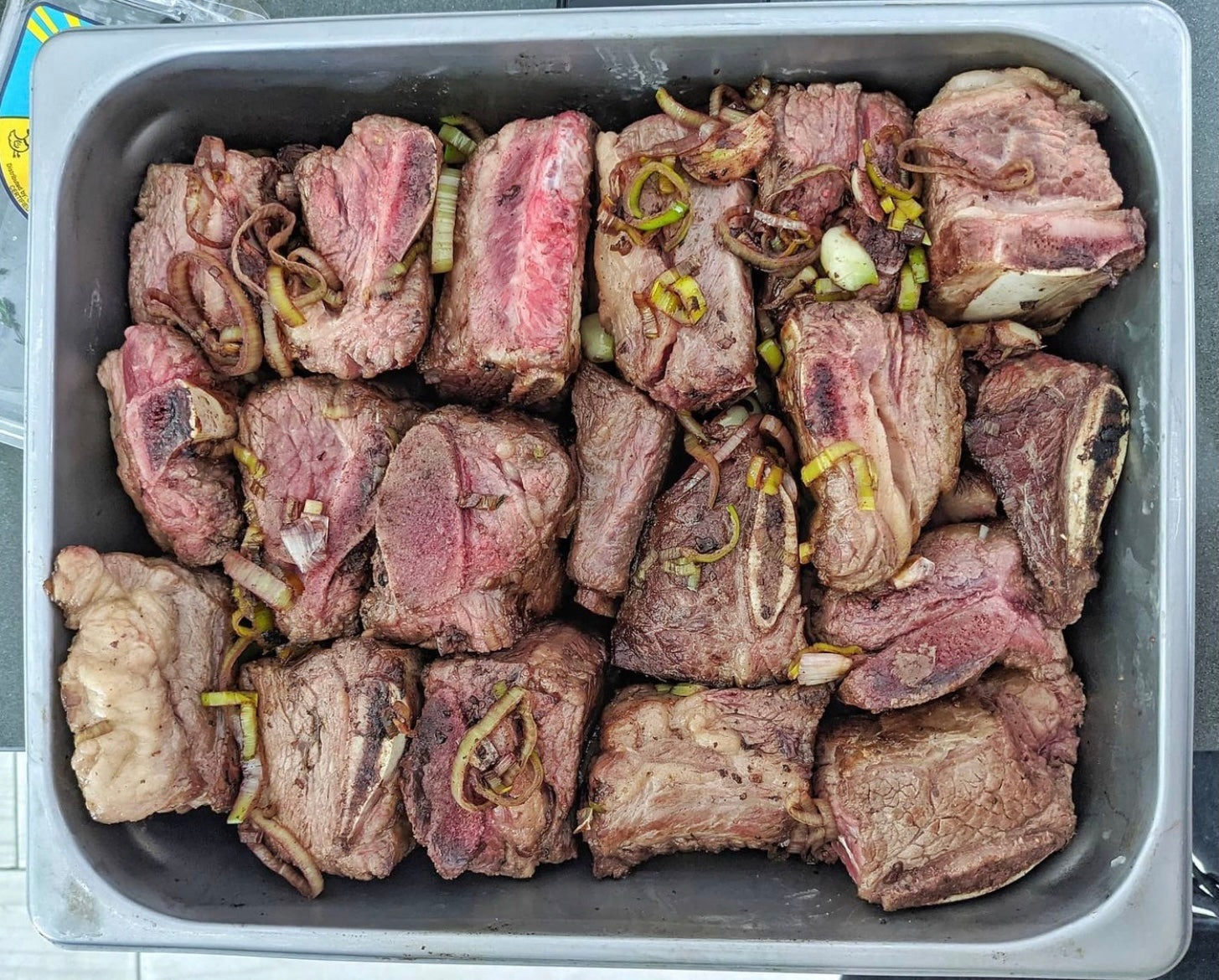 Braised Melt-off-the-Bone Short Ribs by @wellnesswithdanielle
Our friend Dietitian/Blogger Danielle of @wellnesswithdanielle has whipped up some delicious oven-braised short ribs that'll make you drool as you eagerly anticipate the timer buzzing! We've got the recipe for you below:
Danielle: I Honestly Feel Like This Cut Is Under Estimated. These Short Ribs Have So Much Marbling and Fat That Adds A Rich Flavor & Depth To Any Meal! What Do You Make With Them?

Ingredients:
3 pounds bone-in beef short ribs 

1 tablespoon tallow or high cooking oil

Salt & ground black pepper

1 large onion, diced

4 green onions, sliced

4 cloves garlic, minced

1 inch ginger, sliced

2 tbsp balsamic vinegar

1/2 cup red wine

3 cups water or bone broth (did a mix)

2 sprigs fresh thyme

Directions:
1. Heat the oven to 325F and season the meat with salt. 
2. Heat a large cast iron over medium-high heat. Add the short ribs in one layer with fat side down and sear without moving for several minutes on each side, letting them brown. Takes about 15 minutes total.
3. Remove short ribs and layer into a dutch oven turned on low heat. 
4. Cook the onions, garlic, green onions and ginger on medium heat in the same cast iron pan. Do not remove fat. Cook for about 5 minutes. 
5. Add wine, thyme and balsamic and bring to a simmer. Cook for a few minutes.
6. Add wine and onion reduction on top of short ribs. Then add either water or bone broth until 2/3 of the ribs are covered. 
7. Cover and place in the oven. Braise in the oven until the meat is very tender and pulling away from the bone, 2 to 2 1/2 hours.
8. Optional for the last 30 minutes remove lid to help create a thicker liquid and caramelize top layer. 
9. When the meat is done, rest in a covered pan for 20 minutes before serving.