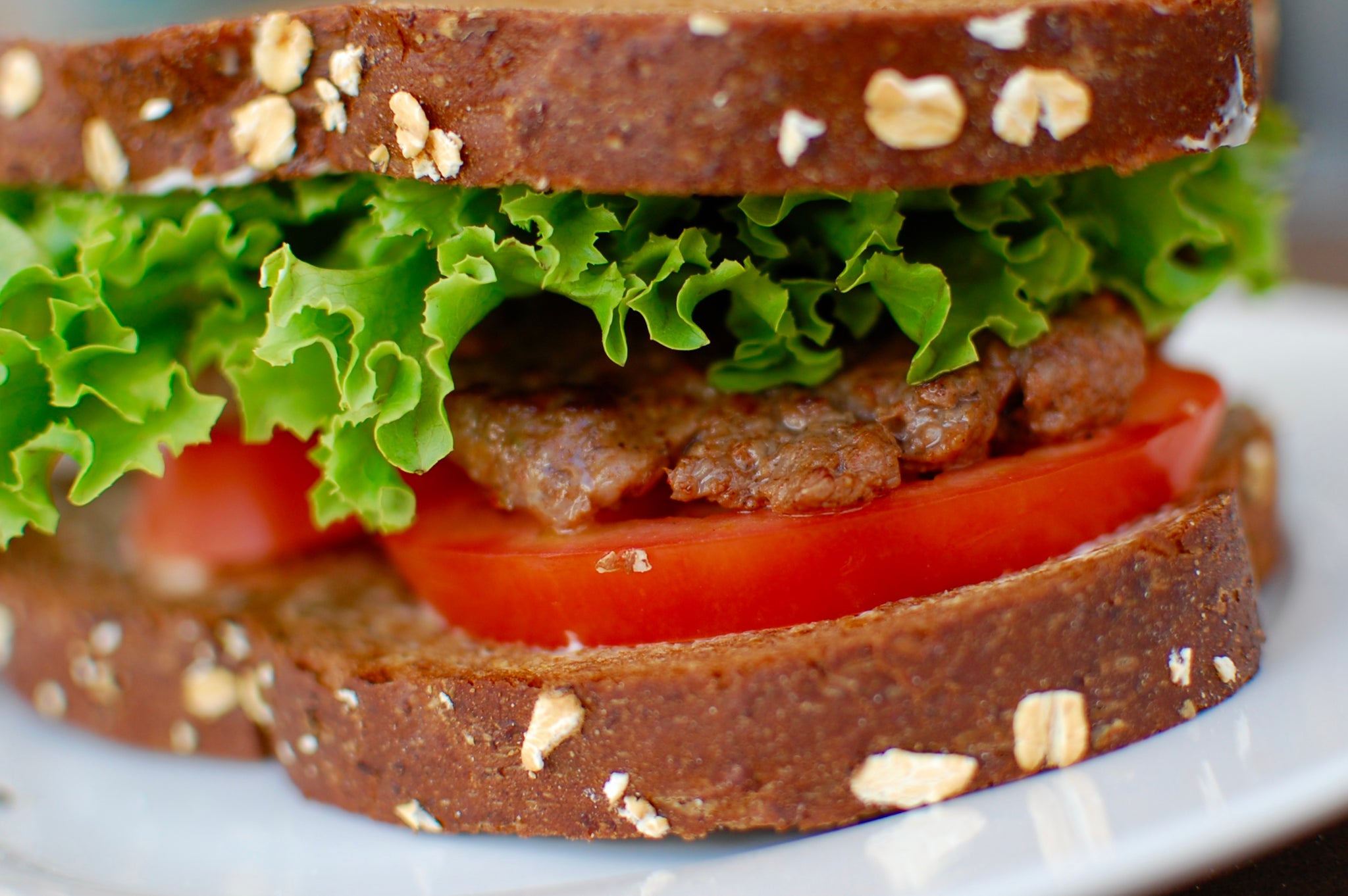 BRD/SLT
Makes: 1 Sandwich Prep:  15 mins   Cook: 5 mins.  Difficulty: Super Easy
T = Tablespoon   t = Teaspoon
Equipment:
Cast Iron Skillet

Sharp Knife

Cutting 

Board

Paper Towel
Ingredients:
1 link (~1/4 lb) Any Buy Ranch Direct Sausage; beef, bison, boar, pork, chicken, turkey. Divided and formed into 2-1/4" thin patties.
1 Heirloom tomato; bigger the better; cut into 1/4"-1/2" slices.
4 Lettuce Leaves; washed and trimmed of the thick white parts.
1-2 T Mayonaise; I prefer Duke's for traditional and Just Mayo for an eggless option.
2 slices high-quailty, fresh bread; look for Lodge Bread Co. at the markets or on Washington Blvd in Culver City. 
1 T high temp cooking oil;  grapeseed, safflower, avocado, etc.
Salt/Pepper
Process:
Preheat skillet on low heat.
Form patties.  Remove sausage from casing and divide in half -- use a scale to make pretty patties that cook evenly.  Form into round, thin patties.  It's ok if the edges look like they are going to fall apart, they won't.
Prep Veggies.  Wash and trim lettuce.  Wash and slice tomato.
When skillet handle is hot to the touch, increase heat to med-high and add 1 T cooking oil.
Gently place each patty in the skillet.  Cook for 1 min on each side.  Repeat. (4 mins total).  Remove and set on paper towel to rest.
Wipe skillet clean with paper towel and return to med-low heat.
Place bread slices in skillet.  The bottom of each slice should be in the center of the skillet, facing each other, like butterfly wings.  The goal is to toast one side only, having the toasted sides facing out on the sandwich.
Remove once toasted evenly on one side, remove and set aside.  About 1-2 mins.
Salt and Pepper each tomato slice.
Coat each un-toasted bread slice with mayonnaise.
Top with tomato, then patties, then lettuce.
Eat and enjoy your full-bellied afternoon.