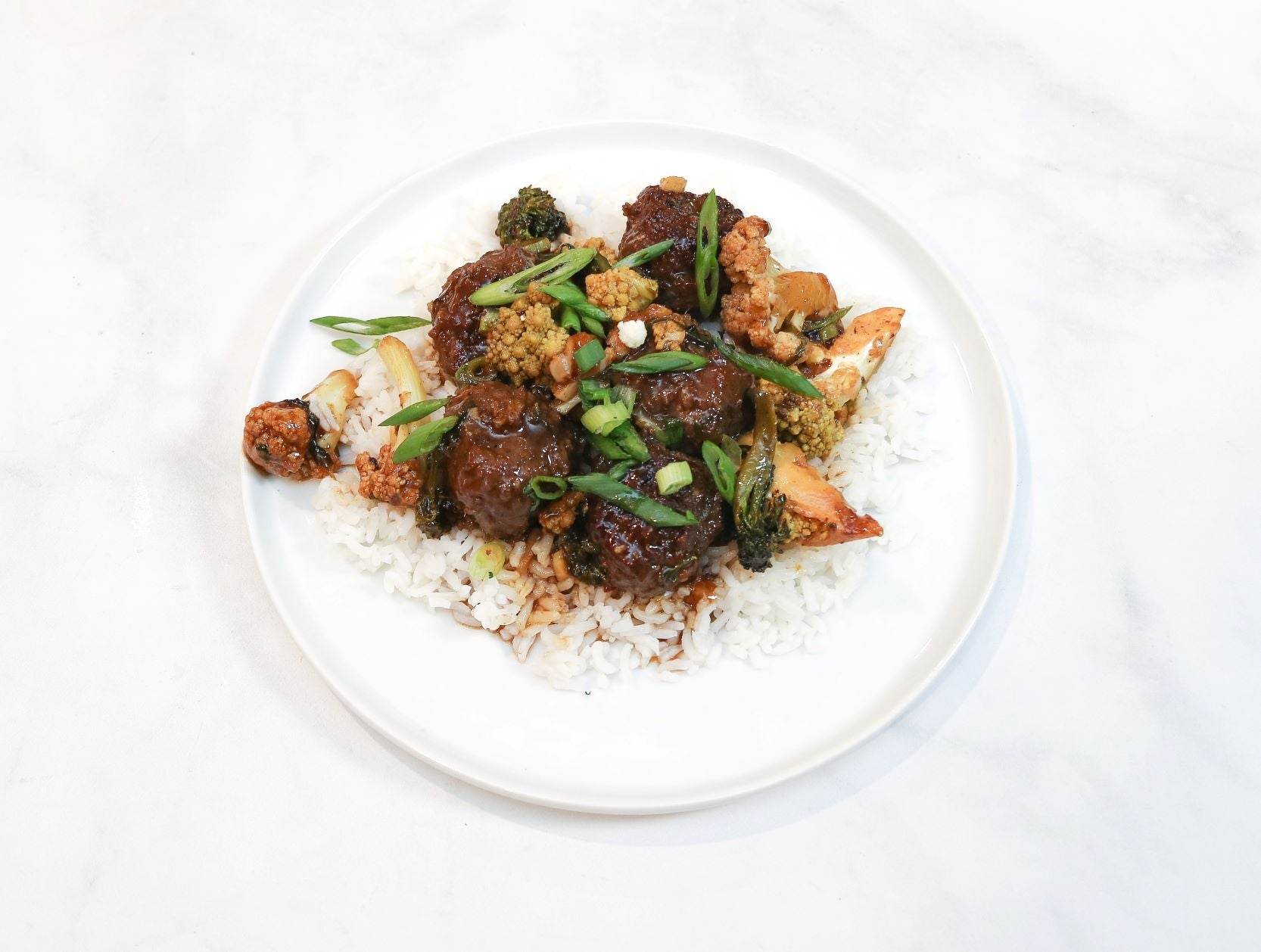 Broccoli Beef Meatballs (gluten & dairy free)
These homemade beef meatballs are tossed in a honey garlic ginger sauce and served over steamed rice for an easy weeknight dinner. This meal is inspired by the classic take out dish broccoli beef but it's quicker than take out and made with simple ingredients. These meatballs are seasoned with lots of ginger, garlic and spices that are sweet and tangy in every bite. For the meat, we used 100% grass fed and finished ground beef calf as it's tender and a bit leaner than our traditional ground beef. However, ground beef, ground chicken or any ground meat will work just as well.
Shop 100% Pasture-Raised, Grass Fed & Finished Ground Beef Calf

What is Beef Calf?
We're offering a select cutting of young beef (approximately 10-14 months old) that can be used similarly to a traditional veal product, but with a little more texture, much more flavor and without the animal welfare concerns. This ground beef is approximately 90/10, but may be slightly leaner batch to batch.

In Europe, it goes by 'Rose Veal'; these are young, pasture raised animals that have been recently weaned off milk over the past few months, giving the meat a unique flavor and texture compared to our standard beef (approximately 24-48 months old).

A leaner, very tender ground beef with a little less time in the dry aging room and a slightly coarser grind than our standard Ground Beef. If you're not sure what to make with it, try making meatballs, burgers or meatloaf!


Broccoli Beef Meatballs
Prep Time: 15 mins
Cook Time: 30 mins
Total Time: 45 mins
Serves: 4

Ingredients

Meatballs
1 pound ground beef calf or ground beef
1 tbsp tamari
1 tbsp garlic clove, grated
1 tbsp fresh ginger, grated
½ tsp ground black pepper
3 tbsp arrowroot powder
1/4 cup avocado oil

Honey Garlic Sauce
¼ cup coco aminos
2 tbsp rice wine vinegar
2-3 tbsp honey
2 tbsp tamari
1 tbsp garlic clove, grated
1 tbsp fresh ginger, grated
¼ cup water + 2 tbsp

Veggies
1 medium broccoli head, cut into florets
1 small cauliflower head, cut into florets

Instructions
Make meatballs: In a mixing bowl combine ground beef calf, tamari, garlic, ginger and ground pepper. Using your hands or a spoon mix until fully combined. With a 1 oz cookie scoop or your hands form the meat into meatballs (about 2 tablespoons). The meat mixture will be pretty sticky. Sprinkle 2 tablespoons of arrowroot powder over all the meatballs. Dredge the meatballs until fully coated.
Make the sauce: In a glass measuring cup, mix together tamari, coco aminos, rice wine vinegar, honey, garlic, ginger and ¼ cup of water.
Sear the meatballs: In a Dutch oven heat the avocado oil over medium heat. When the oil gets hot add the meatballs, and cook for about 12-14 minutes until all sides are seared. Once meatballs are golden brown, remove and set aside in a bowl.
Make a slurry: In a small bowl add the remaining 1 tablespoon arrowroot powder and mix with 2 tablespoons of water. Set aside.
Create a sauce: Add the broccoli and cauliflower into the Dutch oven. Cook for about 5 minutes or until lightly browned. Then pour in the honey garlic sauce. Bring to a boil for about 3 to 4 minutes and then add in the meatballs. Toss the meatballs into the sauce and then pour in the arrowroot slurry. Give the sauce a good stir and let it cook for about 5 minutes or until the sauce starts to thicken and coats the meatballs.
Serve: Enjoy the meatballs with sauce over rice and top with green onions. Store meatballs in an airtight container in the fridge for up to 4 days or freeze for up to 3 months.