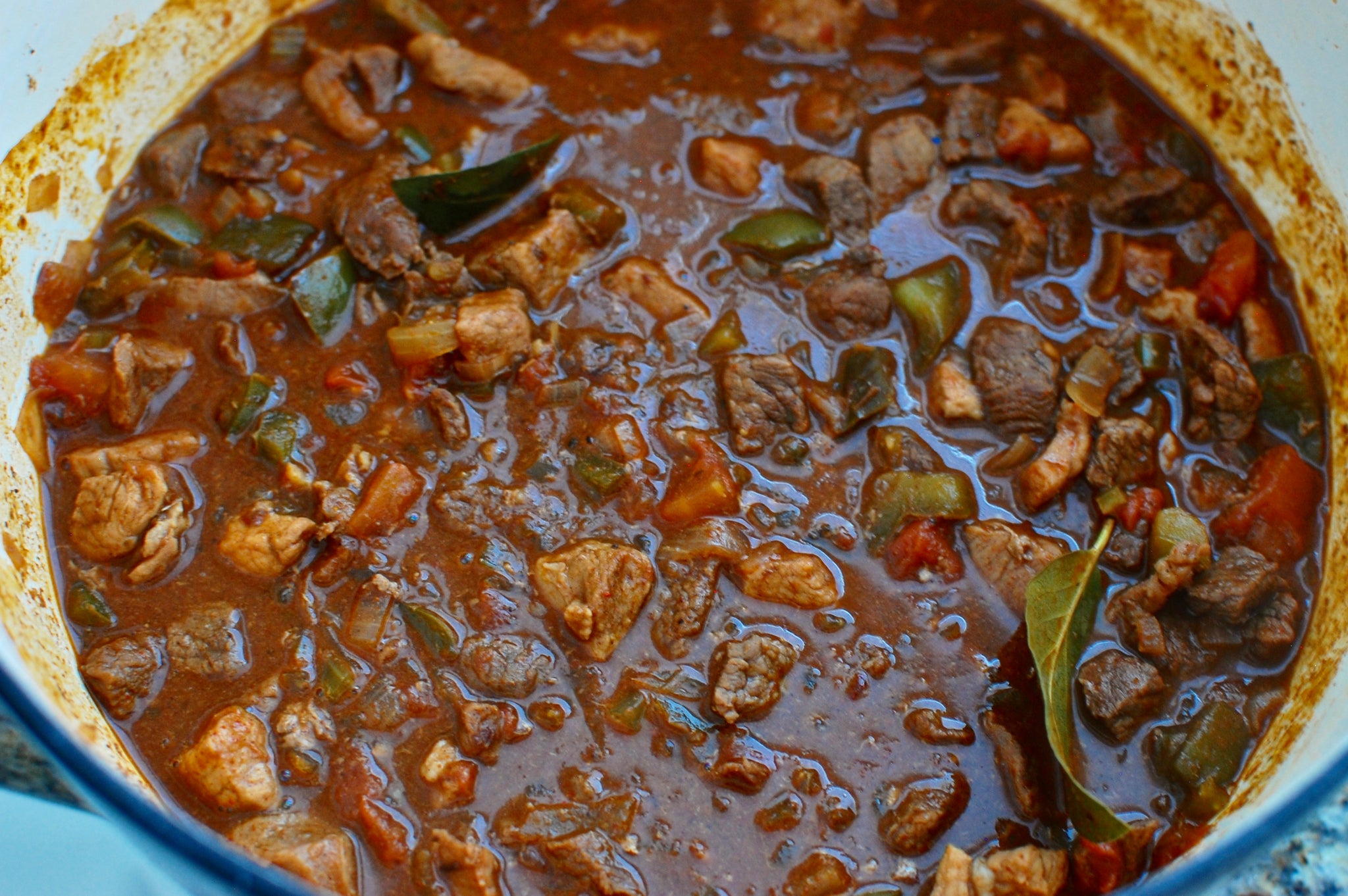 California Chili
Serves: 8
Prep: 30-45 mins total
Cook: 3 hrs
T = Tablespoon
t = teaspoon 
Tomato Sauce Base
4 Roma Tomatoes; peeled, cored and chopped
1.5 cups water
1 t cooking oil
1 large yellow onion; minced 
2 stalks celery; minced 
1/2 t salt
1/2 t black pepper
(can sub for canned or prepared tomato sauce - 15 oz can) 
Veggies
4 T BRD Lard or Rendered Bacon Fat
1 med yellow onion; sm dice
1 green pepper; sm dice 
2 garlic cloves, thinly sliced or minced.
Meats
2 lbs BRD Beef Roast* (rump, crossrib, top sirloin roast); cut into 1/4" to 1/2" cubes.
1 lb BRD Pork Kabobs or Pork Tenderloin*; cut into 1/4" cubes. 
1 T AP flour or Brown Rice Flour
*can use ground meat in place of the cubed meat in a fit of exhaustion or laziness. It'll still be good, just not the same.
Chili
5 T chili powder
2 bay leaves
1 T salt
1 T brown sugar or sweetener of choice
1 T dried oregano
1 T Red Wine Vinegar
1 cup pitted ripe olives; coarsely chopped. 
I recommend Adam's Olive Ranch at Long Beach, Irvine & Mar Vista Farmer's Markets.
1 cup Monterey Jack Cheese; finely grated. 
I do not recommend pre-grated cheese as it is coated with anti-caking agents that prevents it from melting smoothly. 
Garnish
1/2 cup sliced almonds; toasted
1/2 cup finely chopped onion; just steal some from the onions listed above 
Equipment
Pairing knife
Chef's Knife
Cutting Board
2-4 qt sauce pan
Bowl with ice water
Measuring cups
Paper towels
Large Dutch Oven or heavy bottomed pot; a slow cooker or Instant Pot will also work but used a heavy bottom pan to do all the sautéing and browning. Be sure to scrape off all the fond before transferring as that's where a lot of flavor lives.
1 plate
Wooden or silicon spoon
Slotted spoon
Small rimmed baking sheet or sauté pan for toasting almonds 
As usual, read entire recipe and form a plan. Multitasking is smart, scrambling is not. Prep all of your veggies and other ingredients before you start to make sure you have everything. Use downtime to clean or do something else productive.
Tomato Sauce Base

To peel: wash tomatoes and cut an X on the bottom (opposite the core) of each tomato and place in boiling water for about 60 secs. Remove from the water and place in a bowl of ice water for another 60 seconds.  Remove to a paper towel with slotted spoon. Peel from "x" down, the skin will come right off. Reserve 1.5 cups of the boiled tomato water.

Using the same pot, add 1 t cooking oil allow to preheat

Add onion, celery, salt and pepper and allow to soften slightly. Add peeled & chopped tomatoes (with core discarded) with reserved tomato water and simmer covered for 30 mins.

Remove lid and simmer for an additional 30 mins. Remove from heat and set aside. You can double this portion of the recipe and use for a quick pasta or pizza later in the week or freeze in an airtight container for up to 3 months. I recommend blending while warm to get a smooth consistency before storing.
Veggies

Heat the cooking fat in the dutch oven over medium-high heat.

Add chopped onion and green pepper and cook until slightly browned.

Add garlic and cook until fragrant, about 1 min.

Remove veggies to a plate using a slotted spoon.

Reserve cooking oil and place back onto medium high heat to brown the meat.
Meats

Add additional cooking fat if needed; you'll want a thin, uniform layer on the cooking surface. Allow to preheat until just about to smoke.

Add cubed meat and cook until browned, about 5-6 mins. Don't stir right away so it has time to brown.

Turn heat down medium and add flour. Stir to coat all the pieces. Cook for 1-2 mins, allowing the flour to dissolve into the moisture in the pot.

 
Chili
Preheat oven to 350 ℉

With heat remaining on medium, add veggie mixture and stir.

Add chili powder, bay leaves, salt, brown sugar or sweetener of choice, oregano and stir to combine and coat well.

 

Allow to cook until fragrant, about 1 min.

Add vinegar and scrape off all the tasty bits of fond from the cooking surface.

Add tomato sauce and stir well.

 

Cover and reduce heat to low, cook for 2 hours, stirring occasionally so nothing burns to the cooking surface, every 10-15 mins or so.

After the 2 hr cook, remove lid and stir to find the bay leaves and remove.

Add chopped olives and grated Monterey Jack cheese.

Cover and simmer for an additional 30-45 mins, until cheese is fully emulsified (disappeared).

Spread sliced almonds on a small baking sheet or sauté pan and place in preheated oven for 10 mins, or until toasted and fragrant. Could be 8 mins, could be 12, just watch 'em. If they burn, start over.
Serve
Serve in wide bowls with finely chopped onions and sliced almonds.

Serve with a salad, cornbread or tortillas. Or all three. Go nuts.
Feel free to comment below.