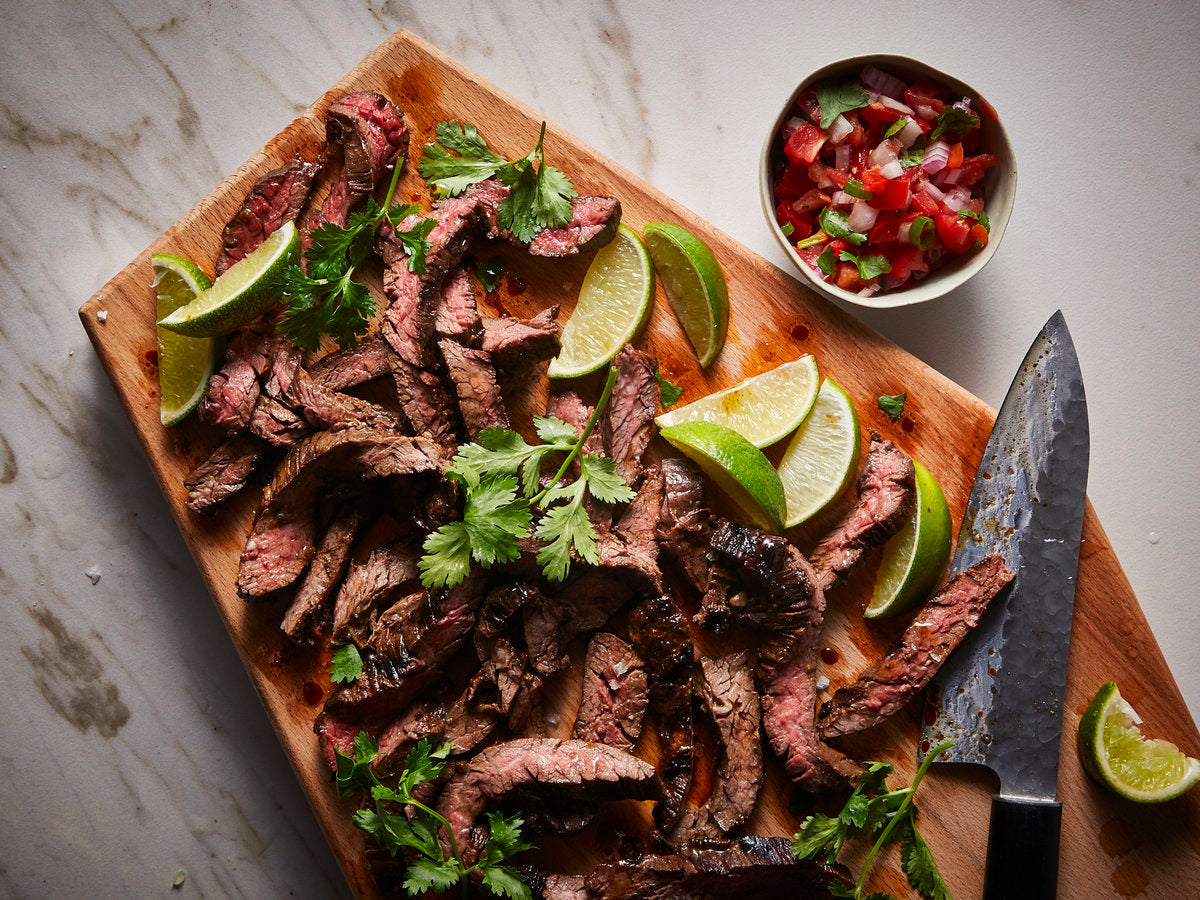 Carne Asada Tacos with Homemade Tortillas & Red Rice
I would argue with most people that homemade corn tortillas have the highest work to reward return of any bread product, maybe of any food. Not even bringing up that you get to control exactly what goes into the food, I would lean on the idea that  what makes homemade better than store bought is not just in the flavor but in the end texture and how it feels when you eat it. A one time investment into a heavy tortilla press will give you that study but soft bite and change the way you look at store bought everything. 
That being said, to make this entire meal will take some time and effort. If you just don't have much to spare, you can certainly get away with subbing in the store bought alternatives. I would start using pre-made salsa in the red rice (or even just boxed rice), then switch in ground spices for the toasted and cracked. There are bags of pre-shredded cabbage in the produce section that are fine and same goes with pickled red onions. But in order to do justice to the time and money you do spend on things like grass-fed meat, please, make your own tortillas.
Serves: 2-4
Prep: 60-90 mins active; 1-4 hr marinade.
As always, plan ahead and if you are trying some of these things for the first time, give yourself more time.
Cook: 30 min.
T = Tablespoon
t = teaspoon

1-2 pounds BRD Beef Flap Meat; flank and skirt will work also. About a 1/2 lb per person.
1 bunch cilantro minus some set aside for the rice and toppings
3 T fresh oregano; Mexican variety if you can find it.
2 T fresh parsley
1/2 cup olive oil
1 lime; zested & juiced
1 T coriander seeds
1 T cumin seeds
1/2 T black peppercorns
1 dried ancho chili
1 cinnamon stick
2 bay leaves
1/2 yellow onion; minced
3-4 garlics cloves; minced or just smashed real good.

2 cups masa harina; Bob's Red Mill makes a fine product and Maseca is good too and usually a little cheaper.
1 cup warm water; as hot as you can comfortably touch
1 t salt
2 cups long grain white rice; rinsed well
2 large red tomatoes; cored
1/2 yellow onion
2 garlic cloves
1 T cilantro
1 jalapeño; seeded & stemmed
extra water as needed

1 red onion; sliced thin
1/4 cup red wine vinegar
1/4 cup apple cider vinegar
2 cups shredded cabbage
1/4 cup fresh cilantro; chopped
1/2 cup toasted peptias; roasted, salted optional.
1 package cojita cheese
pairing knife

chef's knife

cutting board

1 small bowl

microplane, zester

marinating vessel = large bowl, ziplock or other air tight container

mortar & pestle or spice grinder or hammer.

1 large bowl

measuring cup

jar with airtight lid, (e.g. mason jar)

1 sandwich sized ziplock, cut down the sides and opened up making one long sheet with a crease in the middle or parchment paper cut and folded to this size

large plate

dish towel or paper towels

blender

pot with lid, rice maker or instant pot

cast iron skillet

aluminum foil

grill or broiler
Marinate
Put the lime into the small bowl and cover with hot tap water.

Place the coriander, cumin, black peppercorns, bay leaves, chili and cinnamon into a sauté pan and toast over medium-low heat. Toast and swirl until super fragrant and things start to crackle. If you see smoke, remove from heat, lower heat and return to toasting once smoking has stopped.

Remove to mortar & pestle, spice grinder, or just dump onto your cutting board, cover with a dish towel and pound it with a hammer. Your goal is to crack each of the seeds. The mortar & pestle is the best tool for this job.

De-stem your herbs and chop finely. They can all be done together. Remove to marinating vessel.

Add the toasted spices to marinating vessel and add oil.

Remove the lime from the hot water and dry with a towel. Using the microplane, zest then juice with your hands. The hot water bath wakes up the oils in the lime's skin and pith and also makes juicing WAY easier.

Add zest and juice to marinating vessel.

Stir well.

Inspect your flap meat for any silverskin or connective tissue that feels very hard to the touch. If you can't pinch through it with a fingernail, remove it. Now is also a good time to cut it down to the size of your cooking surface if needed.

Add your flap meat to the marinade and coat well. Cover and place in fridge for up to 4 hours.

 
Toppings
Slice the red onion thinly and add to the mason jar or other airtight container. pour in both vinegars. If the onion slices are not entirely covered with liquid, top off with water. Seal and store on the counter for at least 30 mins. These can be stored in the fridge for about two weeks.

Slice cabbage thinly and cover tightly. Store in fridge.

Open your cojita cheese package and break into crumbles. Cover and store in fridge.

Rough chop cilantro. Store in fridge (top shelf).
Tortillas pt. 1
In a large bowl, mix masa harina, salt and warm water until a dough forms. It can be slightly crumbly but needs to hold it's shape when squeezed and rolled. It also shouldn't stick to your hands like a paste. Add more water if too dry, more masa if too sticky.

Roll into 14-16 balls. Think small golf ball or large ping pong ball. If you have a kitchen scale, weigh and divide by amount of tortillas you want, probably 3-4 per person.

Set masa balls on a plate and cover with a damp kitchen towel or paper towels. Store in fridge until ready to press.
Rice
Rinse rice under cold running water until water runs clear.

Add rice to cooking vessel.

Using your pairing knife, core tomatoes and add to blender with onion, garlic and jalapeño. Blend until smooth.

Add enough water to make 2 cups of liquid or the amount called for on your rice package. No package? Made in an instant pot or pressure cooker, long grain white rice is generally a 1:1 ratio of rice to liquid. Made on the stove, try 1:1.25-.5 rice to liquid.

Cook as directed (usually bring to a boil, then reduce to simmer for The rice setting on the instant pot works well here.

Fluff with fork and season with some olive oil and salt to taste, mix in cilantro and hold warm until ready to serve.
Grill
Remove meat from fridge and allow to come to room temperature, about 30 mins. Plan accordingly.

Preheat your grill or broiler on high for at least 15 mins. Hold your open hand about 4 inches above the cooking surface and count to 4. If you make it to 4, it's not hot enough. Do not do this with your oven's broiler. Just set the rack as close as you can to the heating element with about an inch of clearance between the meat and the heat.

Remove meat from the marinade and remove any large pieces of spices and cilantro. It doesn't need to be picked clean, but you don't want it covered in stuff.

Place on the hottest part of your grill and cook for 4-6 mins, flipping every minute. You should see hard grill marks with some charred bits on the edges. If you don't, your grill isn't hot enough.

Once the desired char color is achieved and an internal temperature of around 130F, turn oven or grill off, wrap meat in tin foil and let rest in the off oven or grill, cracking the door or grill lid if you can.
Tortillas pt. 2
Preheat a cast iron or other heavy bottomed skillet over medium heat to prepare to toast the tortillas. You can also do this on a grill but it's a little risky depending on how wide the grates are set.

Remove masa balls from fridge and set on the counter.

Place your opened ziplock bag or sheet of parchment in your tortilla press with the crease side facing the hinge of the press (opposite the handle).

Place a masa ball barely off center towards the hinge and close the lid, letting the weight of the press do most of the work and finishing off by folding the handle over the press and giving a quick 1-count of pressure at the bottom. Cover remaining masa balls with towel while you work.

Remove pressed tortilla and place on your preheated skillet and repeat with all the masa balls. You want some non-stick barrier between the press and the tortilla or you'll never get the thing off in one piece. You can cover each side of the press in plastic wrap, but I find it harder to remove the tortillas from the press as opposed to picking up the sandwich bag and flopping it over into your hand and returning the bag to the press for the next one.

Place on the preheated skillet and toast until the edges just begin to take color then flip, cooking until the edges take on a deep brown color.

Remove to plate and cover with a towel.

Slice
Remove rested meat from tin foil and cut into thin, bite-sized strips, against the grain of the meat and place in a bowl with whatever juices remain. Toss in juice and taste one, add salt and pepper if needed.
Move everything to the counter for buffet style or place on the table and let everyone build their own. And beer. Buy some mexican-style lager and drink it with this.
Feliz Cinco de Mayo