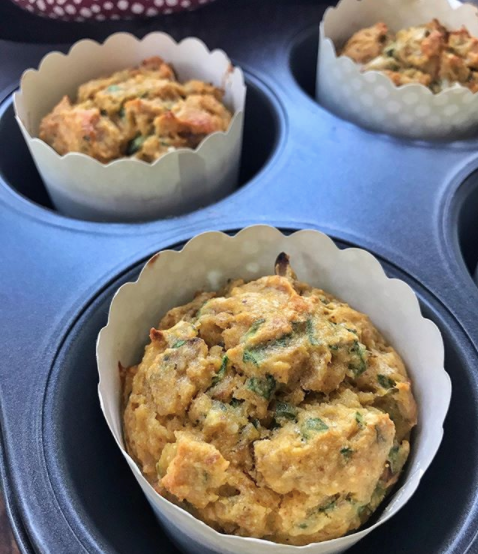 Chicken Dinner Muffins by @accidentalparisiancook
A perfect fall recipe, crafted by Alexia, aka the Accidental Parisian Cook! They may be called Dinner muffins, but they're great any time of day, any day of the week! 

Ingredients:
2 Eggs
1/2 Cup Shredded Chicken Breast, Cooked
1/2 Cup Our Breading Mix (See below) 
1/4 Cup Sweet Potato, Cooked + Mashed/Pureed
1/4 Cup Grated Regianno Parmesan Cheese
1 Handful Spinach, Sliced
1/8 Tsp Baking Soda
[OPTIONAL] 2 Tbsp Chopped Maitake Mushroom
Breading Ingredients (Small Jar Portion)
1/2 Cup Almond Flour
1/4 Cup Coconut Flour
3 Tbsp Tapioca
1 Tsp Garlic Granules
1/2 Tpsn Black Truffled Salt [or Pink Himalayan Salt]
1/2 Tbsp Chili Powder

Directions:
1. Beat Eggs till moussey.
2. Add Chicken, Sweet Potato, Spinach, Cheese and Mix 1-3 Minutes.
3. Mix in Breading, + Baking Soda for another minute. Spoon Into 4 Large Muffin Molds.
4. Bake at 350 F for Aprx 45 minutes to you make 4 muffins.
5. Let Cool and most importantly ENJOY.

If refrigerating make sure they cool completely before putting in a tupperware so they don't sweat and get soggy.
Be sure to give Alexia a follow @accidentalparisiancook and get more delicious recipes from our community on the BRD Recipes section of our site.