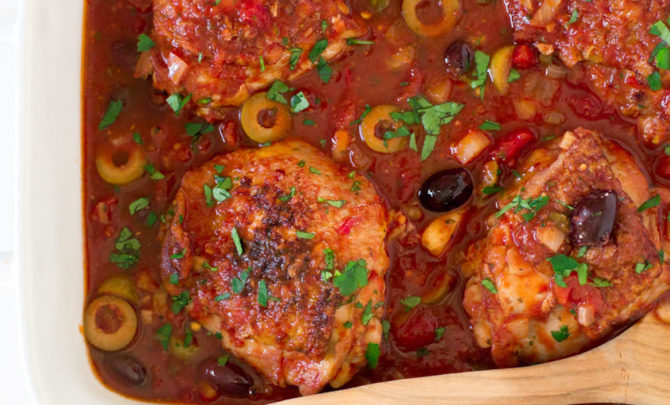 Chicken Putanesca
Recipe Submitted by Lisa Hansen
Ingredients: 
¼ olive oil
8 chicken legs (drumstick and thigh together)
1 chopped onion
12 garlic cloves, peeled and cut in half
1 large can plum tomatoes
10 chopped anchovy fillets
¾ cup pitted niçoise olives, drained
½ cup capers, drained
½ c coarsely chopped sundried tomatoes
1 T Italian herbs
2T balsamic vinegar
Red pepper flakes to taste (a pinch for no noticeable heat)
Salt and fresh ground pepper to taste. 
Directions:
Heat oil in large heavy bottomed skillet over med heat until it is shimmering.  Season chicken with salt and pepper all over.  Brown chicken on both sides (in batches if necessary), don't overcrowd the pan.  Transfer to plate.
Add onion and garlic, sauté until soft and translucent, approx 5 minutes
Add tomatoes with juice and rest of ingredients except salt.  Lower heat and let simmer for 10 minutes. Taste and add salt.  Then  add chicken and coat well with sauce, cover and cook until chicken is tender but not falling apart, approx. 40 minutes. 
Photo Credit: Kelley Simmons | Chef Savvy