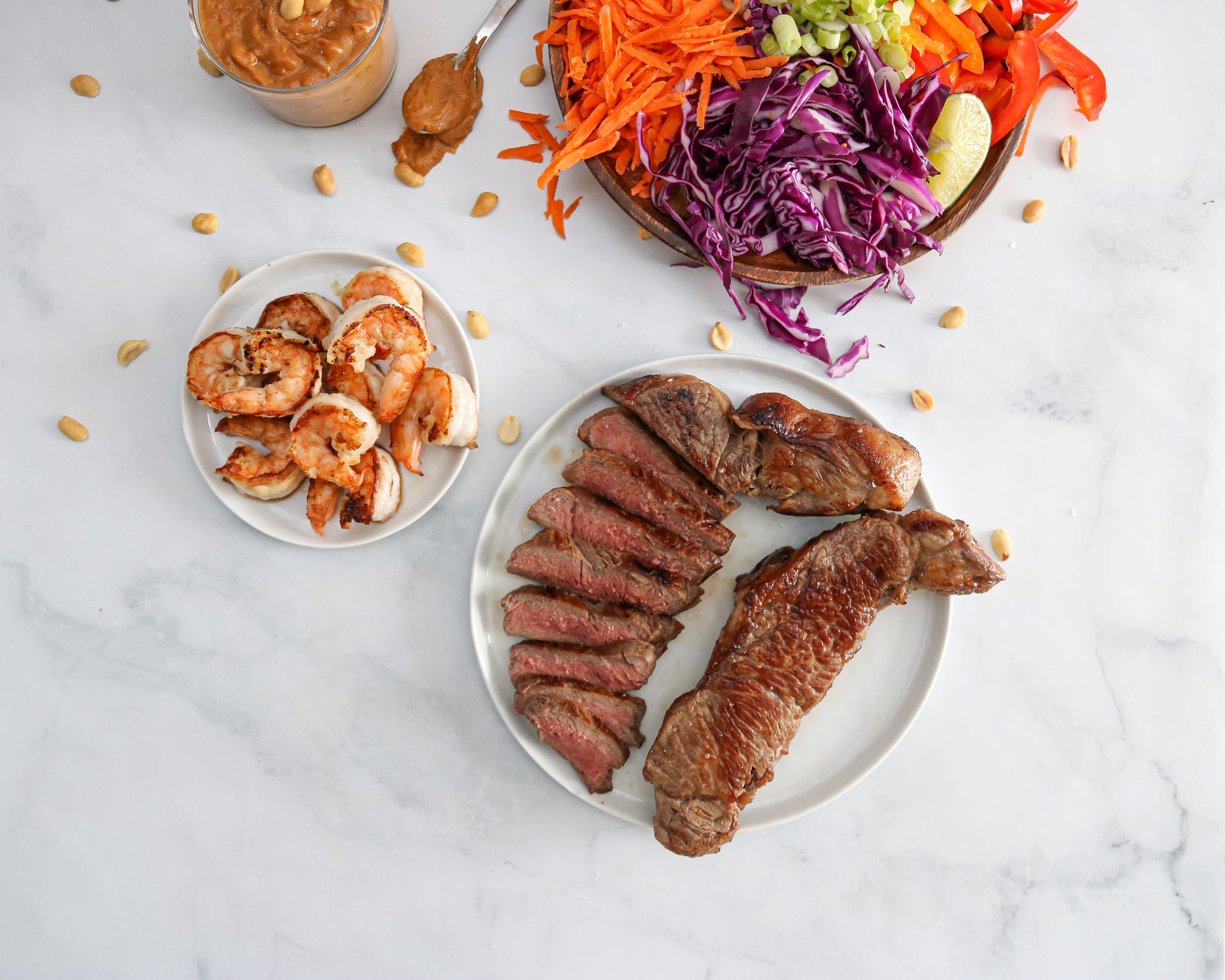 Crunchy Noodle Salad with Steak and Lime Peanut Dressing
This crunchy noodle salad with steak and lime peanut dressing is made in under 30 minutes. The salad actually tastes more flavorful after sitting in the fridge, which is the perfect meal prep option for either lunch or dinner. Choose your favorite protein from chicken thighs to pork chops to bison top sirloin. We personally love pairing this salad with our Beef New York Steaks, as they add so much flavor, plus are juicy and tender! If you're looking to add more quality protein into this meal, we like cooking up a side of TransparentSea shrimp. Shrimp has an impressive nutrition profile, as it's a lean protein that's low in fat and calories, plus contains vitamins and minerals!
Shop 100% Pasture-Raised Grass Fed & Finished Beef New York Steaks

Crunchy Noodle Salad with Steak & Lime Peanut Dressing
Prep Time: 30 minutes
Total Time: 30 minutes
Serves: 4
Ingredients 
New York Steaks
1 ½ pounds of Beef New York Steaks
1 tbsp butter or fat of choice
1 tsp kosher salt

Shrimp (optional)
1 pound raw shrimp (head removed, peeled and deveined)*
1 tsp garlic powder
1 tsp onion powder
½ tsp kosher salt
1 tbsp oil of choice

Noodle Salad
8 ounces udon, ramen or pad Thai noodles
1 cup red cabbage, shredded
1/2 cup carrots, shredded
1/3 cup red bell pepper, sliced
2 tbsp unsalted peanuts, chopped
1/4 cup green onions, chopped

Lime Peanut Dressing
1/2 cup all-natural peanut butter (creamy or crunchy)
2 tbsp coco aminos
1 tbsp rice vinegar
2 tsp roasted sesame oil
3-4 tbsp warm water (depending on sauce thickness)
Juice from half a lime
1/2 tsp garlic clove grated
¼ tsp kosher salt

Instructions

Cook Beef NY Steaks
Remove the steaks from the fridge and let sit at room temperature for at least 30 minutes.
Sprinkle salt evenly over steaks.
Cook the Beef New York Steaks your favorite way. We love cooking on the grill or in a sizzling hot cast iron skillet.
Cook until medium-rare and let rest on a cutting board. Slice when ready to serve with salad.
Cook the Shrimp
Prepare the shrimp by removing the head and peeling the shell. *Option to cook with the shell and then remove when ready to serve.
In a bowl toss the shrimp with garlic powder, onion powder, salt and oil.
Heat a cast iron skillet over medium-high heat or get a grill sizzling hot. When the skillet or grill is hot add the shrimp.
Cook until the shrimp is opaque and pink. Shrimp cooks very quickly and depending on the size it should only take 2 to 3 minutes.
Note: The shrimp can be overcooked when it starts turning white, so don't walk away!

Make the Dressing
Stir all dressing ingredients together in a medium bowl until fully combined and smooth. Adjust taste as needed and set aside.
Make the Noodle Salad
Cook noodles per instructions. Once ready, rinse under cold water and set noodles aside.
Add the cold noodles to a large bowl with the cabbage, carrots, bell peppers and green onions.
Pour the dressing over the noodles and toss together until completely coated. Top with the chopped peanuts and sliced Beef New York Steak, along with garlic shrimp.
Store leftover protein and salad in a separate container in the fridge for up to 4 days.
Meal prep tip: The salad can be made ahead of time and stored in the fridge. This extra time allows the dressing to absorb into the veggies and noodles to help build flavor and tastes even better!