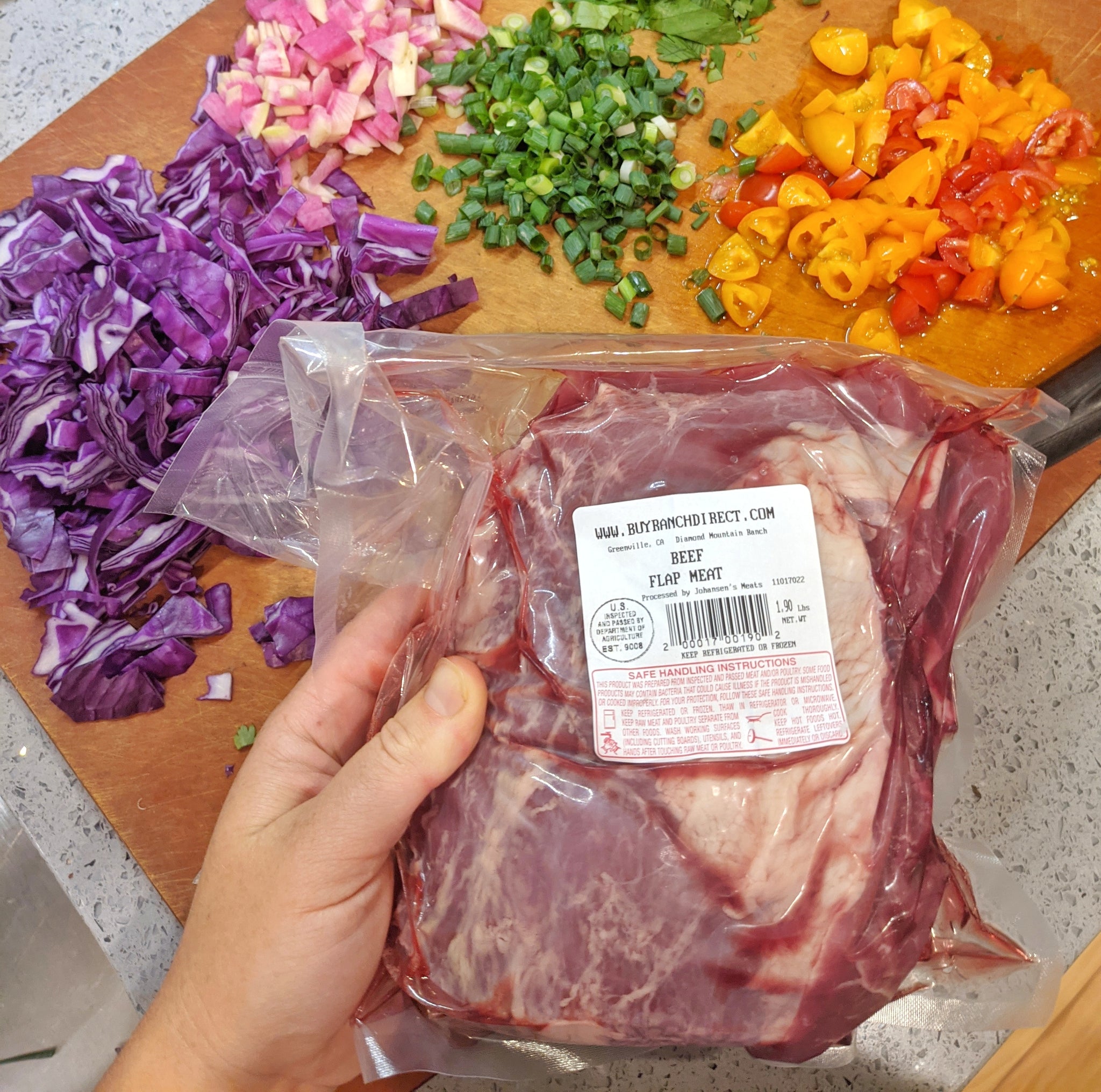 Easy Carne Asada with a Cilantro Lime Marinade (gluten free & keto friendly)
This carne asada cilantro lime marinade uses simple ingredients paired with our grass fed beef sirloin flap that's gluten free and keto friendly. It doesn't take much to make this marinade with cilantro, lime, cumin, oregano and fresh garlic. There are so many carne asada recipes and the truth is, there will always be small tweaks with ingredients and spices but the flavors are always bold and fresh.

Carne asada is just marinated and grilled meat that can be sliced thin for tacos, nachos or burrito bowls. Any meat can be used such as our beef sirloin flap, top sirloin, skirt and flank steak. However, beef sirloin flap has an incredibly rich flavor, with a medium texture and a little fat, that's very similar to a skirt or flank steak.

What is Beef Sirloin Flap?

Beef flap meat is a hidden gem. Located in the bottom sirloin, where the sirloin and flank subprimals meet. Incredibly rich flavor, with a medium texture and a little fat, that's very similar to a skirt or flank steak. This cut can be sliced thin for carne asada or cut into steaks. Also makes a tender and flavorful stir fry!
Shop 100% Pasture-Raised, Grass Fed and Finished Beef Sirloin Flap
Easy Carne Asada with a Cilantro Lime Marinade
 Prep Time: 2 hrs (1-4 hour marinade)
Cook Time: 10 mins
Total Time: 2 hrs 10 mins
Servings: 4-6

Ingredients
2 pounds beef sirloin flap, trimmed of silverskin (flank and skirt will work also)
½ cup fresh cilantro, chopped
2 tbsp fresh parsley, chopped
1/3 cup avocado oil
3 limes, juiced
1 tsp oregano
1 tsp cumin powder
1 tsp salt
½ tsp ground black pepper
3-4 garlic cloves, grated or minced
Instructions

Prep & Marinade:
In a small bowl whisk together cilantro, parsley, oil, lime juice, oregano, cumin, garlic, salt, and pepper. Set aside.
Remove the meat from packaging and inspect for any silverskin or connective tissue that feels very hard to the touch. If you can't pinch through it with a fingernail, remove it. Now is also a good time to cut it down to the size of your cooking surface if needed. Use a sharp knife to score meat by cutting shallow slits to help the marinade penetrate deeper for richer flavor and to tenderize the meat.
In a glass tray add the meat and pour the marinade on top. Make sure both sides of the meat is fully coated. Then cover and place in the fridge to marinate for up to 4 hours. Alternatively, instead of marinating in a tray use a plastic ziploc bag for easy clean up.

Grill:
Remove the meat from the fridge and let it come to room temperature for about 30 mins.
Preheat your grill or broiler on high for at least 15 mins. Hold your open hand about 4 inches above the cooking surface and count to 4. If you make it to 4, it's not hot enough. Do not do this with your oven's broiler. Just set the rack as close as you can to the heating element with about an inch of clearance between the meat and the heat.
Remove meat from the marinade and remove any large pieces of spices and herbs. It doesn't need to be picked clean, but you don't want it covered in stuff.
Place on the hottest part of your grill and cook for 4-6 mins, flipping every minute. You should see hard grill marks with some charred bits on the edges. If you don't, your grill isn't hot enough.
Once the desired char color is achieved and an internal temperature of around 130F, remove the steak and let it rest on a cutting board for another 5 minutes.
Serve by cutting into thin, bite-sized strips, against the grain of the meat and place in a bowl with whatever juices remain. Toss in juice and taste one, add salt and pepper if needed.
Store leftovers in an airtight container in the fridge for up to 4 days.