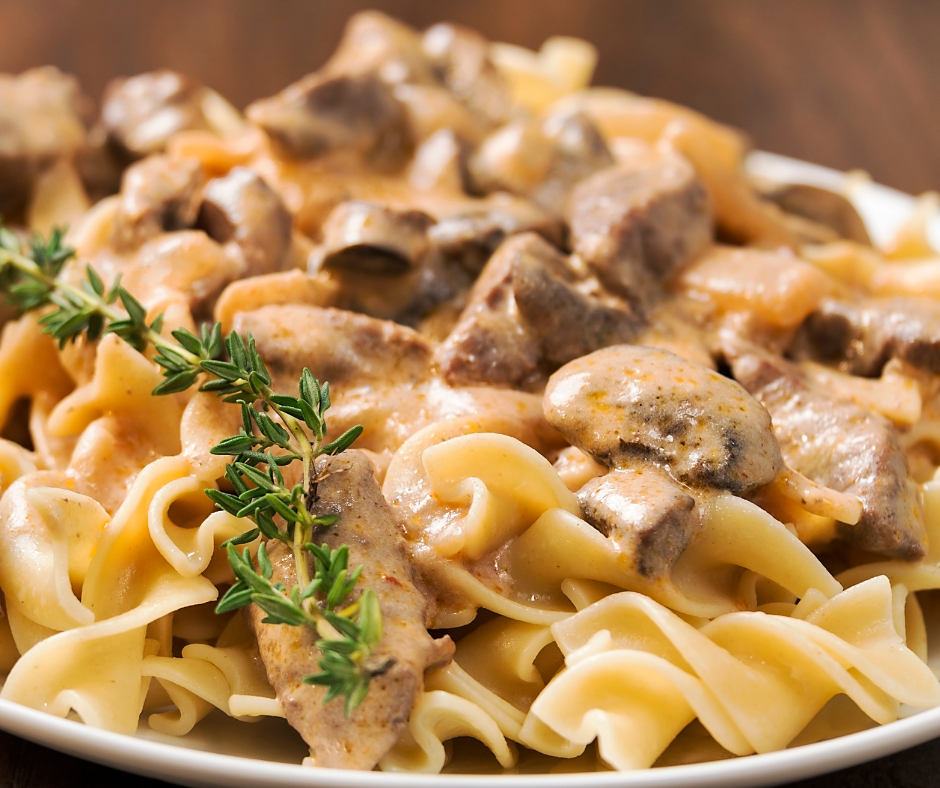 Easy One Pot Beef Stroganoff
This one pot beef stroganoff is the perfect comfort meal that's filling, easy and completely delicious! Thinly sliced beef eye of round, mushrooms, onions, garlic, bone broth and sour cream come together to create a nutrient dense meal that's packed full of flavor. This recipe is a great weeknight meal or instead try meal prepping, as beef stroganoff tastes even better the next day. Serve this flavorful sauce over egg noodles or rice.

Shop 100% Pasture-Raised Grass Fed and Finished Beef London Broil

Easy One Pot Beef Stroganoff
Prep Time: 30 minutes
Cook Time: 30 minutes
Total Time: 60 minutes
Serves: 4-6

Ingredients
8 oz. egg noodles (cooked per box instructions)
2 lbs. Beef London Broil or Eye of Round (cut into thin 2 inch strips about 1/4 inch thick)
1 tbsp kosher salt
2 tbsp avocado oil
1 tbsp butter
1 medium yellow onion, diced
8 oz mushrooms, sliced
1 tbsp garlic cloves, minced
½ cup dry white wine
1 ½ cups beef bone broth
1 tbsp all purpose flour or flour of choice
1 tbsp fresh thyme
1 tsp ground black pepper
1 tsp kosher salt
3/4 cup sour cream or Greek yogurt at room temperature
2 tbsp chopped parsley for garnish

Instructions
In a large pot cook the egg noodles according to the package instructions.
Open and remove the London broil or eye of round from the packaging. Place on a large plate, pat dry with paper towels and sprinkle salt. Let sit at room temperature for about 20 minutes before cutting.
On a cutting board cut the London broil or eye of round into thin 2 inch strips (about a 1/4 inch thick).
Use a large saucepan and turn on to medium-high heat. When the pan gets hot add 1 tablespoon of oil and the butter. Then working in batches, if needed, add the beef strips and sear for about 5 to 6 minutes or until browned. In a medium bowl remove the browned beef and set aside.
With the remaining oil, sauté the onions for a couple of minutes or until soft. Then add in the minced garlic and mushrooms and give it a good stir. Continue to cook for another 5 minutes or until the mushrooms and onions are beginning to turn golden brown.
Sprinkle the flour onto the veggies and let the flour cook for about 2 to 3 minutes, stirring often to prevent sticking. When the flour mixture begins to turn brown it's time to deglaze the pan.
Deglaze the pan by adding in the white wine and scraping the bottom to remove any browned bits.
Once the wine has cooked off by half, pour the beef bone broth into the pan, along with the spices. Stir and let the mixture simmer for about 10 to 15 minutes, stirring occasionally until thicken.
On low heat add the sour cream to the mixture and mix well. Then add the beef into the sauce and mix until fully coated. Make sure not to allow the mixture to come to a full simmer or boil, as this can curdle the sour cream.
Taste and adjust seasoning for beef mixture as needed. Serve on top of egg noodles and sprinkle with fresh parsley.
Store leftover beef stroganoff in an airtight container in the fridge for up to 4 days. Best if reheated on the stove.