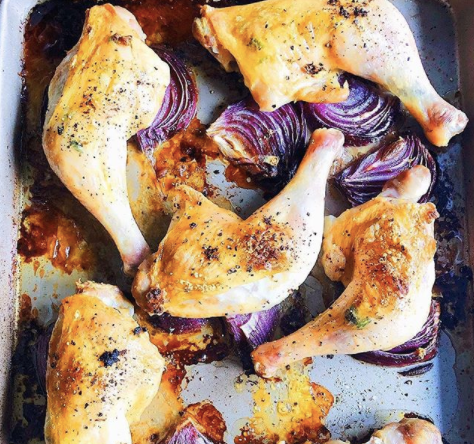 Easy Sheet-Pan Roasted Chicken by @danielle_christy_
Looking for a tasty dinner that's family-friendly, but quick and simple? Danielle Christy has the perfect recipe, which she says is great for meal prep! 
Ingredients: 
Onion (cut into wedges)
Potatoes ( thickly sliced)
1 stick grass fed butter
1 clove grated garlic
2 tbsp fresh thyme
1 tbsp lemon zest 
Directions: 
1. Heat oven to 425'F.
2. Place cut onion and potatoes on sheet pan in one layer place chicken on top. mix butter with garlic, thyme and lemon zest and stuff under chicken skin. I use about 1 tbsp per piece and season everything with kosher salt and pepper.
3. Bake for 25 minutes at 425 and then reduce temperature to 375 for an additional 15 minutes!
Whole legs take the full 40 minutes while thighs take about 30. Serve with additional roasted veggies! 
Learn more from Danielle at @Danielle_Christy_ and get more tasty recipes on our BRD Recipes page.