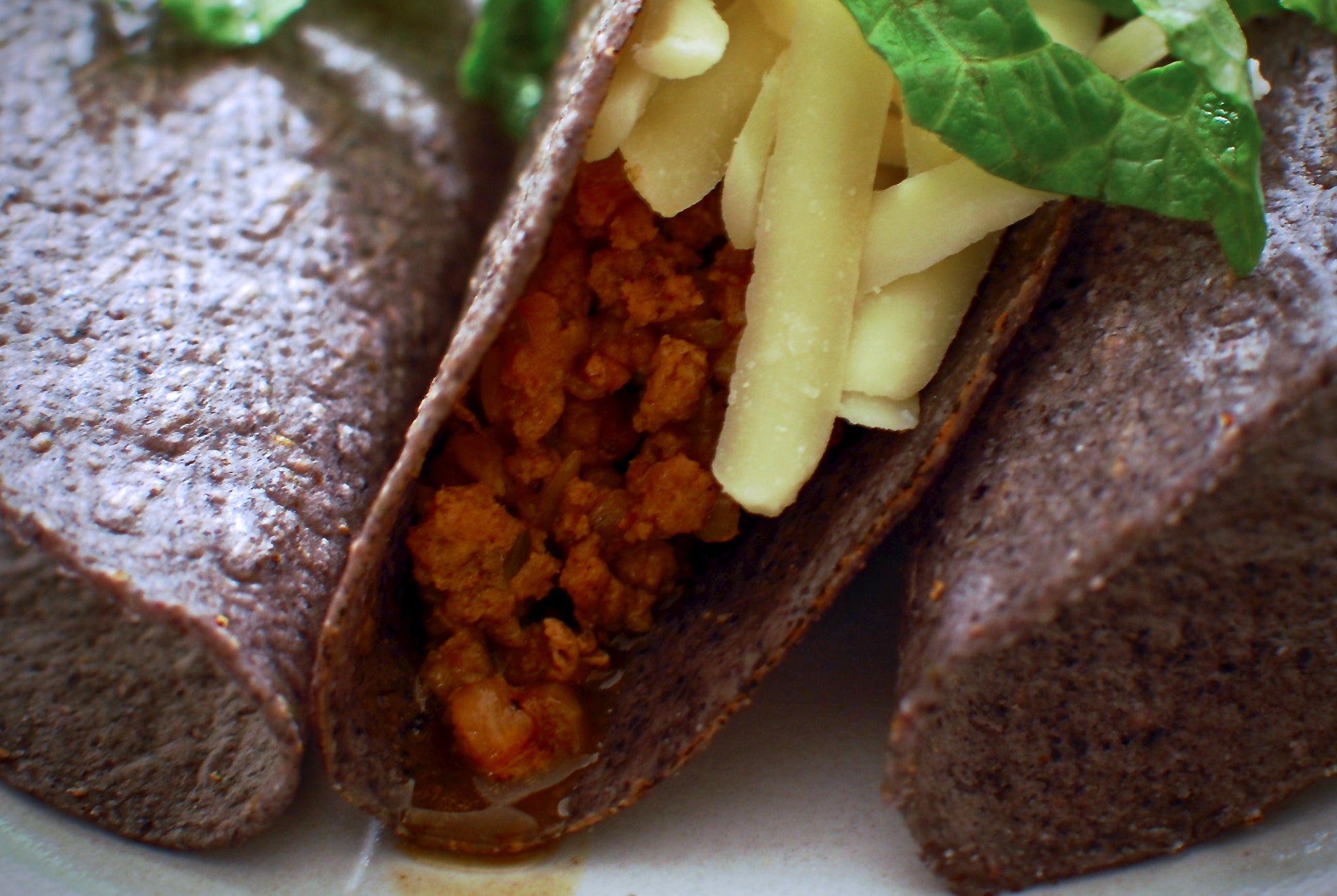 Gringo-Style Rabbit Tacos with Rice
Rabbit Tacos
Gringo Style with Rice
Serves: 2-4
Prep: 30 min
Cook: 30 min
T = Tablespoon
t = teaspoon
1 T BRD Premium Lard or other high temp cooking fat.
1 small yellow onion; sm. dice
1 garlic cloves; minced
1 T cumin
1/2 T ground coriander
1/2 T chili powder
1 bay leaf; fresh if possible
1 cinnamon stick
Salt to taste
1 t Fresh black pepper
1 T tomato paste
1/4 cup seville or sour orange juice (lime juice if you can't find the oranges; do not use conventional oranges.)
1 cup BRD Chicken Broth
1 cup Long Grain White Rice
1 T lard or cooking oil
1 cup Salsa of choice
2 3/4 cups BRD Chicken Stock or enough to add to the salsa to get the amount of liquid needed to cook the rice per directions on the package.
Toppings:
Hard or Soft Taco Shells
Salsa of choice
Cheddar Cheese; grate yourself from a block or use Tillamook Brand as they do not use cellulose as an anti-clumping agent.
Sour Cream
Shredded Iceberg Lettuce

Pairing knife
Chef's Knife
Cutting Board
A few small bowls or plates for holding prepped ingredients
High Walled Skillet with lid.
Medium sauce pot
Cheese Grater  
Prep
Thaw and drain ground rabbit.

Dice yellow onion and mince garlic, set aside.

Measure and combine cumin, coriander, black pepper and chili powder and set aside with cinnamon stick and bay leaf.

Preheat skillet over medium-high heat
Start Rice
preheat sauce pot over medium heat and add lard or cooking fat.

add rice and stir until the rice is even coated in oil. Cook until fragrant.

Add salsa and broth per cooking instructions (salsa + broth = amount of water called for on the package.)

Cook as directed on the package. If you buy in bulk, 1 cup uncooked rice to 3 3/4 cup liquid, bring to boil and simmer covered for 20 mins. Check for excess moisture and cook until rice is tender and no liquid remains at the bottom of the pot.

Set aside off heat and covered until the rest is done.
Cook Taco Filling
Add lard or cooking fat to hot skillet and allow to begin to slightly smoke. Add in ground rabbit and season with salt.

Spread out the meat so that as much surface area is touching the cooking surface and leave it undisturbed to brown, 5-7 minutes. If it cooks almost all the way through on one side, that's ok. Having a deep brown color on one side will result in a deeper flavor than minimal browning all over.

Remove from skillet with a slotted spoon to a bowl. Leave as much fat and cooking liquid as possible in the skillet. Return skillet to medium heat.

Add onions and cook until they become translucent. Add more cooking fat if they start to stick and brown right after you add them in.

Add garlic and cook until fragrant, about 1 min.

Add spice mixture, bay leaf and cinnamon stick and cook until fragrant.

Add tomato paste and cook until it turns a dark red color, about 3-4 mins.

Add orange or lime juice and release fond by scraping the bottom of the pan well. Cook until all the juice is absorbed/evaporated.

Add the cooked ground rabbit and chicken broth. Stir well to combine and bring to boil. Cover then lower the heat to low and let simmer for 10 mins.
Prep Toppings
preheat oven to 300℉

If using hard shells, arrange shells on a baking sheet and cook for 5-10 mins. If using soft shells, wrap in aluminum foil and cook for 5-10 mins.

Grate cheddar cheese and set aside.

Cut lettuce head into thin strips.
Finish and Plate
Uncover taco filling and stir well. If still too saucy, allow to cook uncovered over medium heat until it reaches the consistency you like.

The easiest method to serve is to place all components on the table and allow eaters to build their own tacos.

Don't like your hard tacos to become taco salad after one bite? Try this approach: take a warm taco shell and add a layer of grated cheese first. Followed by the taco meat, then a streak of sour cream or salsa, then the shredded lettuce. The cheese helps to hold the shell together and the sour cream or salsa helps to hold the lettuce in place. This works well with soft shells also.