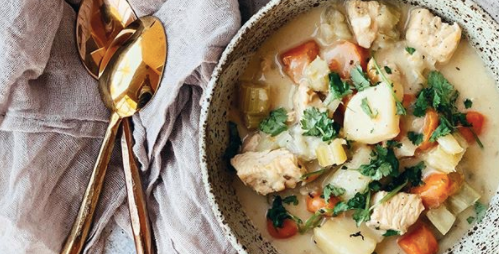 Instant Pot Chicken Pot Pie Soup by @melissas_healthykitchen
In the mood for a delicious dairy-free, gluten-free classic chicken pot pie? Melissa of Melissa's Healthy Kitchen has the perfect recipe, great for a week full meal prep while the weather starts to cool down. 
Ingredients:
1 Tbsp oil of choice (if you can do dairy I recommend ghee)
3/4 cup chopped celery
3/4 cup chopped carrots
1 3/4 cups golden Yukon potatoes
1 cup chopped cauliflower
2 garlic cloves minced
1/3 cup diced onions
2 large chicken breast chopped
1 Tbsp Fresh thyme
1 Tbsp Fresh chopped sage
Salt and pepper to taste
1 package turkey bone broth
1/2 cup coconut mylk or any dairy-free mylk you use

Directions:
1. Set Instant Pot to sauté function, add oil, and warm
3. Add onions, carrots, celery, salt and pepper to taste, and sauté for a few minutes
4. Add minced garlic, 1 cup of diced potatoes, chopped chicken, and fresh herbs, cook for a couple minutes
5. Add turkey bone broth and stir
6. Add the other cup of potatoes and cauliflower on top of mixture (don't mix in)
7. Close instant pot and set to manual high pressure for 8 minutes
8. Once done let pressure release naturally
9. With a ladle scoop out the potatoes and cauliflower sitting on top
10. Add to blender with 1/2 cup coconut milk and blend up
11. Pour into the instant pot, stir, and enjoy!
12. Pair with your favorite biscuit, crackers, or bread, and garnish with fresh cilantro
Learn more from @melissas_healthykitchen and get more tasty, grass-fed recipes in our BRD Recipes section.