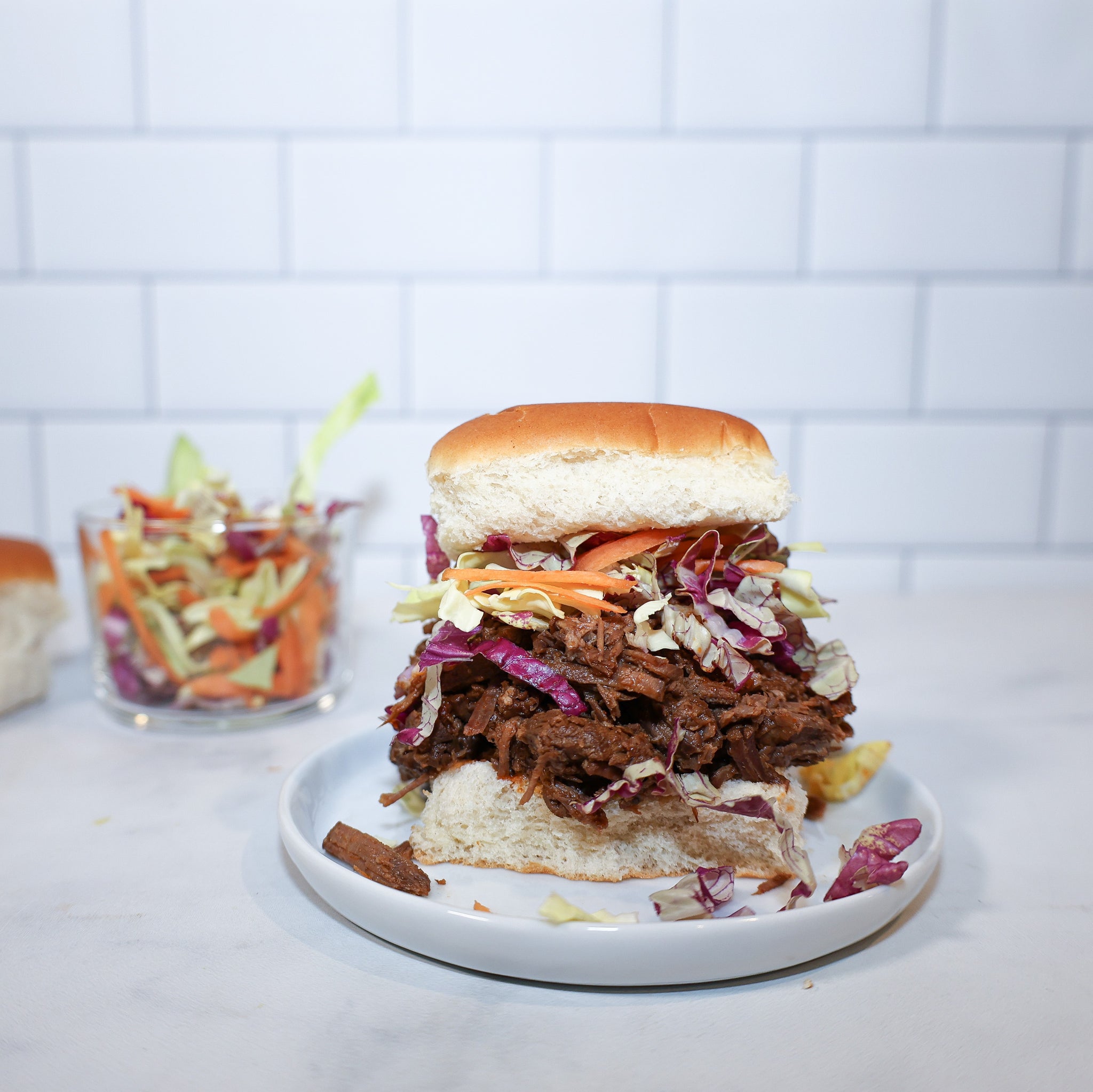 Instant Pot Chipotle Shredded Beef (paleo, gluten & dairy free)
This Instant Pot chipotle shredded beef recipe is simple to make, freezer friendly and smothered in sauce! The beef rump roast shreds apart and pairs perfectly with the sweet and tangy flavors.
Don't get overwhelmed by the long list of ingredients, as most of these spices you might already have in the pantry. This meal can be prepped in 10 minutes and the rest of the time let the Instant Pot bring the flavors together! Serve this shredded beef in sliders, burritos, taquitos or make a protein bowl with rice.
What is a Beef Rump Roast?
Rump roasts have lots of intramuscular marbling, but without thicker strips of fat like the Chuck Roast. These roasts are very uniform in texture. They make a great oven roast, a nice shredded meat, or dice it up and use it to replace ground beef in recipes like chili. This recipe calls for cubed rump roast to create shredded beef that's pull apart tender.
Shop 100% Pasture-Raised Grass Fed & Finished Beef Rump Roast

How to Prepare in a Crock-Pot?
The first step is optional to brown the rump roast before adding it into the crock pot. This will create a deep, rich flavor that you can't get any other way. Then add rump roast pieces, spices and sauce into a crock pot and cover. Cook on high for 3 to 4 hours or on low for 6 to 8 hours. When the beef shreds apart easily it's ready!
Instant Pot Chipotle Shredded Beef
Prep time: 30 minutes
Cook time: 70 minutes
Total time: 1 hour and 40 minutes
Serves: 6-8
Ingredients 
Chipotle Shredded Beef
1 Tbsp tallow or avocado oil
2-2 ½ lbs beef rump roast, cubed into 2x2 pieces
½ yellow onion, sliced
1 - 6 oz can of tomato paste
1 ½ cup chicken or beef bone broth
2 Tbsp apple cider vinegar

Chipotle Spice Mix
1 Tbsp onion powder
1 Tbsp smoked paprika
1 Tbsp garlic powder
1 tsp ground cumin
1 tsp kosher salt
1 tsp black pepper
½ tsp dry yellow mustard
1 tsp chipotle powder
1-2 Tbsp coconut sugar or cane sugar (optional)

Build Sliders
Favorite slider buns
Shredded beef, plus sauce
Coleslaw
Instructions
Make the Spice Mix
In a small bowl add spices and mix together until fully combined. Set aside.
Make the Shredded Beef
Open and remove the roast from the packaging. Place on a large plate, pat dry with paper towels and sprinkle salt over the roast. Let sit at room temperature for about 20 minutes before cutting.
Place roast on a cutting board and cut into 2 x 2 inch squares pieces.
On the Instant Pot select the 'Saute' function. When the pot gets hot, add the tallow. Then add the roast pieces, along with the onions and sear for about 2 minutes on each side until browned. Press the 'Cancel' function. Let the roast pieces continue to brown in the Instant Pot.
In a glass measuring cup, mix together tomato paste and bone broth until fully combined.
Add the spice mix on top of the meat and give it a good mix. Then slowly pour the tomato paste mixture over the roast pieces. Using tongs make sure to lift the pieces so the mixture gets underneath the roast.
Place the lid on the Instant Pot and lock the lid. Turn the vent valve to sealed and cook on high pressure for 60 minutes.
When the 60 minutes are up, let the Instant Pot naturally release pressure for 10 minutes before opening the steam valve and removing the lid.
Remove the roast pieces and set on a cutting board. Let sit for about 10 minutes before using a fork to shred meat. Reserve the cooking liquid to pour on top of meat, if desired. Taste and adjust seasoning as needed.
Store leftover shredded meat and sauce separately in an airtight container in the fridge for up to 4 days or freeze for up to 3 months.