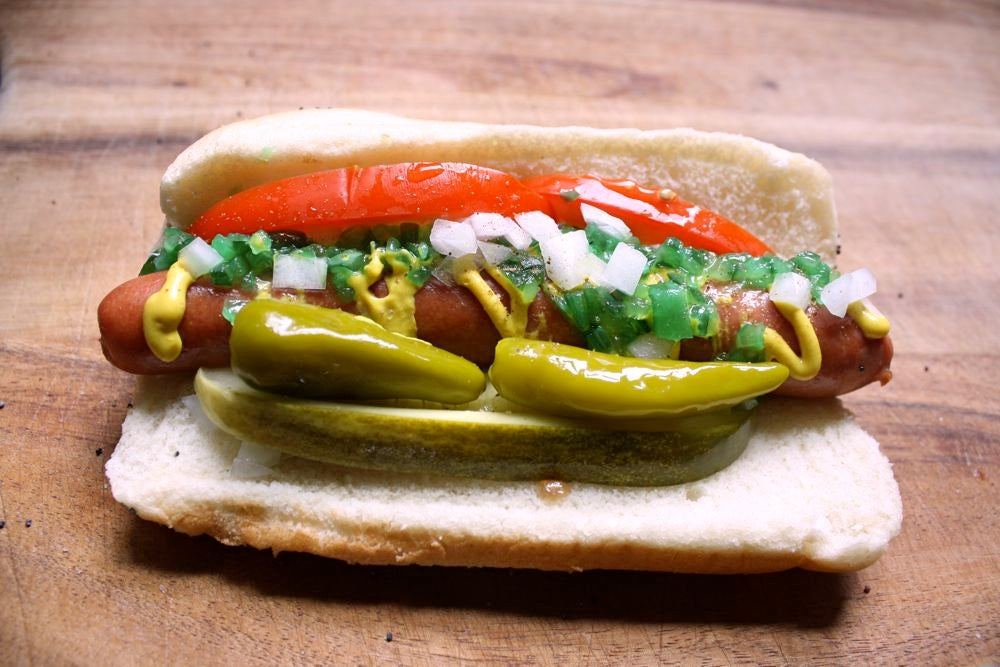 Is a Hot Dog a Sandwich?
If you don't already have a favorite hot dog, here's a list of hot dogs that have stoked debates on sidewalks, backyards and ball parks all across the country.   
The New York:  all beef hot dog with a zigzag of deli mustard topped with sauerkraut and/or onions sauteed with tomato paste on a steamed bun.  As found at the Papaya King and carts all over the Big Apple!
Chicago Dog: dog topped with yellow mustard, diced white onion, sport peppers, neon relish, pickle spear, tomato slices and a generous sprinkling of celery salt on a poppy seed bun.  A real mouth -- and sometimes lap -- full.
Dodger Dog: a foot-long dog topped with ketchup, mustard, diced onions and relish.  Often imitated, rarely duplicated.
Southern Slaw Dog: topped with a single stripe of yellow mustard and covered in cool, creamy coleslaw.  My preferred dog. Best served with Sweet Tea so sweet you can pour it on your pancakes.
The Coney: a short dog absolutely drowning in all meat chili then showered with shredded cheddar.  Our ground bison makes GREAT chili.  Just sayin'.
The Sonora:  a bacon wrapped dog in a split roll.  Topped with mayo, avocado, onions and relish.
The Idaho Dog: a dog settled right in the middle of a split baked potato, covered with sour scream and sprinkled with bacon bits and chives.
Hot dogs and their many variations can be found all over the world.  Get out and explore the possibilities or just make it up as you go.  And maybe, just maybe, you can have a dog named after you some day.