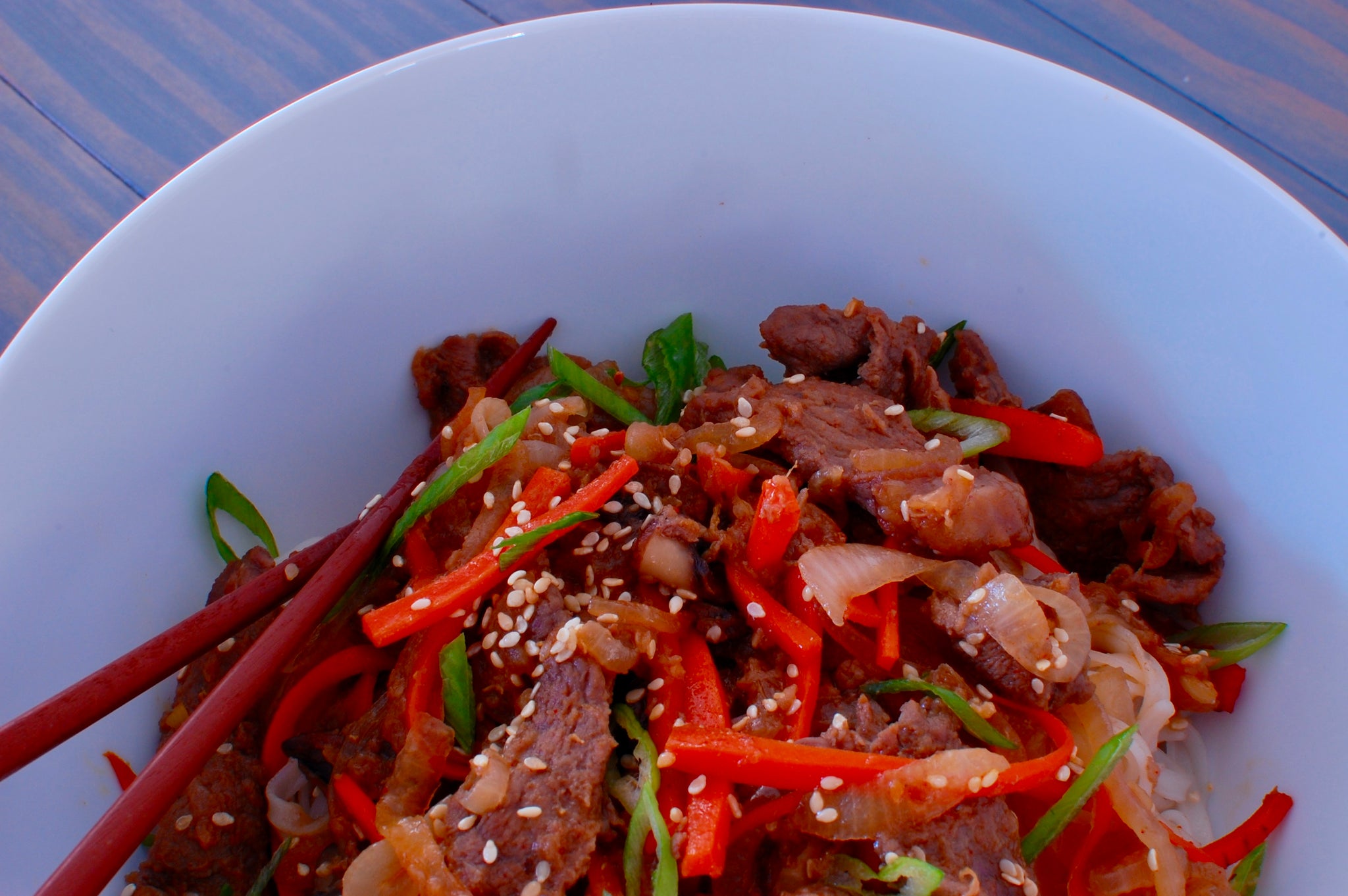 Korean Beef Bulgogi with Rice Noodles
Feeds: 3-4  Prep: 1 hr   Cook: 30 mins.  Difficulty: Easy
T = Tablespoon   t = Teaspoon
Equipment:
Grater

Large Saute Pan or Wok

2-3 medium bowls

Sharp Knife

Cutting

 

Board

Damp Towel

 
Ingredients:
1 lb  Beef Ribeye, New York Strip, Top Sirloin, Sirloin Cap or Flat Iron; partially frozen & thinly sliced
1  Asian Pear; grated
3 T  Cane Sugar (can sub with paleo friendly options)
3 T Soy Sauce
2 T Toasted Sesame Oil
1 T Light Cooking Oil (avocado, grapeseed, light olive oil, vegetable)
6 Garlic Cloves; minced
2 T Toasted sesame seeds
2 t Fresh ginger; minced
1 T Gochujang sauce
                   or 
1/2 t crushed red pepper flakes; less or more for spice preference.
10-12 oz Rice Noodles or Rice Cakes (found at Asian Markets, not the rice krispie looking cardboard things)
Warm Water to soak
1 small white onion; thinly sliced
6-8 Button Mushrooms; brushed clean with damp towel; stemmed and sliced
1 Medium Carrot; grated or julienned
Pinch of salt 
2 t Toasted sesame seeds
2 Scallions; thinly sliced
Process:
While your meat is still partially frozen -- a little squishy on the surface but very cold on the inside -- slice as thin as you can.

Combine the sliced beef, sugar and grated pear in bowl and mix well, massaging into the beef.

 

Set aside and rest for 30 mins.

Combine soy sauce, toasted sesame oil, light oil, garlic, gochujang or red pepper flakes, sesame seeds. Set aside.

When beef has sat for the initial 30 mins, remove from bowl and squeeze out any excess moisture.

 

Place in marinade and toss well to coat.

 

Cover and let rest for 30 mins.
Place rice noodles in a bowl and cover with warm water.

 

Set aside to soak for 30 mins.

 

Heat large sauce pan over medium heat and add 1-2 T of cooking oil.

Add sliced onion and cook to soft.

Add mushrooms and carrots with pinch of salt.

 

Cook until just beginning to soften.
Turn heat up to med-high. Move veggies to one side and add sliced beef to the other.

 

Stirring occasionally until meet is cooked but slightly pink in the middle.
Remove to bowl and let rest.

 

Using same pan, add soaked noodles and 2-4 T of soaking liquid.

Toss until noodles are warmed through.

Place warm noodles in wide bowl or plate and top with beef mixture.

 

Garnish with thin slice scallions and sprinkle with sesame seeds.
Don't share.  Say you messed up and send the family out to eat while you "grieve."