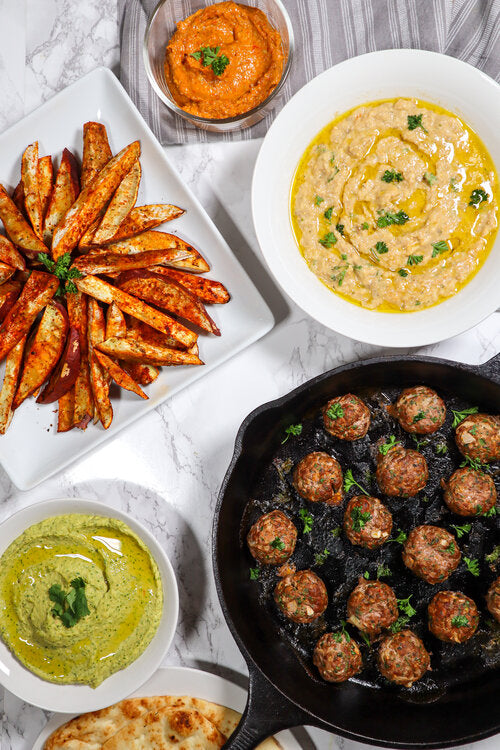 Middle Eastern Lamb Kofta - GLUTEN-FREE, DAIRY FREE, WHOLE30, KETO - Guest Recipe! -
This recipe was developed and photographed by Capri of www.goodfoodbaddie.com; be sure to check out her website and follow on social at @goodfoodbaddie for more inspiration!
 I love the rich, dynamic flavor of Mediterranean Food. It's full of delightful aromatics and herbs like garlic, onions, parsley and seasoned with deep flavors of cinnamon, cumin, coriander, and turmeric; it's simply lovely! This is an easy, healthy Mediterranean recipe that'll soon be your favorite!
Lately, I've been CRAVING Mediterranean Food and had to do something to satisfy my craving. I decided to get creative in the kitchen and ended up making a feast. It all started when I went to the Farmer's Market and picked up some ground lamb from my favorite meat purveyor, Buy Ranch Direct. They are a family-owned and operated California Ranch that provides high quality, 100% grass-fed, no hormones, no antibiotic, and humanely raised meat.
I love that they always have an array of options and extremely polite and knowledgeable staff to answer any questions. I shop there regularly and definitely notice the difference in the quality of meat I get from Buy Ranch Direct versus the grocery store –and their prices aren't bad either! (FYI: They deliver as well! So definitely check them out if you're interested in getting quality meat and supporting small businesses!)
SEASONINGS FOR THE LAMB KOFTA AND DELICIOUS AROMATICS:
 So, that is where it started: the moment I decided to purchase ground lamb I already knew I was going to make delicious Mediterranean food! I decided to make Kofta because they are basically Middle Eastern style meatballs and that is exactly what I had in mind. Kofta is made from ground lamb mixed with delicious aromatics and savory seasonings. Most people shape them into balls or shape them around a skewer and grill them, but you can also make them in the oven, which is my preferred method. They pair perfectly with pita bread, salad, and lots of tasty dips.

I made three dips to compliment my Lamb Kofta: Cilantro Jalapeno Hummus, Baba Ganoush, and Roasted Red Pepper Almond Spread. You all may be familiar with my Cilantro Jalapeno Hummus from my previous blog post and YouTube page. If not, no worries, feel free to check it out Here! The Baba Ganoush turned out SPECTACULARRR! I have to admit, I've tried to make Baba Ganoush a couple of times before and it just quite did not come out right. BUT, this time, it came out absolutely amazing! So, I most definitely have to share the recipe with you, and you can check that out here! 
The Roasted Red Pepper Almond Spread recipe I made up completely on my own. Remember, the kitchen is my artistic playground where my imagination, skills, and taste buds align to make delicious meals and creations. I roasted a red pepper with the intent of making roasted red pepper hummus, but I soon realized I ran out of chickpeas. Instead of letting the roasted red pepper go to waste, I decided to make a sauce with it. So, I grabbed my reliable dip making machine, my Hamilton Food Processor, and by combining the red pepper, avocado, and crushed almonds, I made this delicious, flavorful sauce that paired perfect with the entire meal.

That's the things about Mediterranean Food, you cannot skip out on the dips and sauces; it's just as important as the Lamb Kofta, the chicken kabob, the shawarma, the falafel, or whatever else you're having.

I hope you all enjoy this recipe as much as I do! I would love if you leave your comments below!
LAMB KOFTA RECIPE

Capri Lilly | GFB
prep time: 15 minutes
cook time: 15 minutes
total time: 30 minutes
Servings: 6
INGREDIENTS:
1 pound ground lamb
3-4 tablespoons Fresh Parsley
2 tablespoons Fresh Mint
1 Jalapeno, chopped
1/2 White Onion, chopped
6 Garlic Cloves
1 teaspooon Paprika
1 teaspoons Coriander
1 1/2 teaspoons Ground Cumin
1/4 teaspoon Ground Ginger
1/2 teaspoon Himalayan Salt
1/2 teaspoon Fresh Ground Pepper
FOR GARNISH:
1 teaspoon Fresh Parsley, Chopped
INSTRUCTIONS:
In a food processor, combine the parsley, mint, jalapeño, and onion. Puree until smooth, the mixture should not be chunky.
In a large bowl, add lamb, the mixture from the food processor, the seasonings, and mix well.
Pour 1 tablespoon of olive oil into a large cast iron (preferably), or baking sheet. Using a small scoop, take about 2 tablespoons of the lamb mixture, using your hands form it into a ball, and place them onto the cast iron. You should have about 20 pieces made.
Preheat the oven to 425° Fahrenheit.
Place the cast iron into the oven and bake the kofta for 15 minutes, turning them half-way through to ensure even cooking and a nice sear on each side.
Top with Parsley and serve!
Enjoy!

Hi!
I'm Capri Lilly, creator of GoodFoodBaddie! I am a food enthusiast, recipe developer, and healthy food lover!
With me you will learn how to make mouth-watering, flavorful, healthy dishes that will not only satisfy your tastebuds but nourish your body as well!
Let's take strides on this healthy lifestyle journey together!