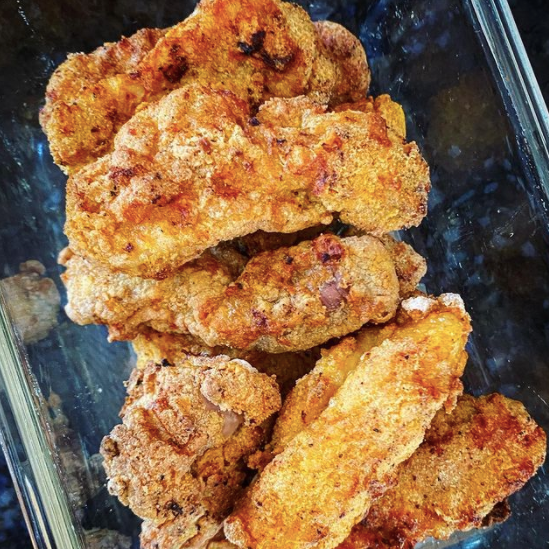 Paleo Chicken Strips from @its_paleo_lo
Lauren (aka @is_paleo_lo) is sharing her own (healthy) take on chicken strips! 
Chicken strips, but make them paleo and delicious! 
Ready for this one?! It's too easy! The trick is to scrap the chicken breast and get some chicken thighs. I used 2 lb of BRD thighs and I cut them into strips using scissors (again, it's all about the easy)
Ingredients: 
2 lb chicken thighs 
2 eggs whisked to dip the chicken in before you coat it
Coating mixture = almond flour + spices of choice (garlic powder, salt, The New Primal Buffalo Seasoning 
Directions: 
Coat the chicken in eggs then the almond flour mixture.

Put them in the air fryer. Depending on your air fryer size you may need to do two batches.

Place all, or first batch, in the air fryer. Spray lightly with avocado spray (not necessary, but I do it).
Turn on air fryer to 400 and cook strips for 7 mins.
Stop and flip and cook 7 mins more.
And it's done! I usually cook sweet potato fries right after to go with the strips.