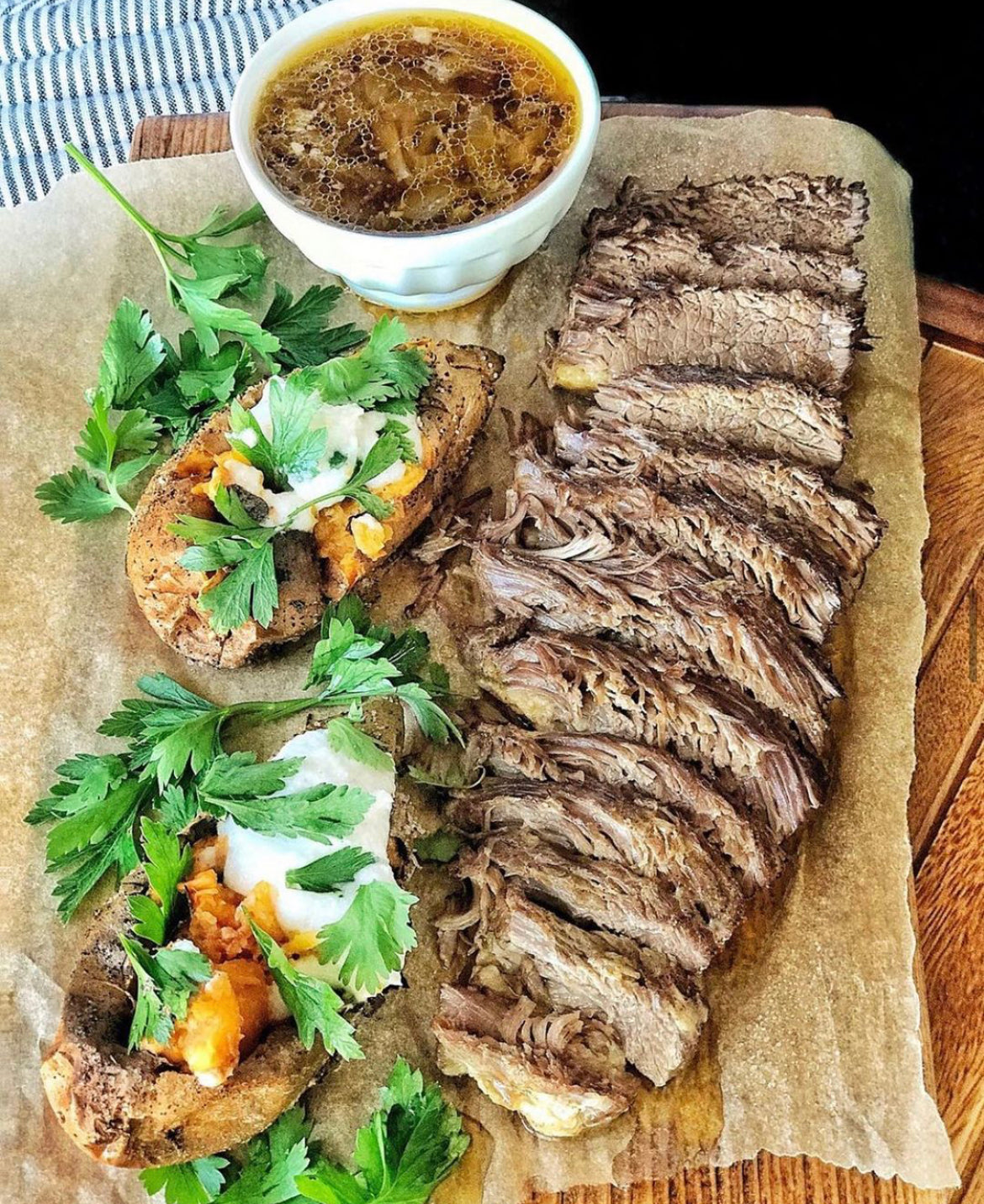 Pressure Cooked, Keto-Friendly Beef Brisket by @accidentalparisiancook
Our pal Alexia (of @accidentalparisiancook) has a delicious brisket recipe that's sure to be a crowd pleaser! For you Keto babies, just throw it on top of an arugula salad with half an avocado and some walnuts and a lime, olive oil, and salt dressing! If you want some sweetness you can even throw some coconut Aminos on top of it as well. 

INGREDIENTS 
1.5 lbs Beef Brisket.
1 1/2 Cups Bone Broth.

1 Medium Red Onion Sliced.

1 Garlic Clove Crushed.

2-3 Tspn Black Truffled Sea Salt.

2-3 Tsp Granulated Garlic.

2 Tspn. Chili Powder.

2 Tspn Coconut Aminos.

Dash Olive Oil.
PREPARATION 
1. Sautée thinly slice red onions, and peeled and crushed garlic clove in a dash of olive oil ( I do this all in an insta pot). Season your brisket front and back with 1/2- 1 Tsp of salt, garlic, and chili powder on each side. I use 1 on each side as black truffles sea salt isn't as salty tasting as Himalayan.
2. Turn off sautée.
3. Add bone broth. Be careful if it's still hot it may spatter.
4. Place brisket fat side up.
5. Cook for 1 hour on High Pressure. It's so flakey and buttery delicious! Lastly, add last Tspn of black truffle salt, and granulated garlic of the top for a pop of flavor.
6. Save the sauce/au jus/broth to top and or drink later.
7. If you'd like to add a bit of a bbq taste you can mix some coconut oil and coconut sugar together in a bowl and spoon it over it instead of the salt and granulated garlic. One of my favs!
Be sure to give Alexia a follow @accidentalparisiancook and get more delicious recipes from our community on the BRD Recipes section of our site.