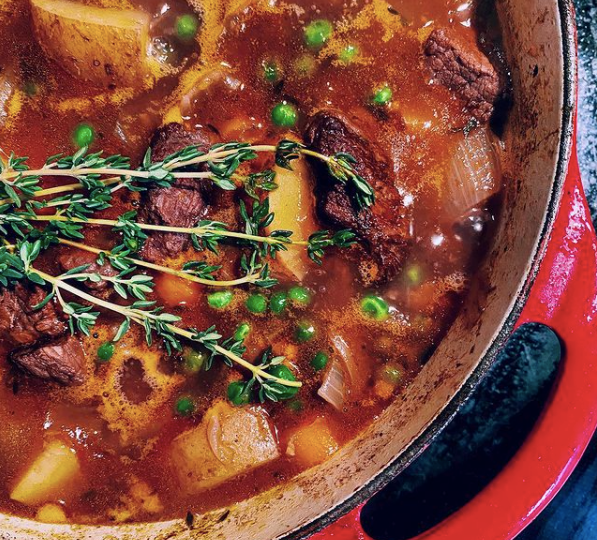 Red Wine Simmered, Grass-Fed Beef Stew by @katsfreshfeed
Grab the wine, it's time to let the dinner simmer! This delicious stew recipe is packed with fresh herbs and collagen from Kat French, aka @katsfreshfeed! 
Ingredients 
1 lbs chuck, or "stew beef"
1 yellow onion
3 cloves garlic
1 Tbsp tomato paste
4-5 carrots
5 small red skin potatoes, cut into chunks
1 cup red wine, (or more...) dry
Olive oil
4-5 cups Beef bone broth
3 Tbsp flour
1 tsp cayenne
1/2 tsp smoked paprika
1/2 tsp black pepper
Fresh thyme***
Salt***
Directions
Coat bottom of Dutch oven with olive oil, allow to heat over medium flame. Coat beef (cut into 1" chunks) in salt, pepper and flour. Add to hot pan with oil and begin to brown on all sides.

Add in crushed, minced garlic and coarsely chopped onion. Deglaze with wine, REDUCE!

Add in the rest of the ingredients, including bone broth and rustic cut carrots and potatoes. Allow to simmer, covered, for approximately 1 hour. Finish off with frozen (or fresh, should you be so determined) sweet peas. ✌🏻

Salt to taste. Add in thyme stem-on and remove wilted stems before serving. The leaves will fall off while steaming/simmering- big time (and thyme) saver tip!
Be sure to give Kat a follow @katsfreshfeed and get more delicious recipes from our community on the BRD Recipes section of our site.