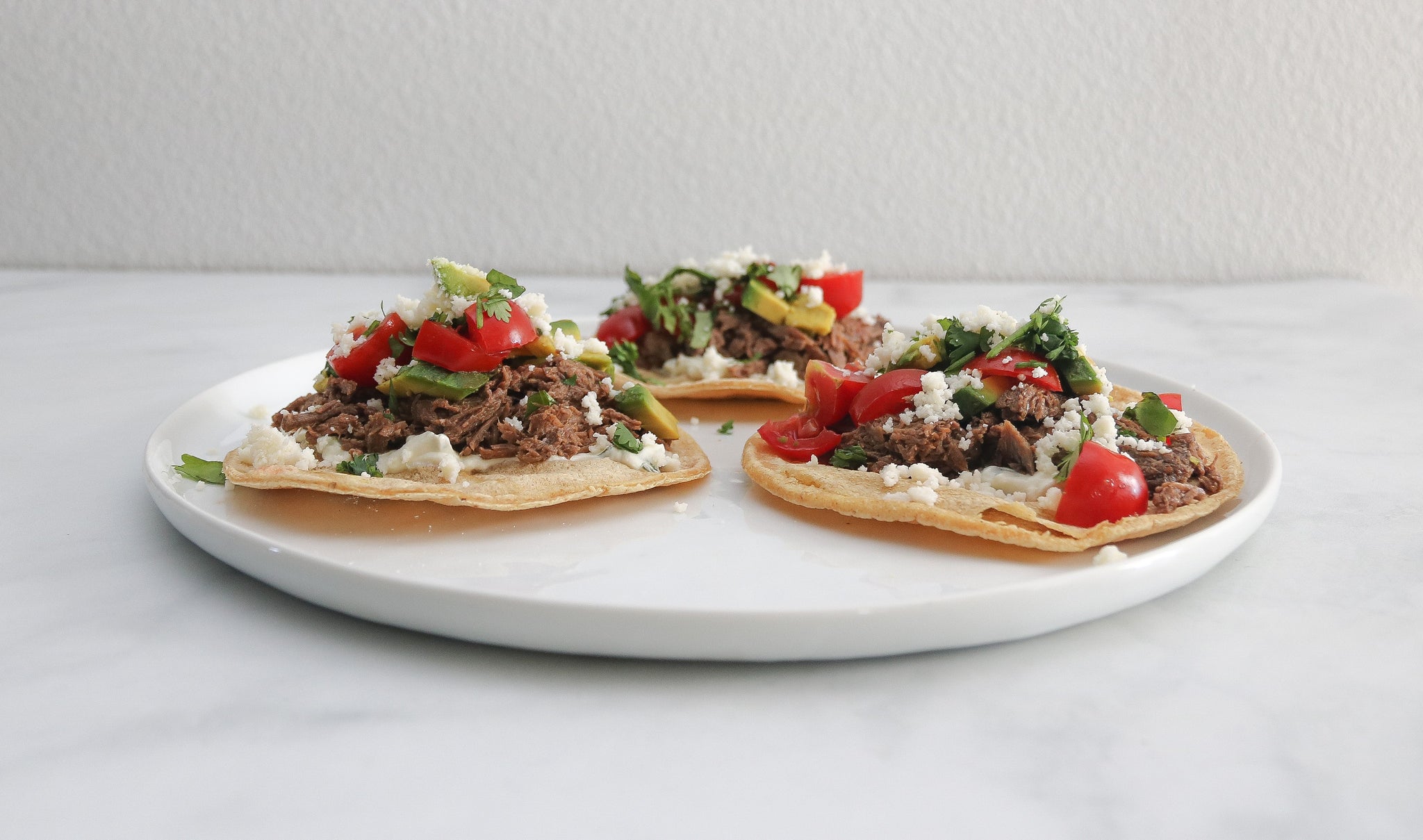 Simple Instant Pot Shredded Beef Barbacoa
Taco night just got a lot easier by transforming a beef roast into juicy, tender shredded beef. This Instant Pot shredded beef barbacoa is quite simple to make and takes only 15 minutes to prep. Barbacoa is a flavorful and saucy dish that uses tougher cuts of beef such as Cross Rib Roast, Chuck Roast or Rump Roast. These roasts need longer cooking times but have just enough fat to keep the meat juicy and tender. Start planning out your weekly menu as tacos, burrito bowls and taquitos can be eaten all week long!
Shop 100% Pasture-Raised, Grass Fed & Finished Beef Cross Rib Roast

How to Reheat Shredded Beef?
Stovetop: In a small pot over medium-high heat add ¼ cup of leftover sauce and shredded barbacoa. Turn down the heat to low when the sauce starts to simmer and cover with a lid. Stirring occasionally cook for about 5 minutes or hot.
Oven: Preheat the oven to 350°F. In an oven safe dish add ¼ cup of leftover sauce and shredded barbacoa. Cover the dish with either foil or a lid. Depending on how much meat you are reheating, the total time will vary. Cook for about 10 to 15 minutes or until fully hot.

Simple Instant Pot Shredded Beef Barbacoa
Prep: 15 mins
Cook: 75 mins (with 20 minute natural release)
Total: 90 mins
Serves: 6-8

Ingredients
2 ½ lb. beef cross rib roast, chuck roast or rump roast
1 Tbsp. tallow or oil of choice
1 tsp. Kosher salt
6-8 cloves garlic, peeled
1 medium yellow onion
¾ cup of water or beef bone broth
2 tbsp tomato paste
¼ cup lime juice (1-2 limes)
1 tbsp apple cider vinegar
1 tsp ground cumin
½ tsp red pepper flakes
1/2 tsp dried oregano
½ tsp allspice

Instructions
Open and remove the roast from the packaging. Place on a large plate, pat dry with paper towels and sprinkle salt over the roast. Let sit at room temperature for about 30 minutes before cutting.
On a cutting board cut the roast into 2 x 2 inch squares pieces.
On the Instant Pot select the 'Saute' function. When the pot gets hot, add the tallow. Then add the roast pieces and sear for about 2 minutes on each side until browned. Press the 'Cancel' function. Let the roast pieces continue to brown in the Instant Pot.
In a blender, add onion, water, garlic, tomato paste, water, lime juice, apple cider vinegar, red pepper flakes, cumin, oregano, and allspice. Blend until smooth.
Slowly pour the tomato-lime mixture over the roast pieces. Using tongs make sure to lift the pieces so the mixture gets underneath the roast.
Place the lid on the Instant Pot and lock the lid. Turn the vent valve to sealed and cook on high pressure for 75 minutes.
When the 75 minutes are up, let the Instant Pot naturally release pressure for 20 minutes before opening the steam valve and removing the lid.
Remove the roast pieces and set on a cutting board. Let sit for about 10 minutes before using a fork to shred meat. Reserve the cooking liquid to pour on top of meat, if desired. Taste and adjust seasoning as needed.
Make these street tacos with yogurt, cherry tomatoes, sliced avocado, cilantro and cotija cheese. Also enjoy this shredded meat in tacos, on salad bowls or in taquitos.
Store leftover shredded meat and sauce separately in an airtight container in the fridge for up to 4 days or freeze for up to 3 months.