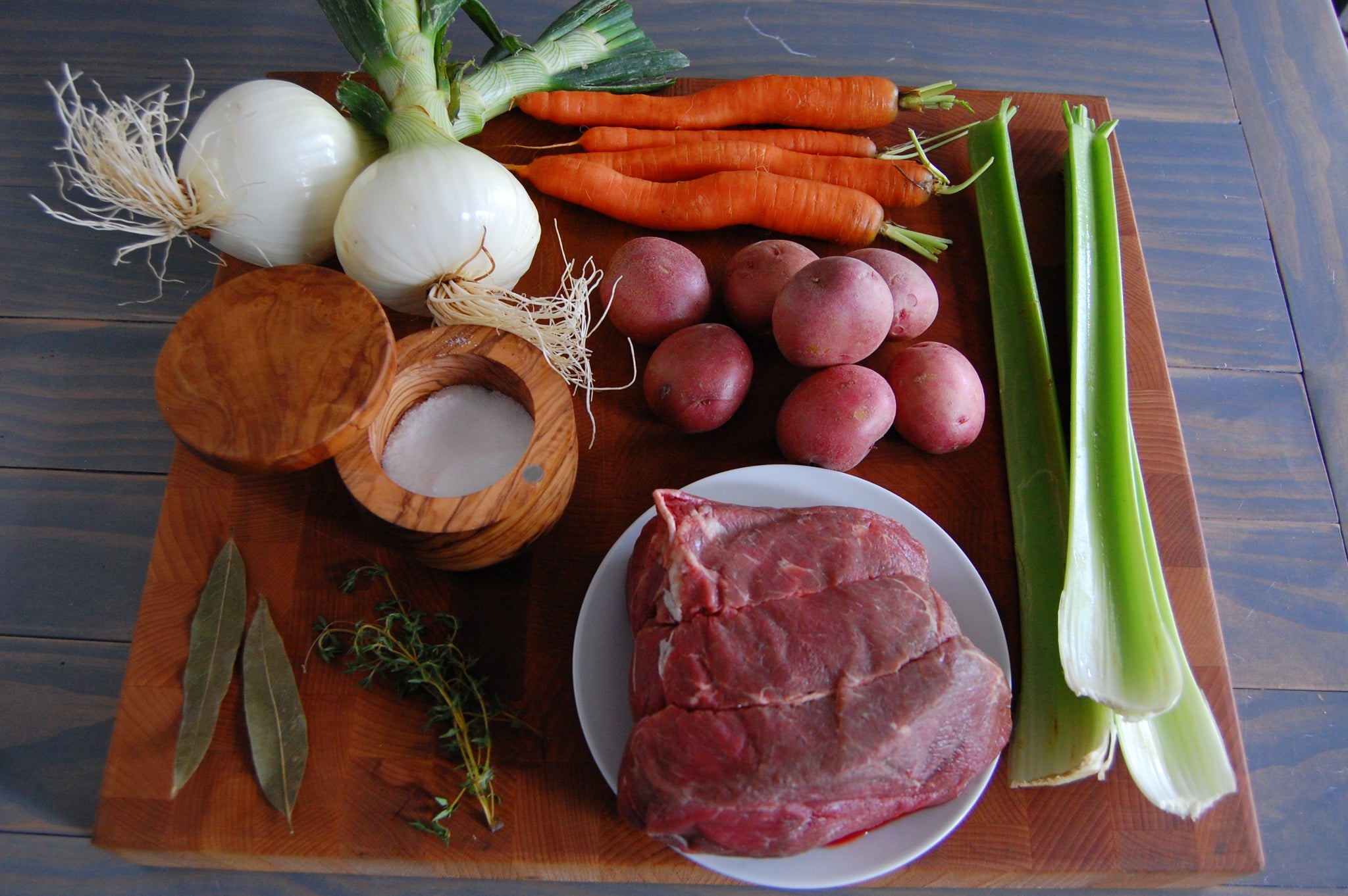 Sunday Pot Roast
Feeds: 4-6  Prep: 60-90 mins  
Cook: 4-6 hours Difficulty: Moderate

Ingredients

3-4 lbs Diamond Mountain Ranch Beef Rump Roast or Cross Rib Roast*
3-4 T Salt; coarse is best
2 T Pepper; coarse ground
3 Bay Leaves; crushed as small as you can
8 whole allspice berries; crushed or 1/4 T ground allspice
8-10 Garlic cloves; peeled, halved and salted
3-4 T of high temp cooking fat or oil; enough to cover bottom of vessel in 1/8 in of oil/fat. (I HIGHLY recommend using the Mangalista lard from last week if you've been following along.)
6 medium Carrots; divided; A: 3 rough chop, B: 3 neatly cut on bias
2 medium Onions; divided; A: 1 quartered, B: 1 chopped
3 medium Celery stalks; divided; A: 2 rough chop, B:1 chopped into 1" pieces
1.5-2 lbs Baby Red or New Potatoes; halved if larger
1/3 cup red wine vinegar (or 3/4 cup red wine)
2-3 Sprigs of fresh thyme
3-4 cups or chicken or veg stock
Water as needed
1 T All-Purpose Flour (1/2 T corn starch or 1 t arrowroot for gluten-free)
6 qt Dutch oven with lid
3" Paring knife
Probe Thermometer
Plates or other containers for holding reserved veggies.
Bowl for holding reserved meat.

Process
Read the entire recipe.

Thaw roast overnight in fridge.  For day of thawing, use a water bath by placing under a constant running faucet of cold water into a container, overflowing into sink.

Chop the bay leaves up as small as you can.  Using a mortar & pestle or spice dedicated coffee grinder works best.  Combine with salt and pepper; set aside. 

Heat Dutch Oven over med heat for at least 15 mins.  Preheat oven to 200 F.

Prep all veggies.  Divide and reserve into Group A (flavor veggies) and Group B(show veggies) from the ingredients list.

Using a paring knife, poke 2-3" deep slits in even intervals all over the roast.  Poke perpendicularly to the grain of the meat fibers.  Shove salted garlic halves into each hole. 

Generously cover and rub the roast in the the Bay-Salt-Pepper mixture.

In the pre-heated Dutch Oven, add cooking oil and turn up the heat to med-high and pay attention.  When the oil begins to smoke, sear the roast on all sides (sides with fat deposits go down first). Remove and set aside.

Turn heat down to medium and saute the onions & carrots from group B until the begin to brown.  Reserve the celery*.  Remove and set aside with meat. 
Let the dutch oven heat back up for 2-3 mins and add group A veggies, thyme sprigs & additional cooking oil if necessary.  Saute until translucent and brown.
Deglaze with red wine vinegar or red wine.  Scrape up all the fond or the little burned bits. Cook while stirring until au sec, or until dry enough to make a mark on the bottom of your pan with a wooden spoon, but not long enough to burn. 

Replace roast and add stock until the roast is barely covered.  Use water if you run out of stock.

Place dutch oven into the preheated oven with lid slightly ajar.  Cook for 2 hours.*

Turn oven up to 215 F and cook until you can insert a fork and separate the meat with an easy turn. 3-4 hours depending on roast size and oven consistency.

Remove dutch oven from oven and let sit for 15-30 mins.  If time allows, let the roast completely cook in the liquid.

Remove roast to bowl and cover.

Strain out the vegetables from cooking liquid and discard.

Return liquid to dutch oven and add par-cooked and reserved group B veggies (including celery) and potatoes.  Bring to boil.

Cook while reducing until potatoes are fork tender.

If a thicker gravy is desired, remove 1 cup of cooking liquid and mix in 1 T flour or alternative thickener as listed until dissolved.  Stir back into the rest of the cooking liquid.  Cook until desired consistency is reached.*

Cut twine from roast if present and add back to pot to heat through.

Serve with fresh bread for sopping up the gravy.




Tricks, Tips and Asterisks 
A Cross Rib Roast will have a slightly different texture than a rump roast. This means it might take longer to be fall apart done.  If you don't want to wait, cook until the internal temp is 160 and slice before you reintroduce it to the reduced gravy to heat through.

Step 9: By not sauteing your group B celery in the initial cook you are doing your self and the celery a favor.  Celery is 95% water and will not brown like onions and carrots.  It instead steams and then gets soggy.  Save it for the final cook to help it retain a bite.
Step 13: 200 F may seem awful low but its best for tougher cuts of meat. Because meat starts to lose it's juices around 140 F and collagen break down (fall apart tender) doesn't happen until 160 F, a slow gentle heat will help the meat break down but not lose too much natural juiciness.  Use a meat probe thermometer to gauge the internal temp (>160-180 F) and the cooking liquid temp (>212 F), every 30 mins after the first 2 hour cook.
Step 20:  The timing on this step can get a little tricky.  You'll want to thicken your gravy but not over cook your potatoes.  With the amount of liquid involved, it will take longer to reduce the liquid than it will take to cook the potatoes.  I have the best luck with adding my potatoes in at the beginning of reducing and testing their doneness until they can be pierced with a fork but not fall off.  This is when I add my flour slurry (flour dissolved in cooking liquid). This gives the potatoes time to finish cooking and the gravy to time to thicken without overdoing either.  Do what feels right.