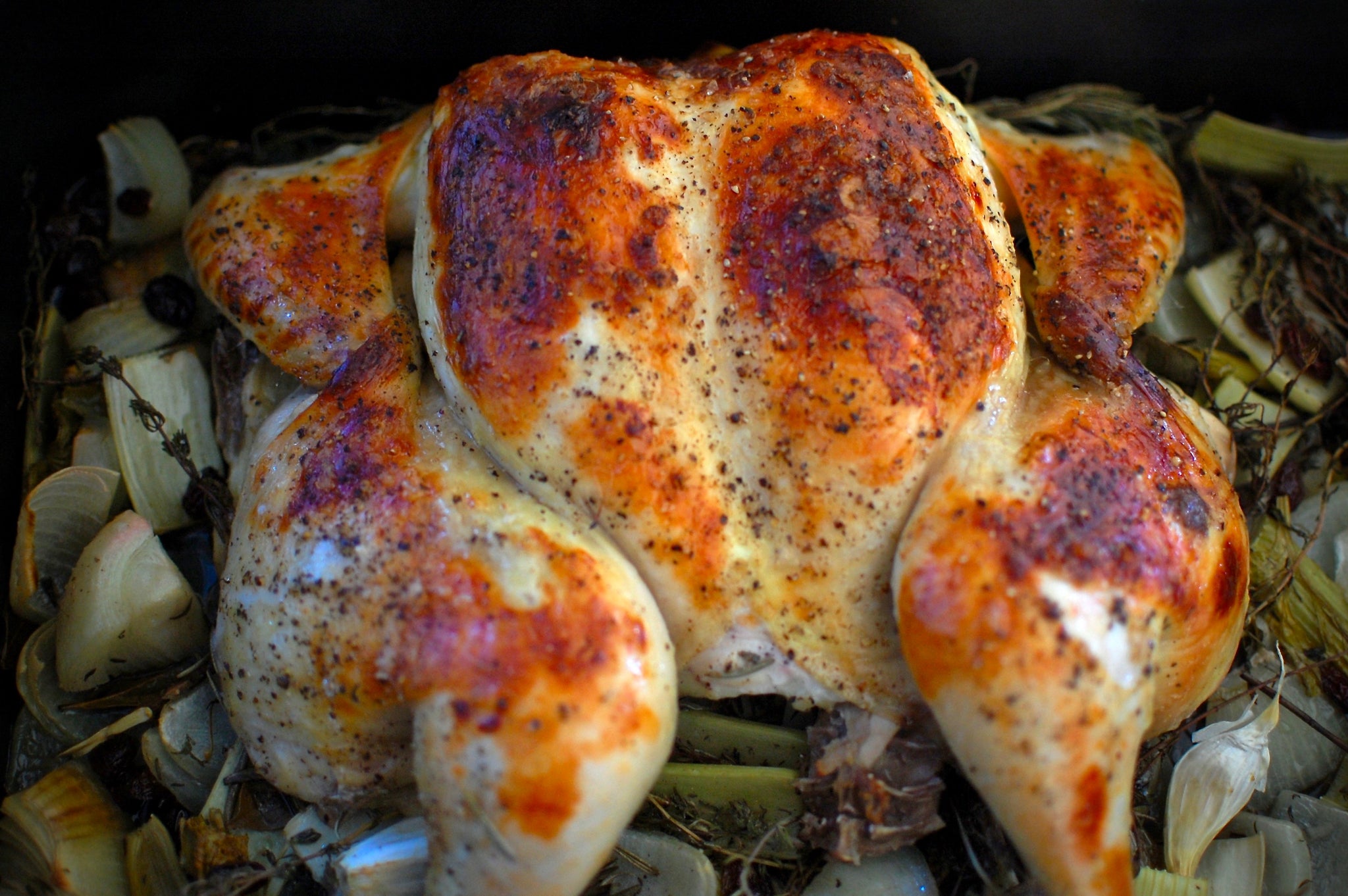 Tandoori Style Marinated Chicken
Feeds:
 3-4
Prep:
 3-6 hours
Cook:
 1 hour 
Difficulty:
 Easy
T = Tablespoon; t = Teaspoon

Ingredients
3-4 lbs BRD
 Whole Chicken or parts; drums, thighs or wings.
2 cups
 plain yogurt; whole fat
3 T
 lemon juice
4  garlic cloves; minced
1 T fresh cracked black pepper
1 T
Garam Masala or Ras el Hanout; or any other spice mix you like.
Salt
Process
Using a sharp knife, score the the thickest part of the meat to allow more surface area for the marinade.

Combine yogurt, lemon juice, garlic, pepper and spice blend in a ziplock bag.  Add Chicken.

Let rest in the fridge, in a bowl for 3-6 hours.  Flipping every time you open the fridge.

Oven: 

Set one rack to the highest position and another to the middle position. Set broiler to high.

Salt chicken and place on a sheet tray (and preferably with a rack or chunked veggies like onions and carrots to encourage airflow) and place under the broiler until light to golden brown. 3-5 mins.  Turn chicken and repeat for other side.

Once the chicken is the color you want, turn oven from broiler to bake, setting at 325 F and move baking sheet to middle rack.  Leave the door open for a minute to allow the oven to cool to temperature.

Turn oven back to broil and blast the chicken for another minute or two to finish the crisp on the skin.

Grill: 

Preheat coals or turn all burners to full blast.

Remove chicken from bag and rinse off excess marinade with gently running water.  Pat dry with a paper towel.  Set aside to air dry as much as possible; until the skin feels tacky.

                                                                                                                                       

Spread lit coals on one side of the grill (allow to preheat for 10-15 mins) or if using a gas grill, keep all burners on. Cook until light to golden brown, flip and repeat. About 3-4 mins on each side. 

Move chicken to the indirect heat side of the grill, opposite the coals or turn off half of the burners on one side and shut lid.  

Bake for 20-25 mins until internal temperature reaches 155-160F degrees with thin, crispy skin.

                                                                                                                                           
Move chicken back to direct heat and finish until slightly spotty with black bits.  
Let meat rest for a few minutes and serve with rice and roasted summer veggies like tomatoes, onions and eggplant.