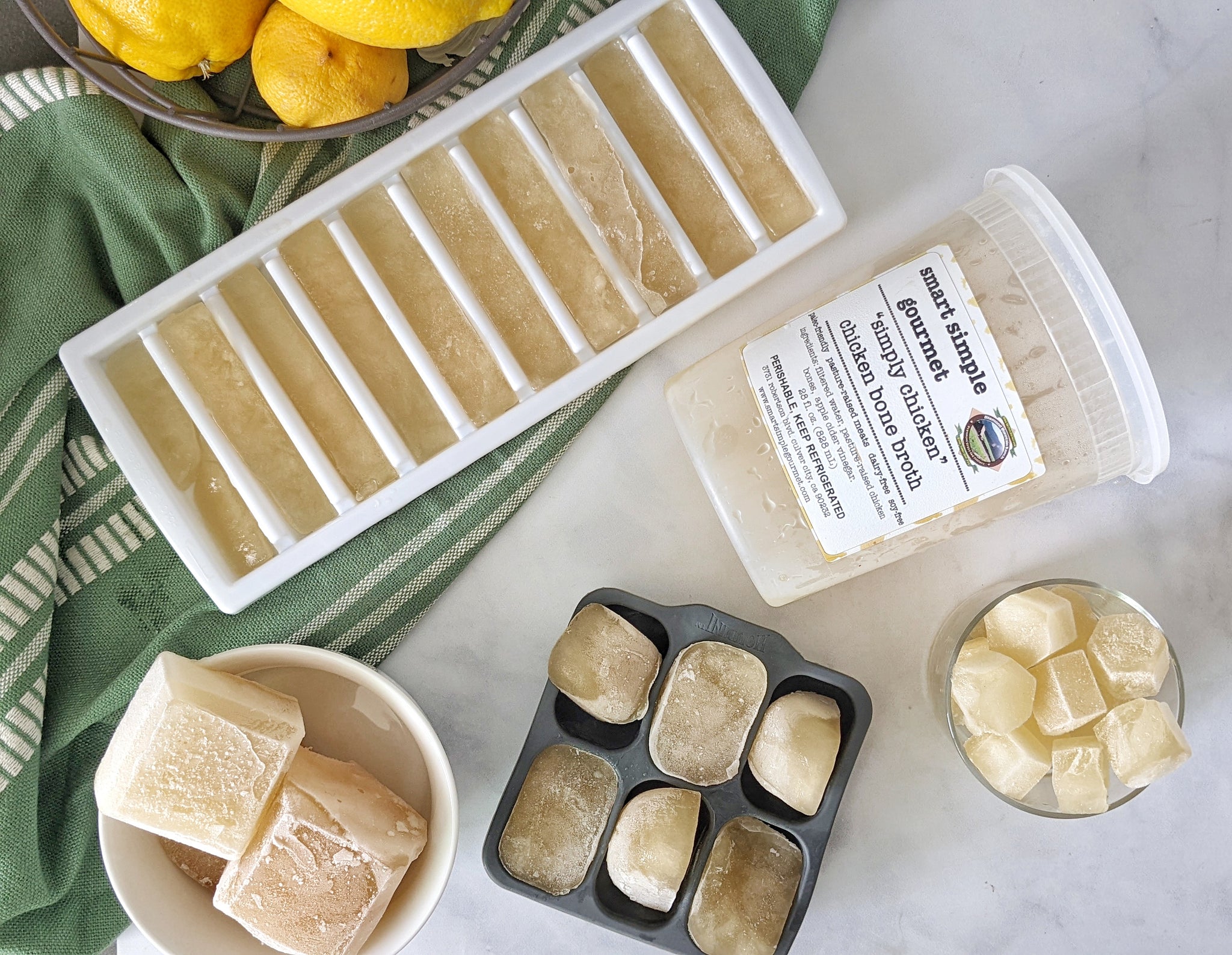 12 Unique Ways to Use Bone Broth
It just got a lot easier to enjoy your daily cup of bone broth during the summer months! Bone broth is one of the most versatile ingredients in your kitchen. It offers numerous health benefits, plus adds protein, collagen, amino acids and hydrating electrolytes to any summertime recipe. Switch up your bone broth routine by trying these 12 unique ways to incorporate more into your summer fun! Check out our selection of ready made Bone Broths here or make your own bone broth by choosing from a selection of bones (chicken, beef, yak or bison) here. 
1. Sip on a cup: Pour it into a mug or an insulated thermos to sip throughout the day. Add your favorite herbs, spices or aromatics to enhance the flavor. Think about adding grated garlic, lemongrass, ginger, green onions and cayenne pepper for an afternoon pick me up. Incorporating more bone broth into your routine can actually help support your immune system!

2. Amp up your cup of joe: Mix bone broth into your morning cup of coffee. If you're cutting back on caffeine try adding chicken bone broth into your earl gray tea or make a homemade hot chocolate using ingredients like cacao powder and dates. Depending on the flavor of your bone broth add ¼ cup to a ½ cup into your favorite hot drink.

3. Ice cube trays aren't just for water: Put those ice cube trays to work by freezing bone broth for later. Carefully pour bone broth into trays, freeze and now you have nutritious bone broth cubes ready to use. Even your furry friends may enjoy licking these bone broth ice cubes. We love having different ice cube tray sizes available. Try using bone broth ice cubes to thicken smoothies, frappuccinos or ice cream. These cubes are also great for any savory recipe that calls for bone broth, such as stews, soups or pasta sauce.


4. Use it as the liquid for making grains or veggies: Instead of just using water when cooking your favorite grain (farro, quinoa, kumat, rice) or veggies (riced cauliflower, broccoli, carrots) substitute bone broth for increased protein, collagen and minerals, plus added flavor. Depending on the type of rice the ratio for cooking is about 1 cup of rice to 2 cups bone broth; however, you can also use half bone broth and half water for a more subtle flavor.

5. Create a gut healing smoothie with bone broth. This is a thing, especially during summer and we promise you won't even taste it! Get that extra protein and collagen from real foods by adding frozen bone broth cubes. Even better, it will make your smoothie extra thick, so add 1⁄2 cup to 1 cup bone broth ice cubes. This Pineapple Ginger Immunity Smoothie is perfect anytime!


Pineapple Ginger Immunity Smoothie
Serves: 1

Ingredients
½ - 1 cup raw milk, hemp milk or coconut milk
1 cup spinach, fresh or frozen (frozen hides the taste)
3/4 cup frozen pineapple, chopped
1 cup chicken bone broth ice cubes
1 - 1inch fresh ginger
Squeeze of lemon
1 tbsp cashew butter
Dash of cinnamon
Instructions
Combine all ingredients into a high speed blender and blend until smooth. May need to add more or less ingredients for desired taste and thickness.
Enjoy this thick smooth with your favorite toppings.
6. Make bone broth popsicles "Bone Brothsicles": You heard that right and you can't taste it either! Instead of drinking a hot cup of bone broth during the summer, try making some delicious popsicles, which is basically a sweet fruit smoothie. You'll reap all the benefits of bone broth but you'll be enjoying it on a stick. You can make bone broth popsicles with just 3 ingredients. Grab a blender, popsicle molds, your favorite seasonal fruit, chicken or beef bone broth. Blend, pour and freeze, it's that simple.
Get Started By Trying These 4 Bone Broth Popsicles - Full Recipes!!
7.
Bone broth is the perfect base for soups & stews
: Everything tastes better with bone broth. The best way to use bone broth while cooking is adding it into those weekday meals. You'll not only enhance the flavor of your dish but the whole family will reap those nutrients in every bite. In your recipe, either use all bone broth or sub bone broth for half of the requested liquid.
8.
Use bone broth in a dip or spread
: Add a unique flare to your hummus, back bean dip or cashew cheese spread by adding a tablespoon or two of bone broth instead of water.
9.
Braise your meat with bone broth
: Any type of meat tastes better when braised low and slow in bone broth. Think about braising bone-in short ribs, pork butt or chuck roast but any meat will be delicious and just fall apart. We like to do half bone broth and half water while slow cooking our Beef Chuck Roast or Rump Roast, plus maybe a splash of wine!
10.
Make bone broth chocolate milk
: Enjoy a cold, refreshing cup of chocolate milk with some beef bone broth hidden instead. It makes a great post workout treat packed with protein, collagen, amino acids and minerals to replenish those hard worked muscles. Try making this refreshing bone broth chocolate milk at home.
Bone Broth Chocolate Milk
Serves: 1

6oz raw milk
3-4oz beef bone bone broth
1 Tbsp cacao powder
1-2 tsp maple syrup
½ tsp pure vanilla extract
Pinch of pink sea salt
½ cup ice cubes

Instructions
Combine all ingredients (except ice) into a high speed blender and mix.
Pour over ice and enjoy!
11.
Switch up your traditional meat marinade:
Add more flavor and nutrients to your favorite roast or bbq meat. Instead of adding sugary sauces, try making your own by adding a ½ cup to 1 cup of bone broth, along with savory herbs, spices and aromatics.
12.
Salad dressing bone broth
: Using bone broth adds a delicious and nutritious twist on your classic homemade salad dressings. For a mellow dressing add chicken bone broth instead of water. Try creating this creamy garlic dressing, as it pairs perfectly with mixed greens, steamed veggies or as a dipping sauce!
Creamy Garlic Dressing
1 head of garlic, roasted
1/2 cup
chicken bone broth
2 tbsp apple cider vinegar
1 tbsp extra-virgin olive oil
1 tsp Dijon mustard
Pinch of kosher salt & ground pepper
Instructions
Roast Garlic: Preheat the oven to 400 degrees F. Without breaking the garlic head, remove excess outside skin. Use a sharp knife to cut the top ¼ inch off the top of the garlic head. Wrap in foil and roast for 40 minutes, or until very soft. Unwrap and let cool before separating the garlic cloves from the peel.
Blend Ingredients: Combine roasted garlic cloves, chicken bone broth, apple cider vinegar, olive oil, Dijon mustard, salt and pepper in a blender. Blend until fully smooth or leave a bit chucky. Store in an airtight container in the fridge for up to 2 days.