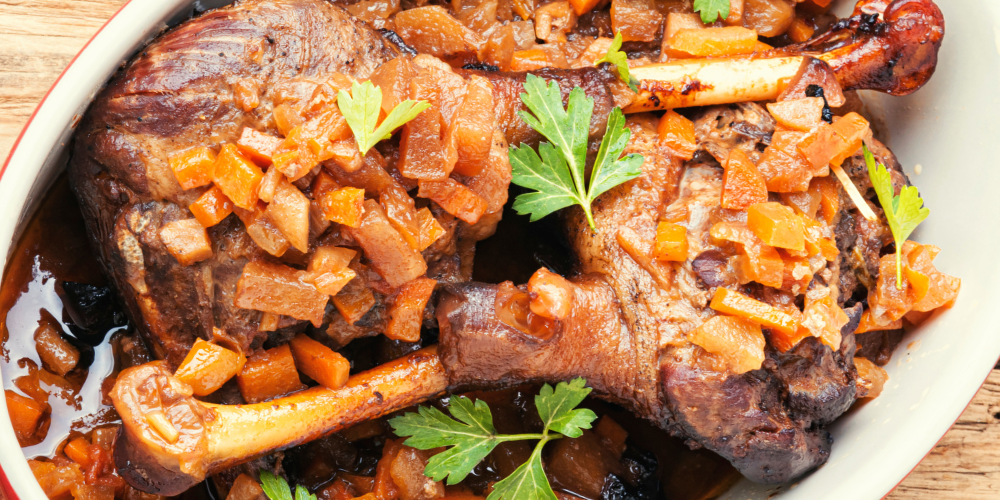 Everything You Need To Know About Cooking Duck Legs
Duck has a rich and fatty flavor. It's closer in flavor to red meat than chicken. When paired with the right flavor combinations and cooked just right, it transforms into the most delicious, tender and moist piece of protein. The duck skin is much fattier and thicker than the skin on a chicken breast. This helps to keep the duck meat moist as it's basted with its own fat while cooking!

Give Duck a Try!
If you like chicken or turkey, think of duck as a more flavorful and tender alternative. Duck is a fattier piece of meat but it's still a great way to mix up your weekly proteins.
What Flavor Combinations Pair Well With Duck?
Honey, soy & ginger
Dried or fresh fruit (orange, cherry, peaches, apples)
Warming spices (cinnamon, Chinese five-spice, allspice or vanilla)
Caramelized onions
Balsamic
*Duck meat pairs well with sweet and sour foods.
Save That Duck Fat!
If you're trimming off any excess fat before cooking make sure to save and render later. However, when you're done making duck confit you'll have a bunch of duck fat. Don't toss this liquid gold. Strain the fat if necessary into a jar and store in the fridge. Use duck fat by replacing part or all of the oil while cooking.

Use Duck Fat For:
Searing meat
Homemade French fries
Roasted sweet potatoes
Sautéd vegetables
Savory pie crust
Biscuits
Basic Ways To Cook Duck Legs
Duck legs benefit from low and slow cooking, which allows all that fat to render out, leaving behind tender meat and crispy skin. Simply season and place in the oven for around 90 to 120 minutes. However, duck legs can also be cooked in the slow cooker and pressure cooked. Use a basic duck confit recipe to transform duck legs into delicious dishes like spicy duck tacos to sweet pineapple carnitas to braised duck leg ragu.
Cook Duck Legs in a Slow Cooker
This method creates tender duck meat with little effort instead of turning on the oven! Start by cooking duck legs in the slow cooker with lid and then pan frying in a cast iron skillet on the stove to get that crispy skin.
Set the slow cooker on high for 3 to 4 hours, or low for 4 to 6 hours, or until the meat is tender and the fat is rendered. Remove from the slow cooker, pat legs dry and add seasoning of choice. Add additional fat into the skillet and place legs, skin side down. Cook until golden brown and enjoy. See basic duck confit recipe for more tips.
Cook Duck Legs in the Instant Pot
When you're short on time or just don't want to heat up the house then the Instant Pot is a great way to get flavorful and tender duck meat in a fraction of the time. Turn on the Instant Pot to the sauté function and cut off excess duck fat to render until the bottom is covered. Remove fat pieces and add duck legs skin side down. Cook until golden brown and then flip over. Hit cancel and then remove duck legs. Add in sauces or liquid of choice to deglaze the liner (about 1 cup). Add in some sliced shallots and place duck legs on top to keep the legs from burning the bottom. Turn Instant Pot to pressure cook on high for about 20 minutes. Let pressure release naturally for 5 minutes and then remove the lid. Serve with your favorite carbs!
Duck Confit in the Oven
This is a classic way to cook duck legs. They are seasoned and slowly cooked in their own fat until the meat is as tender as can be.
Prick skin & season with salt: Generously salt the duck legs and let them sit out at room temperature for about 30 minutes.
Roast in Oven: In a small skillet add fat to cover bottom and then add duck legs skin side up (skillet should just fit the legs). Add any additional spices or herbs for flavor. Turn the oven to 300F and slowly cook the duck legs. The idea is to cook the duck as slow as possible. It should be at least 90 minutes but 120 minutes is best. Baste with the juices several times. The skin should be getting crispy and the legs partly submerged in fat. The last 15 minutes, turn up the temperature to get that skin crispy but watch it! .
Rest & Cool: Remove the legs and let rest for 10 minutes. Then strain fat if desired.
Serve: Enjoy with mashed potatoes, rice or pasta.

Some Fun Ways To Prepare Duck Legs
Duck Tacos with a Chimichurri
In a large bowl add duck legs with salt, pepper, paprika, cumin, lime juice, olive oil and grated garlic. Place in the fridge for about 1 hour to marinate. Place legs skin side up in a cast iron skillet with some liquid of choice and cover with lid. Roast for about 90 minutes or until tender. Drain and serve sliced duck meat on tortillas, with a spoonful of chimichurri and a squeeze of lime.
Pair it with our delicious chimichurri recipe!

Braised Duck Leg Ragu
Brown duck legs in a dutch oven and then remove. Add onions and mushrooms, cook until soft. Then add in ginger, grated garlic and tomato paste (cook until fragrant). Splash in some white wine to deglaze and bring to a simmer (reduce by half). Add in chicken bone broth, crushed tomatoes and then duck legs. Bring to a simmer, reduce and cover for about 2-3 hours or until fall apart tender. Remove the legs and take off the meat, then add the duck meat back into the sauce. Bring to a simmer and then serve over your go-to pasta!
Sous Vide Duck Legs
Try using your favorite marinate and spices to sous vide these duck legs to create meat cooked to perfection!