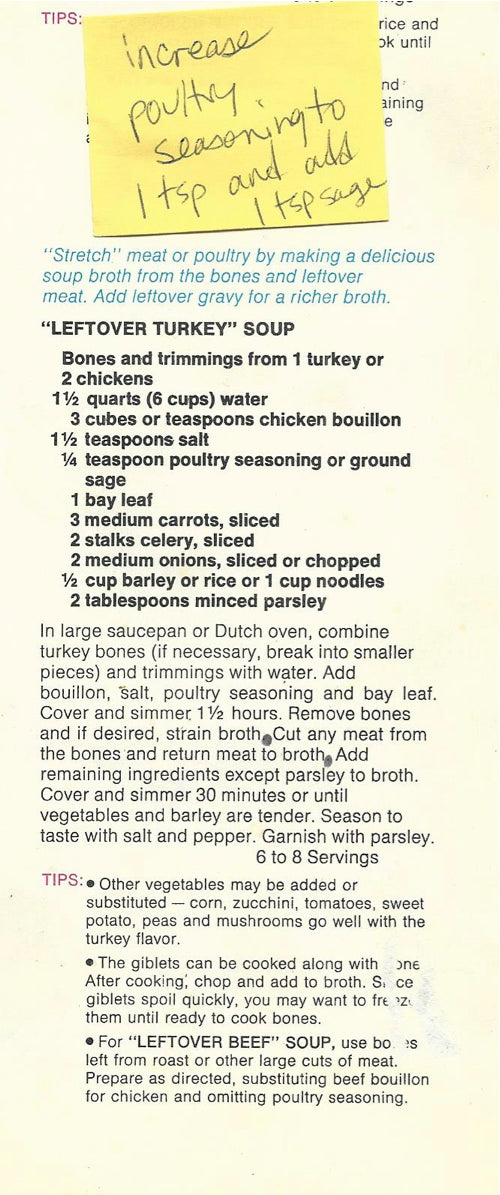 Leftover Soup
This recipe is special.
It's not fancy or intricate, but it brings memories of friends that are like family who were kind enough to share their Thanksgiving table when home was out of reach.
They were also kind enough to share this recipe, in hopes of giving people that feeling of love and thanks that the holidays bring, well after the meal is done. 
Instead of retyping the recipe in the usual format, I thought it would be neat to share this little piece of 70's nostalgia from "The New Pillsbury Family Cookbook" published in 1974.  Follow along to make a good soup, adjust per the sticky note for a better soup and heed the advice below for the best soup.
Notes from Roger, Master of Leftover Soup:

"...We always have a big turkey, so I use a big pot and triple the water, and then adjust everything else accordingly.  I prefer the wide egg noodles to the rice.  From the add-on's, corn and peas are a must, and I usually add mashed potatoes, sweet potatoes, gravy, some stuffing, and whatever else we might have left (leaving enough of that stuff to have as leftovers, too).  I even added cranberry sauce once.  You know it's all good!"