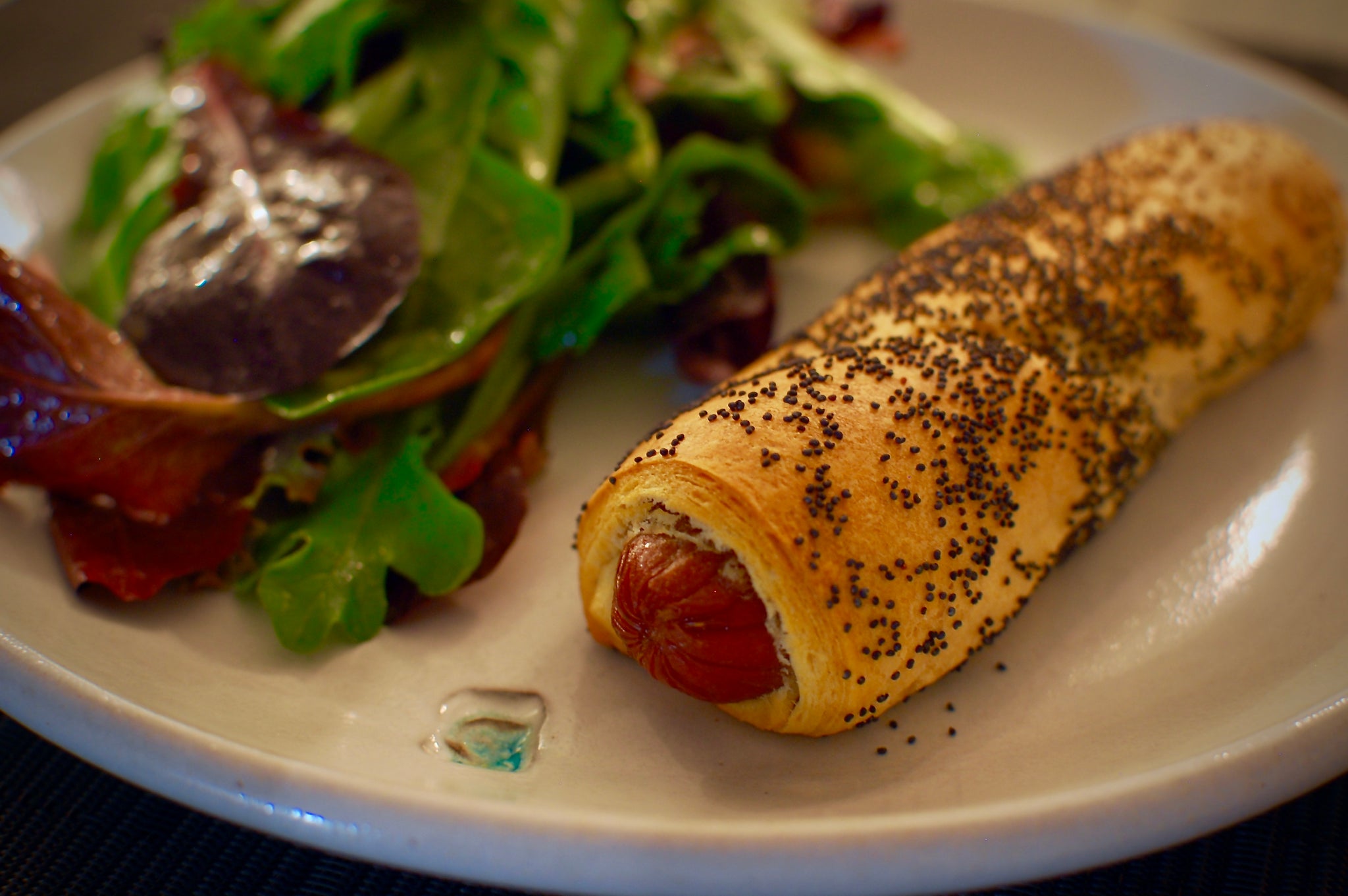 3 Quick & Easy Dinners with Grass-Fed Hotdogs
Think of this post as less of a list of recipes and more of a theory. Think about food in your fridge that you would normally skip over because a recipe doesn't call for them or they don't traditionally go with what you're planning to make.
Rather than ignoring them until they get thrown out in 4 months, take a base -- like the common hotdog, mac & cheese, eggs or left over rice -- and throw all the left overs on top.
Food waste is a major problem in America that often goes unnoticed or ignored. It can be a hard habit to break but thinking of food items as ingredients rather than singular items can lead to dishes that surprise and impress, with a special sense of accomplishment that you didn't waste a thing.
If it taste good on it's own, it will probably taste good together. 
Hotdogs are an obvious choice when thinking about quick and easy meals using... hotdogs. Mustard and ketchup are good and all, but it doesn't have to stop there. Take a look at one of our first blog posts, Is a Hotdog a Sandwich?, about how to fancy-up your hotdog experience. 
#2: 
Pig-in-a-Blanket with Honey-Vinegar Sauce, Umami Sauce and Gourmet Sauce 
T = Tablespoon
1 pack BRD Hotdogs; smoked sausage, all beef, frankfurters, chicken, polish sausage.
1 package prepared croissant or puff pasty dough of choice

 
1/4 cup poppy seeds
Honey Vinegar
1 part Honey
1 part Mild Vinegar; apple cider, sherry, white balsamic, etc. 
Pinch of salt
Umami Sauce
3 parts ketchup
1 part sriracha
1 part maple syrup
1-2 dashes soy sauce; to taste
1-2 dashes fish sauce; to taste
Gourmet Sauce 
1 part ketchup
1 part mayonnaise of choice
1 part mustard of choice

 
Pairing knife
Cutting Board
Fork
1 small bowl
3 small sauce dishes; get creative
Rimmed baking sheet
Parchment

 
Pigs
Preheat oven to 350℉ with rack in middle position.

Open the hotdog package and dry each link well.

Roll out the pastry dough into an even sheet. Most prepared croissant doughs come perforated into rectangles, then again into triangles. Separate along the rectangle cuts.
Lay the links along the long side of the dough rectangle and trim away about 1/4" of dough from each side. Try to ignore the urge to fully incase the links. This will cause steam to build up between the dough and dog and it'll slide right off when done. It's a little unsettling.

Roll the links, stretching slightly to leave about 1/2" of overlap. The thicker the layer of dough you have, the more likely you are to end up with uncooked dough.

Seal the dough by pressing down on the overlapped portion with the tines of a fork until it looks like you have a firm seal.

Dump the poppy seeds into the rimmed baking sheet and spread into an even layer. If you're a barbarian like me, you can just sprinkle large pinches directly onto your cutting board.

Roll each wrapped link in the seeds until you get even coverage.

Toss out the excess poppyseeds and line the baking sheet with parchment paper for no-stick, easy clean up.

Place each seeded link evenly on the sheet tray seam side down, leaving a couple inches distance inbetween.

Bake in oven for 15 mins.

Rotate pan 180º and bake for 15-20 mins more. Err on the side of a darker color. This helps to ensure that the dough is cooked all the way through.

Let sit for 3-5 mins before you serve. They will be painfully hot right out of the oven.
Sauces
Working with one sauce at a time, mix all ingredients in the small bowl then remove to serving dish. Using the small bowl then transferring into the serving dishes allows you to completely incorporate everything without making a mess.
Rinse and dry bowl.

 

Repeat with other sauces.

 
Serve
Place sauces on the table so everyone can have their pick. Put the baked links on a plate. Simple.
#3: Loaded Mac & Cheese
Serves: 2-4
Prep: 10 mins
Cook: 15 mins
T = Tablespoon
t = teaspoon
1 pack BRD Hotdogs; smoked sausage, all beef, frankfurters, chicken, polish sausage; cut into small cubes or slices.
1 box macaroni & cheese; I prefer Annie's Grass-Fed Organic Varieties.
Double the amount of milk called for on the box. Plus 1/4-1/2 cup as needed.
Anything in the fridge or freezer that needs to be eaten; shredded hearty greens, garden veggies (peas, carrots, corn, beets, etc) frozen or fresh, mushrooms, cheeses, seeds, etc. Things to avoid: fruits, especially citrus… that's pretty much it.
Salt, pepper and spices to taste.
Pairing knife
Chef's Knife
Cutting Board
Medium sauce pot
Sauté pan; optional
Strainer
Whisk
Steps
Boil and salt the water for the pasta. Should taste like the ocean*.
Cook pasta as directed minus 2 mins cook time.

While pasta is cooking, sauté cubed hotdogs and veggies. Set aside.

After the pasta is drained, return sauce pot to medium heat and add in the milk.

Whisk in cheese packet until well incorporated. Add any additional cheese at this point.

Add in the par-cooked pasta and stir well.

Add in sautéed hotdogs and veggies and stir well.

Mixture should be slightly soupy. If not, add in additional milk and stir.

Let cook for an additional 5 mins over medium-low heat, stirring often.

Cook until mixture thickens and pasta has finished cooking.

Taste for seasoning and serve.
*Don't drink ocean water.