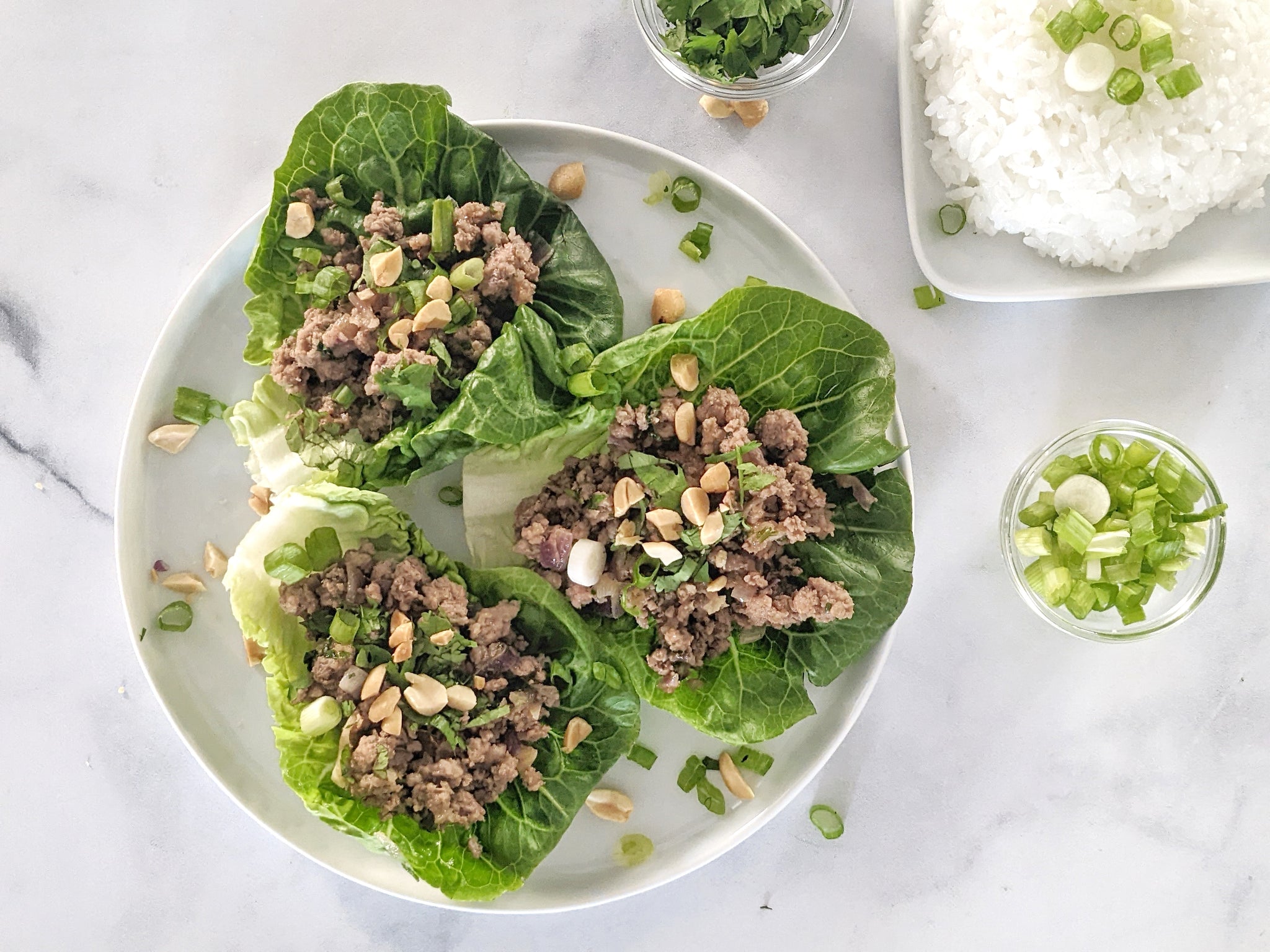 Sweet & Spicy Wild Boar Lettuce Cups
These ground wild boar lettuce cups are a satisfying and tasty meal prep option made in under 30 minutes! The ground pork mixture is so simple but packed full of flavor from this sweet and spicy sauce made with coco aminos, garlic, rice vinegar and fresh ginger. This will be a crowd pleaser with anyone in your family and usually there won't be any leftovers.
You might be thinking why we chose to make these crunchy lettuce cups with ground boar but it all comes down to flavor, plus this sauce combination has just the right amount of sweetness and spice! However, you can always substitute our traditional ground pork into these cups, as we've made them both ways.
Shop our Wild Boar Ground Pork
We highly recommend making this recipe with coco aminos instead of soy sauce. Coconut aminos contain significantly less salt than soy sauce but still gives that umami flavor to dishes. Lately, we've been using coco aminos (from Big Tree Farms), which are made in small batches from the sap of young flowers of a coconut tree. Due to the name, coconut aminos, some may think it tastes like coconut; however, this dark brown thin sauce is mildly sweet and salty.
What does wild boar taste like?
Our wild boar roam free and eat a diverse diet as they forage for food throughout the seasons. These are pigs that got on the wrong side of the fence & grubbed on acorns, clover and whatever else they came across! This can lead to more variations in the fat profile and flavor. It has a bit darker color than our traditional ground pork, due to the higher iron content and can be lower in fat; however, it's still juicy and tender. Don't expect wild boar to taste gamey, as it has a rich flavor that's nutty and sweet. Wild boar is delicious and nutritious!

How to cook ground wild boar?
You can cook wild boar anyway you usually cook your other ground meats. Try swapping your favorite ground pork recipe with ground wild boar by making meatballs, tacos, sausages, pasta sauce or a breakfast scramble. Wild boar will add lots of juicy flavor to any dish!


Sweet & Spicy Wild Boar Lettuce Cups
Prep Time: 10 minutes
Cook Time: 15 minutes
Total Time: 25 minutes
Serves: 4-6

Ingredients
Ground Pork Mixture:
1 tsp pork lard or fat of choice
1 medium red onion, diced
1 pound ground wild boar or ground pork
¼ cup chopped cilantro

Sauce:
¼ cup coconut aminos
1 tbsp rice vinegar
1 tsp onion powder
1 tsp garlic powder
1 tbsp freshly grated ginger
2-4 garlic cloves, minced

Serve:
2 heads of little gem, iceberg or romaine lettuce
Sliced green onions
Chopped cilantro
Chopped peanuts
Lime wedges
Steamed white rice (optional)

Instructions
In a large cast iron skillet over medium-high heat add pork lard. Once the skillet is hot, add in diced red onions and saute for about 5 minutes or until onions are starting to become translucent and browned.
Push the onions to the sides of the skillet and add the ground wild boar into the center. Breaking up the ground boar as it starts to cook and turn brown. Continue cooking it until there's no pink remaining, about 5 to 6 minutes.
Add the sauce ingredients (coconut aminos, rice wine vinegar, onion powder, minced garlic, fresh grated ginger and rice vinegar) over the meat mixture. Give it a good stir and continue cooking until the mixture starts to bubble and gives off aromatics, about 2 to 3 minutes.
Turn off the heat and then stir in the chopped cilantro.
To serve: Spoon about a 1/4 cup of the ground boar mixture into the lettuce cup and add toppings of choice. Enjoy with a side of steamed rice or coleslaw cabbage.
Store meat mixture in an airtight container in the fridge for up to 4 days.