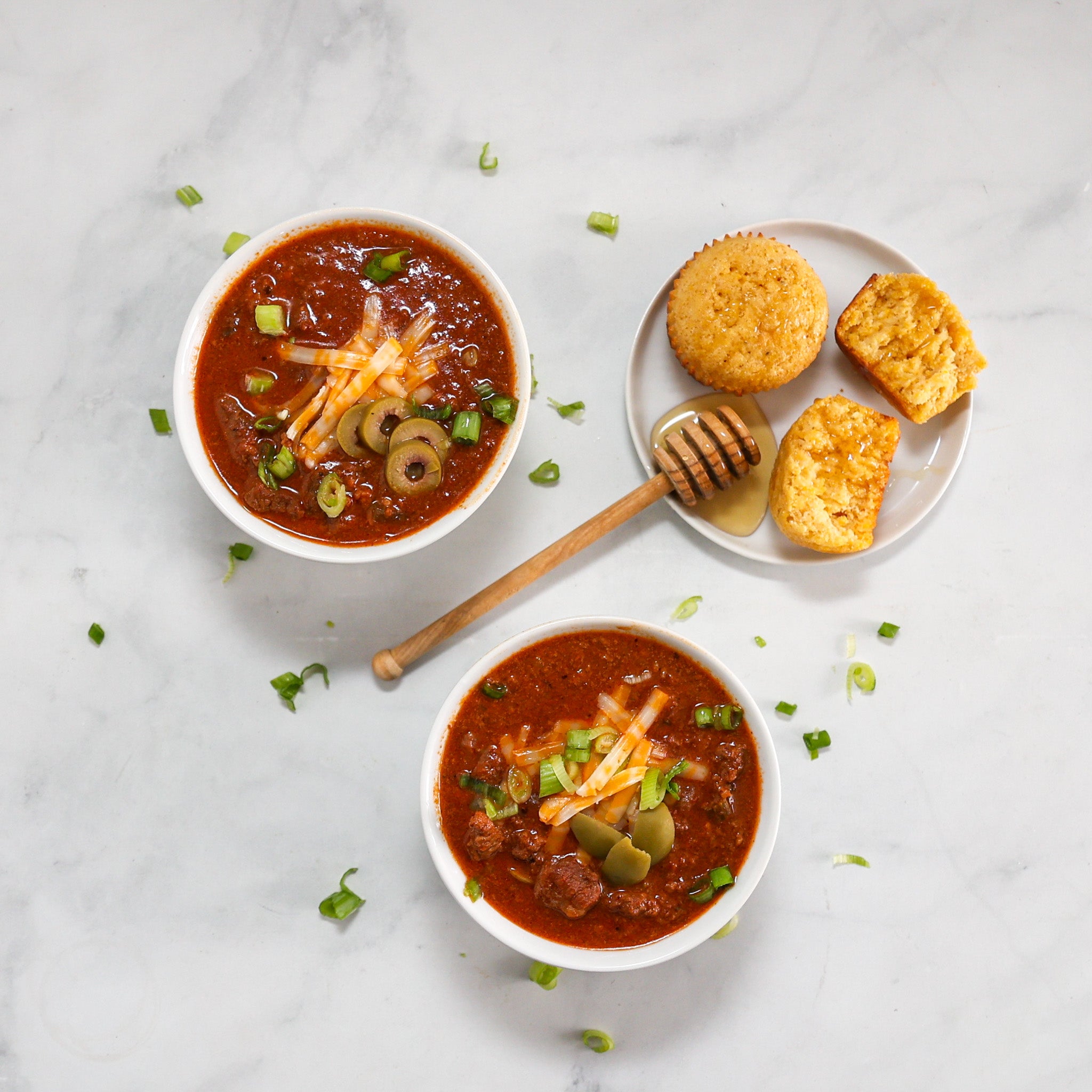 BRD SoCal Chili
This one pot SoCal Chili is a classic recipe that's meaty, satisfying and just a tad bit spicy. The combination of our grass fed beef rump roast and ground wild boar gives this chili a nice, thick texture. Everyone needs a good hearty chili recipe and this one even freezes well! The trick to this chili is low and slow cooking. As it cooks the meat, onions, garlic and tomatoes thicken and creates a deep rich flavor. This chili gets even better the second and third day! Make a big batch of this chili during the winter months or enjoy a big bowl during summer with a side of cornbread.
Shop 100% Pasture-Raised Grass Fed & Finished Beef Rump Roast
How to Make This Chili in the Slow Cooker?
You can also make this in a slow cooker. Make sure to build flavor with the aromatics and brown the meat on a cast iron pan, if you're using a slow cooker. Turn the slow cooker on high for about 4-5 hours or low for about 8-9 hours. Cover with the lid and cook until the chili is tender and thick. Follow the recipe below for cooking tips, along with the addition of the olives and shredded cheese.

BRD SoCal Chili
Prep: 30 minutes
Cook: 3 hours
Total: 3 ½ hours
Serves: 6 to 8
Ingredients
2.5 - 3 lbs
Beef Rump Roast
, cut into 1/4" to 1/2" cubes (can substitute cross rib or chuck roast)
1 lb
Ground Wild Boar
or
Ground Pork
2 tbsp all purpose flour or arrowroot powder
2 medium yellow onions, diced
4 celery stalks, diced
4 garlic cloves, minced
2 tbsp tallow or fat of choice
6 tbsp chili powder
1 tbsp salt
1 Tbsp brown sugar or sweetener of choice
2 bay leaves
1 tbsp red wine vinegar
1 ½ cups chicken bone broth or water
28 oz canned diced tomatoes (no salt added)
1 cup green olives, pitted & coarsely chopped (plus, some for garnish)
1 ½ cups Monterey jack cheese or Colby cheese, finely grated (plus, some for garnish)
Instructions
Open and remove the rump roast from the packaging. On a cutting board cut the roast into 1/4" to 1/2" cubes. Set aside.
Use a dutch oven and turn on to medium-high heat. When the dutch oven gets hot add 1 tablespoon of tallow. Add in the onions and celery. Cook until lightly browned for about 5 minutes. Then add in the garlic and cook until fragrant, about 1 min. Remove veggies and place into a bowl. Set aside.
Add the remaining tallow into the dutch oven and place back onto medium high-heat to brown the meat. You'll want a thin layer of tallow on the cooking surface. Allow the tallow to preheat until it's just about to smoke.
Add cubed meat and ground wild boar into the dutch oven. Don't stir right away so it has time to brown. Stirring occasionally until browned, about 5 to 6 minutes.
Turn the heat down to medium and add flour. Stir to coat all the pieces. Cook for 1 to 2 minutes, allowing the flour to dissolve into the moisture.
With the heat remaining on medium, add the veggie mixture and stir to fully combine into the meat.
Sprinkle the chili powder, brown sugar, salt and add the bay leaves into the mixture. Stir to combine and coat well. Allow it to cook for about 1 minute, until fragrant.
Add in the red wine vinegar and scrape off all the tasty bits from the cooking surface.
Then add in the canned diced tomatoes and bone broth. Stir until well combined.
Cover and reduce the heat to low. Cook for 2 hours at a simmer, stirring occasionally (every 15 to 20 minutes) so nothing burns to the cooking surface.
After 2 hours, remove the lid and the bay leaves.
Add the chopped green olives and grated cheese.
On low with the lid off, simmer for an additional 30 to 90 minutes depending on how thick you like your chili. For this recipe we simmered for 30 minutes.
When ready to serve taste and adjust seasoning for the chili as needed. Serve in wide bowls with finely chopped green olives and grated cheese. Enjoy with a salad, cornbread or tortillas.
Store leftover chili in an airtight container in the fridge for up to 4 days or freeze for up to 3 months. Best if reheated on the stove.