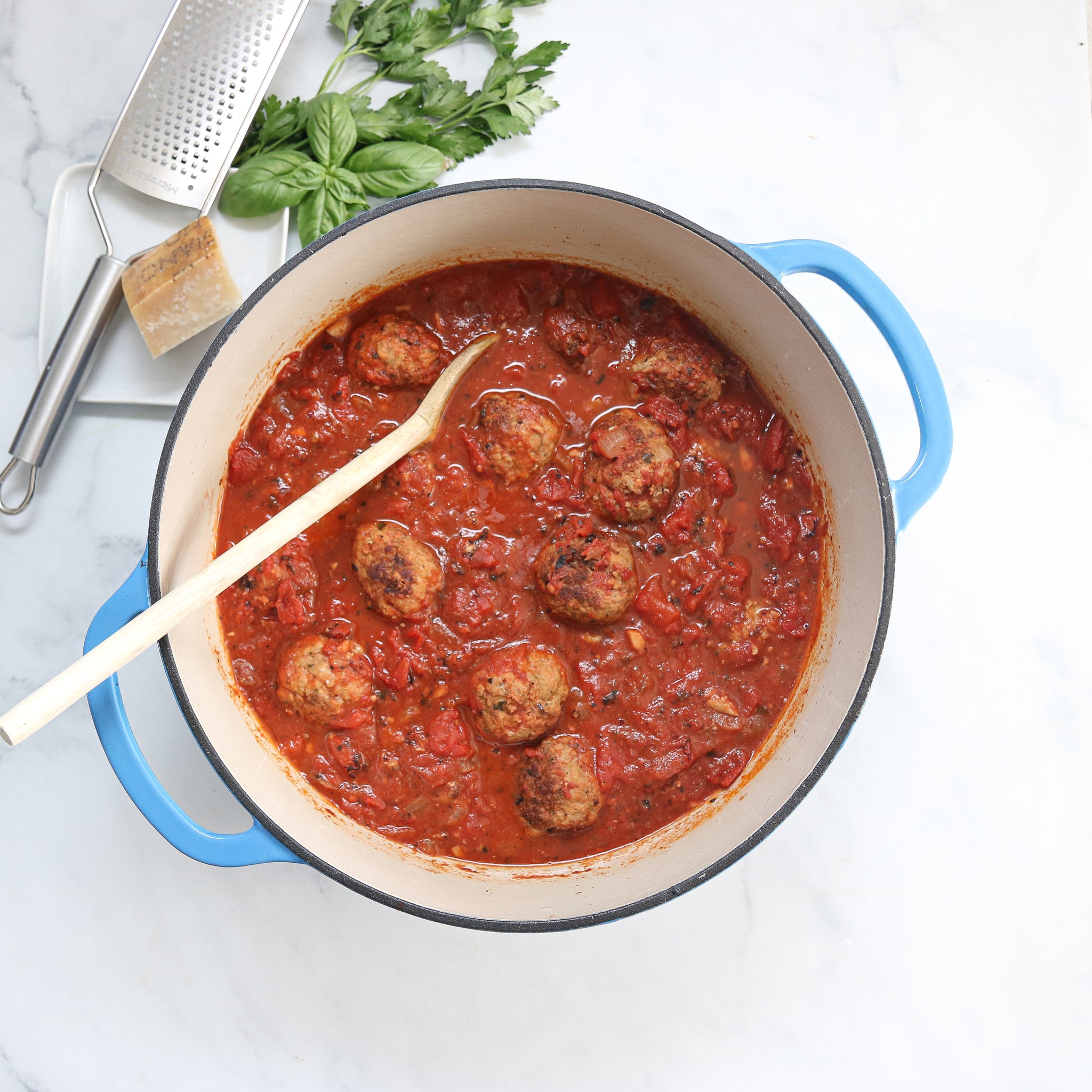 Classic Beef & Pork Italian Meatballs in a Homemade Marinara Sauce
This Italian meatball recipe has a 2 meat combo that creates tender and juicy meatballs right on the stove top. Simmer the meatballs in this easy homemade marinara sauce and serve over pasta or make your own meatball sub sandwich! This combination of grass fed ground beef and wild boar ground pork creates the ultimate flavor and texture in these meatballs.
 What is Ground Wild Boar?
Our wild boar roam free and eat a diverse diet as they forage for food throughout the seasons. These are pigs that got on the wrong side of the fence & grubbed on acorns, clover and whatever else they came across! This can lead to more variations in the fat profile and flavor. It has a bit darker color than our traditional ground pork, due to the higher iron content and can be lower in fat; however, it's still juicy and tender. Don't expect wild boar to taste gamey, as it has a rich flavor that's nutty and sweet. Wild boar is delicious and nutritious!
Can Different Ground Meat Be Substituted in this Recipe?
Of course! Using two different ground meat makes for juicy and tender meatballs; however, any ground meat can be swapped in. If you're not feeling ground wild boar, our classic ground pork will add a bit more fat and flavor to these meatballs. Now if you're feeling adventurous trying mixing ground beef and ground lamb for something fun and unusual. 

Classic Beef & Pork Italian Meatballs in Homemade Marinara Sauce
Prep time: 15 minutes
Cook time: 1 hour
Total time: 1 hour and 15 minutes
Makes: 32 (1oz meatballs) or 16 (2oz meatballs)
Ingredients
Meatballs
1 pound ground beef (or ground calf)
1 pound ground wild boar (or ground pork)
2 eggs, lightly beaten
1/2 cup Parmesan cheese, finely grated
6 cloves garlic, finely grated
1/2 cup breadcrumbs, finely ground
1/4 cup parsley, finely chopped
1 tbsp Italian seasoning (oregano, marjoram, thyme, rosemary, basil, sage)
2 tsp salt
½ tsp freshly ground pepper
2 tbsp tallow or oil of choice
2 strips of bacon, uncooked & finely minced (optional)

Homemade Sauce
1 tbsp olive oil
1 tbsp butter
1 medium yellow onion, diced
6 cloves garlic, chopped
¼ cup red wine
58 oz. canned crushed roasted tomatoes, no salt added
1 bay leaf
1 bunch of parsley
2 tsp salt
½ tsp freshly ground pepper
2 tbsp fresh basil, chopped

To Serve
Fresh basil, sliced into strips
Parmesan cheese, grated
Pasta of choice, cooked per box instructions, rinsed & drained
Instructions
Cooking Note: Either use a large pot or a dutch oven that can cook the marinara sauce and the meatballs. The meatballs will be browned in the pot first and then the sauce will be cooked in that same pot to get that extra flavor. This dish is the perfect one pot meal!
Meatballs
In a large bowl, combine all the meatball ingredients, except the oil. Mix gently with your hands until just combined. We want tender meatballs, so don't overmix.
Either use a 1oz cookie scoop or roll with your hands using about 2 tablespoons of meat. Shape into roughly 32 (1oz meatballs) or 16 (2oz meatballs).
In a dutch oven, add oil over medium-high heat.
Make sure the meatballs are rolled well. Working in batches, place the meatballs into the dutch oven. Brown meatballs for a few minutes on each side. The point is not to fully cook the meatballs but to give them a nice sear before cooking them in the sauce.
Remove the meatballs and set aside until the marinara sauce is ready. Then add meatballs back into sauce to simmer for about 45 minutes.
Cooking Note: Browning the meatballs first and then letting them finish cooking in the sauce results in a firm texture on the outside but makes them juicy on the inside. It also adds more flavor to the marinara sauce! So make sure not to skip this step.

Homemade Marinara Sauce
In the same dutch oven, as you used to brown the meatballs, prepare the marinara sauce.
Over medium heat add olive oil and butter. Once oil is hot, add the onions and cook until translucent and softened, about 5 minutes. Then, add the garlic and cook for 2 minutes or until fragrant.
Pour in the red wine and let the wine reduce down almost all the way, about 5 minutes. As the alcohol cooks off, it will add a wonderful flavor to the sauce.
Then add the canned crushed tomatoes, bay leaf, parsley, red pepper flakes, salt and pepper.
Allow the sauce to come to a gentle boil and then reduce the heat down to a simmer.
Place the meatballs in the dutch oven and toss them into the sauce.
Simmer over medium-low heat for about 45 minutes, with the dutch oven lid slightly cracked.
When ready to serve, remove the bay leaf and parsley. Fold in the fresh chopped basil.
Serve on top of your favorite pasta with fresh basil and grated parmesan. These meatballs and sauce also pairs well with a side of steamed cauliflower and homemade garlic bread.
Store leftover meatballs and sauce in an airtight container in the fridge for up to 4 days or freeze for up to 3 months.
Sear meatballs, until golden brown.
Remove meatballs and start making the sauce. Sauté onions and garlic, until fragrant. 
Then add the meatballs back into the sauce and toss. Simmer for 45 minutes.