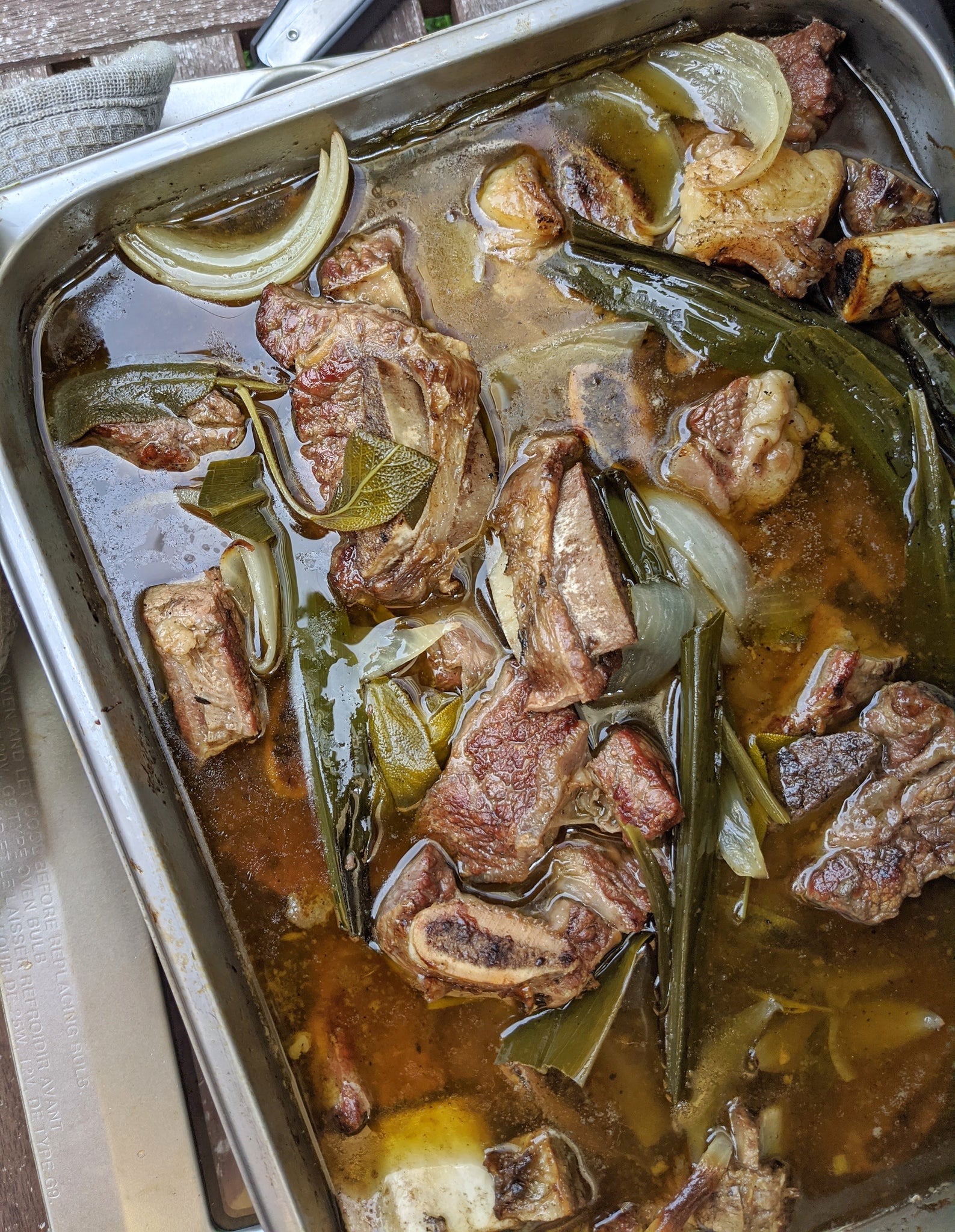 Ginger & Garlic Braised Beef Short Ribs
If you're looking for a comforting meal, this Ginger and Garlic Braised Short Rib recipe will melt off the bone leaving a rich brothy sauce and tender, pull apart meat. Plus, this low and slow cooking method is mostly hands off and even better, it's a great way to have leftovers. Here's a step by step recipe to make the most delicious dinner with little work. If you need some more tips or dinner inspiration please check out, 6 Simple Steps to The Perfect Braise: No Recipe Required.

Ginger & Garlic Braised Short Ribs
Prep Time 30 minutes Cook Time 4-5 hours
Serves 4-6 
2 - 3 lbs
beef bone-in short ribs
2 tbsp tallow or oil of choice
1/4 tsp salt
1/4 tsp pepper
1 yellow onion, sliced
1/2 cup leeks, sliced
3 - 4 garlic cloves, minced
2 inch piece of ginger ( about 3 tbsp chopped)
2 to 4 sprigs fresh herbs, such as sage or thyme
1/2 cup red wine
3 cups
beef bone broth
and/or water
Directions 
Heat oven and season meat. Preheat the oven to 250F. Season the short ribs generously with salt and pepper, if you prefer.
Brown the short ribs. Heat the tallow in a dutch oven over medium-high heat. Add the short ribs in one layer and you may need to work in batches. Sear all sides until deeply browned. This will take about 15 minutes. Once browned, transfer the short ribs to a bowl. 
Saute the vegetables. Turn the heat down to medium. Add the onion, leeks, garlic and ginger. Let the vegetables cook until they are softened, about 5 minutes. 
Add the liquid. Then add wine to deglaze the dutch oven to remove all those caramelized bits. Place seared short ribs back in the dutch oven and add enough beef bone broth to partially or fully submerge meat. How much liquid depends on how you want to serve it. Think stew versus a thick sauce! On medium heat, bring to a simmer.
Braise in the oven. After it comes to a simmer, add fresh herbs, such as, sage and/or thyme. Cover the pot with a lid and place in the oven. Cook low and slow for about 4-5 hours. Make sure to check on the meat and move it around during cooking. Cook time will vary depending on cut, but when it's about to fall apart from the bone, it's done! 
Remove from the oven and let rest. Either serve dinner or reduce liquid to amp up flavor. Enjoy as a stew or remove meat to reduce liquid to create a concentrated sauce. Make sure to serve with something satisfying to soak up all that rich meat flavor. Pair with rice, mashed potatoes, or polenta.
Notes:
For leftovers, store in an airtight container in the fridge for up to 4 days or frozen for up to 3 months.